Meet the goalscoring Swiss defender Premier League clubs are queueing for this summer
Swiss expert Matthew Walthert tells you everything you need to know about Basel centre-back Fabian Schär...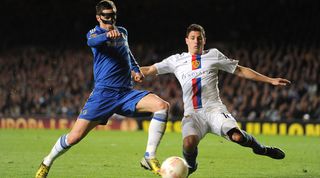 The 60-second story
Wil is a small city in north-eastern Switzerland, nestled in the rolling hills of the Swiss Plateau. It is better known for its well-preserved medieval architecture than for football. That could soon change, though, as one of Wil's recent exports is making a name for the national team and drawing interest from big clubs across Europe.
Schär burst onto the international scene by scoring three goals in his first two competitive matches for the senior side during qualification for the 2014 World Cup. The 22-year-old has also drawn rave reviews for his performances with perennial Swiss favourites FC Basel.
But until July 2012, the young centre-back was still playing for his boyhood club FC Wil, in a 6,000-seat stadium that holds about a quarter of the city's population and is framed by the white peaks of the Appenzell Alps.
Basel signed Schär from this relative obscurity and he quickly established himself as a regular member of the starting XI. In addition to providing a solid presence at the heart of defence, his goal-getting has particularly caught the eye; between the Swiss Super League, Champions League and Europa League, Schär has already scored 14 times in 73 appearances for Basel.
Why you need to know him
Schär factfile
Born Wil, Switzerland, 20 December 1991
Height 6ft 1.5in
Position Centre-back
Games and goals
2009-2012 FC Wil 1900 52 games, 9 goals
2012- FC Basel 62 games, 12 goals
2013- Switzerland 5 games, 3 goals
Schär was a frequently rumoured target of clubs from Arsenal and Barcelona to Borussia Dortmund and Juventus in January, but a knee injury played its part in keeping him at Basel until the summer at least. The transfer talk has not died down, though, and he has recently been linked with Manchester United and Chelsea, among others.
The young defender will also have a chance to increase his stock at this summer's World Cup; Schär will be a key member of a Swiss side that should advance through the group stage. His defensive strength fits in well with a team that has conceded only one goal in the last two World Cup tournaments, and his ability to find the net could make a big difference if Switzerland can make it to the knockout rounds.
A strong finish to this season – Basel once again won the Swiss domestic league – coupled with a standout performance in Brazil could mean Schär heading to one of Europe's biggest clubs this summer. It'd all be only two years removed from the Swiss second tier.
Strengths
"He's sort of Mr. Cool," Swiss national team manager Ottmar Hitzfeld told FFT when asked about Schär's strengths. Aside from the stopper's poise, which in Hitzfeld's estimation is "very exceptional for such a young player", the two-time Champions League winning coach is also impressed with Schär's aerial game at both ends. "His timing is very good," Hitzfeld added. "He knows how to read the game very well. And he has got both the eye and technical skill to launch plays with a long ball out of the defence right into offensive play."
Nowhere was that more evident than in Basel's November 2013 victory over Chelsea in the Europa League, when Schär's long diagonal pass found the foot of now-Chelsea winger Mohamed Salah for the game's only goal.
Axel Thoma, Schär's long-time manager at FC Wil, concurs, adding free-kicks to the list of strengths he sees in his former protégé. This is particularly important for the Swiss national team, who lack a world-class striker – they must be able to score from their set-pieces if they are to find success in Brazil.
Skip through to 0:35 for the good bit... 
Weaknesses
Schär does not have any glaring weaknesses in his game – if he did, they would be quickly exposed playing in a vulnerable position like centre-back against top competition. That has not happened, although Thoma noted Schär could develop his ability to play one-on-one in tight spaces.
Schär also needs to improve his speed, suggested his old manager. In the past he may have been able to mask a lack of pace with his aforementioned ability to anticipate play, but that may not be the case once he is playing week in, week out against the best strikers in England or Germany.
They said...
"He was sort of the revelation of the year," Hitzfeld said, referring to Schär's swift rise from the Swiss Challenge League to Basel and the national squad. As an illustration, Schär was eligible for the Swiss side that won the 2009 U17 World Cup – included were current national team members like Granit Xhaka and Haris Seferovic – but wasn't selected. However, Schär did play at the 2012 Olympics, just after his transfer to Basel, and a year later the young centre-back was scoring for the senior side in World Cup qualifying.
Did you know?
In Switzerland, apprenticeships are still very much in vogue for many professions. Schär served his as a bank clerk while still playing for FC Wil. This isn't uncommon for Swiss athletes; Formula 1 driver Romain Grosjean worked part-time in a bank earlier in his career, while also jetting around the world on the Grand Prix circuit. If Schär does end up at a big European club, he will never need to work another day in his life in a regular job – but his bank experience should come in handy keeping track of his millions.
What happens next?
Talentspotter Ratings
Shooting 7
Passing 8
Heading 9
Tackling 7
Pace 6
Work-rate 7
Crossing 8
Creativity 6
Dribbling 8
Schär helped Basel secure their fifth straight league championship, and with a number of teams sure to take a run at him this summer, finding the right fit for his future will surely be on his mind. Another year at Basel shouldn't hurt: Schär said the experience of manager Murat Yakin, one of the best centre-backs Switzerland has produced, is helpful for his development, but Yakin left the club earlier this summer and has been replaced by Paulo Sousa.
The exposure and financial rewards that would come from one of the top clubs in Europe will be tough to resist, but Schär will want to ensure he ends up with a team that will play him regularly as he continues to grow and learn.
His national team-mate Xherdan Shaqiri left Basel in 2012 for Bayern Munich, but he has been played sparingly in a star-studded squad. Former boss Thoma says: "I think if he is ready for the step to a big European club, he will take this chance for sure. The question is: When is the best time, and which is the right club?"
Quizzes, features and footballing fun
Get the best features, fun and footballing frolics straight to your inbox every week.
Thank you for signing up to Four Four Two. You will receive a verification email shortly.
There was a problem. Please refresh the page and try again.