Meet the keeper looking for luck in the ninth tier after leaving war-torn Ukraine
By Chris Evans published
Chris Evans speaks to a Brazilian goalkeeper who has fled Ukraine for a new life in London...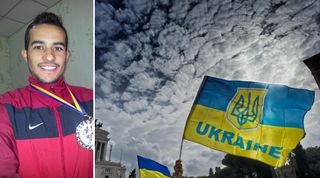 With moneybags owners and the lure of Europa League football, Evandro Rachoni de Lima's move to Ukraine looked like the perfect step to stardom.
However, as the former Soviet state became a war zone and Arsenal Kiev's seemingly bottomless pit of funds dried up, the Brazilian goalkeeper's dream move quickly turned into a nightmare.
After Arsenal were wound up, Evandro turned out for Retro FC in order to maintain his fitness levels. But when gunmen boarded his team's coach on the way to an away match, the glovesman decided it was time to flee the war-torn nation.
"We were travelling by bus to a game, and rebels stopped us and came inside with their guns," explained the 24-year-old. "I was the only one on the bus from Brazil, so I was very scared they'd do something to me. That was the moment I decided to get out.
"The rebels don't think about anything but making war and it's very frightening for professional players to be out there. It's very dangerous in Ukraine, as everyone can see."
As high-profile compatriots Fred and Douglas Costa found out at Shakhtar Donetsk, deciding to leave the troubled country and actually completing a move away are poles apart.
Evandro's plight was eased in February when Arsenal Kiev's wealthy owner sold the club and the Cannoneers were removed from the Ukrainian Premier League midway through the 2013/14 season.
Although in theory he was now free to leave, Evandro found hostility to his move out of Ukraine from an unexpected source.
"I met my agent and he wanted me to stay in Ukraine, even though it is dangerous there," said Evandro, who played for Fluminense among other clubs in South America.
"It was very bad. When I tried to get him to look at another country, he just wanted me to stay and not think about war. He wouldn't help. Agents don't care about you and just think about money. I said I'm trying to move and, if he didn't have options for me in other countries, I will leave and work alone to find a new agent.
"[Agents] have 20 or 30 players and don't really think about them. All they want to do is find players a club in Ukraine and get the money. That's normal."
Living in Ukraine as tensions rose in the country became increasingly difficult for civilians, and Evandro says those pressures were even more severe for players as they regularly travelled across the country for matches.
With air travel the most practical way of crossing a country that spans some 500 miles from east to west, the MH17 Malaysia crash rocked everyone - including big-salaried footballers.
"When the plane went down in Ukraine, it was very scary," Evandro recalled. "No one wanted to take planes and the players didn't want to go on one to play in another city.
"Everyone in Donetsk was leaving their house because it was impossible to live there. The banks don't work in Ukraine and neither do the police. It was very hard because the rebels get arms from Russia and don't know how to use them so make mistakes. It's crazy."
After finally moving away from Kiev to London in September, Evandro now faces a fight of a different kind - to find a new club without the help of an agent.
Within days of settling in the English capital, Evandro signed up for London Bari, who play in tier nine of the football pyramid.
The ambitious keeper believes the move will only be temporary and has faith something will come up for him.
"I do fitness training every day and, in the evening, I train with a semi-professional team," said Evandro.
"Two scouts from West Ham were looking for me in the changing room the other night and maybe they can help me with some options in London.
"I'm not sure if I'll stay in England. I've had interest from the United States and France. I'm working on my contacts and I'll see what happens."
Thank you for reading 5 articles this month* Join now for unlimited access
Enjoy your first month for just £1 / $1 / €1
*Read 5 free articles per month without a subscription
Join now for unlimited access
Try first month for just £1 / $1 / €1
Quizzes, features and footballing fun
Get the best features, fun and footballing frolics straight to your inbox every week.
Thank you for signing up to Four Four Two. You will receive a verification email shortly.
There was a problem. Please refresh the page and try again.