Meet La Liga's most in-demand coach who's destined for a big move elsewhere
Marcelino has transformed the Yellow Submarine from underperforming second-tier dwellers to La Liga top-four hopefuls in just two years. Lee Roden explains why it's only a matter of time before a big gun throws money at him...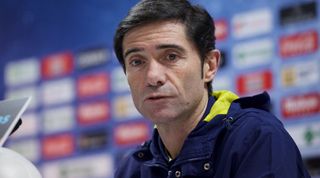 For many managers, taking the first league draw from the Santiago Bernabéu this season would be enough, but Marcelino García Toral wanted more. "If Ancelotti hadn't taken off Isco for Illarramendi, we'd have probably won," he lamented after the final whistle on Sunday.
"We grew into the game. I'd even say we were better," the coach continued. 
He wasn't the only person who reached that conclusion. Villarreal, confident in their ability and in no way unsettled by the occasion, went toe-to-toe with Madrid on Los Blancos' home turf and, for large stretches of the game, were the better of the two sides.
At one stage in the first half, Villarreal played short rondos, popping the ball around accurately with quick one-touch football while Madrid chased. Even Barça don't have the guts or discipline needed to do that at the Bernabéu these days.  
There was no hint of arrogance in Marcelino's words – he was simply being honest, one of his defining traits. Before the game, Carlo Ancelotti made a point of praising the Villarreal manager's frank way of expressing himself, saying he "improves football's image" both in Spain and elsewhere. Villarreal's expression on one of the most-watched pitches in the world won't have hurt their own image either.
The side from Castellón are now in the key phase of what has already been a brilliant season – one in which they went 18 games unbeaten between November and February.
They're through to the last 16 of the Europa League, have now taken points off both Atlético and Real Madrid in La Liga, and still have an outside chance of landing fourth place.
More pertinently this week, they have also reached the first Copa del Rey semi-final in the club's history, the return leg of which will be played tonight at El Madrigal against Barcelona.
Miracle man
Marcelino deserves a huge deal of credit for that success. When he joined Villarreal in January 2013, they were 17th in the second division, 17 points behind leaders Elche.
Anyone who watched the Yellow Submarine in the first half of that season would have witnessed a disjointed side in search of an identity – and certainly not one that looked likely to bounce straight back up to the top flight, as the predictions following their 2012 relegation suggested.
The Asturian quickly set about reshaping Villarreal into an athletic, modern, counter-attacking team, and they pulled off a vital victory over Almeria on the final day of the season to ensure automatic promotion.
Nine months after Villarreal's return to the top flight, the Spaniard exceeded all expectations by getting them into Europe, as they finished 10 points above local rivals Valencia in sixth place.
This season is a continuation of that two-year transformation; results both at home and abroad have been a further indication that Marcelino's modern brand of football was just what the club needed.
The old Villarreal were perhaps the closest side to Barcelona in La Liga stylistically, embodied by the pensiveness of players like Juan Román Riquelme and Santi Cazorla. The new Villarreal play the best one-touch football in the league outside of Real Madrid. It has proved incredibly difficult to defend against; the kind of memory-based play that only comes with hours of hard work in training.
When asked in the past who he looks up to as a coach, Marcelino replied: "Sacchi, Guardiola and Benítez." Three very different managers, yet tellingly they all share an obsession with detail.
Marcelino's philosophy is that strict organisation in both defence and attack is the key to opening up opponents as quickly as possible.
Movements are well-rehearsed and designed to turn defending into a chance at the other end in the blink of an eye. "If we can finish a move in five successive passes on the ground, we won't do it in 20," he told El Pais in February. Collectivism is a must. "In this team everyone trains well," he insisted.
Evidence of that came on Sunday. Before kick-off he was criticised for dropping several regulars in anticipation of the Barça cup game, yet when Villarreal came away with a draw, tunes soon changed.
Following the final whistle he had a message for his critics: "It bothers me that people think there are some good players in the squad and others that aren't. Doubting these guys is a lack of respect," he snarled.
Maker of men
Respect is something Marcelino now commands, but it wasn't always that way – he is no overnight success as a coach. A technical midfielder in his day, appropriately, he once played for Sporting Gijon in a 1-0 win over an AC Milan side featuring Ancelotti in the 1987/88 UEFA Cup.
A knee injury ended his career early, and at 33 he began to coach. The long, hard slog since has taken him from the lower leagues, through B teams, to Santander, Zaragoza, and a short, disappointing spell at Sevilla. When Villarreal offered him the chance to coach them in early 2013 he was out of work, having rejected an approach from the same club the previous summer. "There's a lot of suffering left to do, but we'll go up," he predicted upon accepting the position. He was right.
When Marcelino took charge he insisted that Villarreal needed to evolve, and that hasn't changed. The process is an ongoing one, and the leading cast members have shifted continually.
Last year, Giovani dos Santos was their key attacking player, scoring 12 goals and assisting eight. This year he has rotated, with focus switched to the likes of on-loan Real Madrid winger Denis Cheryshev (the club's top assist provider with 12) and striker Luciano Vietto.
The Russian loanee has flourished under his new manager's guidance, while the Argentine has already scored 18 goals, including strikes against Atlético and Barcelona.
Marcelino's gradual introduction of the forward into Villarreal's team has been hugely important in making his adaptation from Argentine to Spanish football unusually seamless.
Vietto is no fluke either. Marcelino's subtle hand and patience achieved similar results from Gabriel Paulista – now an Arsenal player – who came to El Madrigal from Brazil with a good reputation, but was given more than a season before becoming a starter.
As if results in the league, cup and Europe weren't enough, this success rate with young talents makes him the ideal fit for Villarreal, who focus on scouting, then harnessing potential early to avoid paying significant transfer fees. Owner Fernando Roig couldn't ask for more.
OPINION Mertesacker vs Gabriel: who gets the nod for Arsenal?
Marcelino may one day, though. Bigger clubs will surely wake up and try to tempt him sometime soon. At the moment the coach is evidently happy, but talent like his doesn't pass unnoticed for long.
In the more immediate future he will focus that talent on trying to turn around a 3-1 first leg deficit to Barcelona in the Copa del Rey. It's an unfavourable result, yes, but also one that gives Villarreal hope.
They caused problems for Barça in the first leg (as they did in the league, both meetings between the two settled by one goal) and have an away goal. Having taken something from both of the big Madrid sides in 2014/15, a result against Barça is overdue for Els Groguets. Achieving that tonight would take them to their first-ever cup final, and by extension, to within touching distance of a first domestic cup.
It's a tough ask, but Marcelino has a habit of rising to the occasion.
Quizzes, features and footballing fun
Get the best features, fun and footballing frolics straight to your inbox every week.
Thank you for signing up to Four Four Two. You will receive a verification email shortly.
There was a problem. Please refresh the page and try again.