Meet Ogenyi Onazi, Nigeria's criminal-chasing midfield nuisance
He has played and won major honors for club and country, chased down a thief and caught the eye of a few Premier League clubs, but who is Ogenyi Onazi? Sulaiman Folarin chats with Nigeria's secret weapon for Brazil 2014…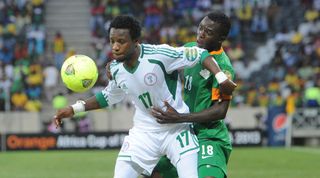 Ogenyi Onazi is running through the streets of central Rome. He is not working on his fitness or trying to beat the traffic to the Stadio Olimpico, home of his Italian club SS Lazio. Onazi, who is in plain cloths and a nice pair of shoes, is throwing caution to the wind and chasing a thief who had just stolen the wallet of an older tourist.
"I don't believe in crime, violence or things that are not right. Those are things that irritate me. When I see it happening close to me, I will react," Onazi tells FourFourTwo. He was able to catch the crook, drag him back to where he had dropped the stolen wallet and hand him over to the local police.
The 21-year-old doesn't plan to join Il Polizia anytime soon, but instead continue running the midfield for club and country - a task with which he is far more at ease
"I guess as a midfielder I'm always aware of my surroundings and it was the same when I saw the guy," Onazi explains. "I knew I was faster than him too, " he adds, laughing.
Onazi may not quite yet be a household name, but he plays alongside Chelsea's John Obi Mikel in midfield for the African champions, and has also rubbed shoulders with Premier League players like Jan Vertonghen, Moussa Dembele and Gylfi Sigurdsson in Europa League.
A show of faith
If there is one thing that comes first to the midfielder apart from his football, it's his faith. "To me without God, I don't think I can play football effectively," Onazi says. "God is the one who is in charge of everything I do in my life."
His faith was put to the test early - after he suffered a strain in the first match of the 2009 FIFA Under-17 World Cup, he was reduced to about 80 minutes for the duration of the tournament in Nigeria.
"I had cramps, which affected me after the opening game against Germany and the coach chose to start someone else after that," he reveals.
Even with limited playing time, he had trials at Chelsea and Greek giants Panathinaikos, with Tottenham Hotspur also rumored to be watching him closely.
None of those three clubs offered a deal, so his agent at that time advised he persued a move to Italy. He had no doubt he could be a top midfielder with his tactical ability and confidence on the ball, so they went to Rome.
"I had a trial game with the second team [at Lazio]. The director then said he wanted to see us with the first team. After we played with the first team, he offered us a four-year contract," he says.
Immediately he started training with the first team, but was still playing league games with the second team only because of his age.
Onazi is a gem who plays to instruction, a coachable player who also makes sure his area on the pitch is secured at all times.
"I just want to improve everyday and be a step ahead. I say to myself never allow your coaches trust in you to wane - always give them what they want and get better as a player," Onazi says.
He is not your quintessential Premier League midfielder like Chelsea's Nemanja Matic and Mikel, but neither is he built like Yaya Toure of Manchester City.
"I don't think football is all about size," Onazi tells FFT. "If it was, Messi wouldn't have been a football player. He's a small player, playing in a tough position and he is the best player in the world.
"With my size, you'd be surprised how I can dominate someone bigger."
Weapon of mass disruption
What he lacks in size, he makes up for in toughness and persistence. Onazi is like that troubling itch down your spine that you just can't deal with - in a good way, of course; he's that midfielder opposition players want to avoid and one that oozes confidence.
"As a midfielder, part of my job is to disrupt the opposition's flow. I want the playmaker to think of me when has the ball," Onazi says.
His vision and passing are important traits also. Just Ask Nigeria's top striker Emmanuel Emenike, who plays for Turkish giants Fenerbahçe and he would respond with two thumbs up for the midfielder.
In a World Cup qualifier against Malawi in 2013, Onazi sprung a pass that landed right at the feet of the striker, who lifted the ball over the onrushing goalkeeper. Emenike responded by applauding the midfielder for the sublime pass.
"With the way I was trained, I don't think it will be any problem if you put me in any part of the midfield, I will play it well," Onazi says.
He was certainly thrown in at the deep end for his national team. He made his debut in the quarterfinal of the 2013 Africa Cup of Nations - against the imposing figures of Yaya Toure and Cheick Tioté of Ivory Coast. It was a major test.
"My thought prior to that game was that their midfielders were fantastic. Yaya Toure in particular is a world-class player, and if I can handle these guys I can do it everywhere," he reasons.
Now a regular for Lazio, Onazi was part of the team that won Coppa Italia in 2013, but he won't say no to a dream move to England.
"The Premier League is the best in the world; it's more organized, and everything there is perfect - it is the best place to improve," Onazi says.
Catching that thief brought smiles and adoration to the faces of tourists - Onazi hopes to replicate that feeling with his football this summer in Brazil.
"The most important thing at the moment is going to the World Cup. As I speak with you, that's all I think about," Onazi says. Perform well in Brazil, and there are sure to be clubs in England looking to make his dream come true.
Thank you for reading 5 articles this month* Join now for unlimited access
Enjoy your first month for just £1 / $1 / €1
*Read 5 free articles per month without a subscription
Join now for unlimited access
Try first month for just £1 / $1 / €1
Get FourFourTwo Newsletter
The best features, fun and footballing quizzes, straight to your inbox every week.