Nobody at Tottenham has the heart to tell Dele Alli there won't be a next time
Tyro's optimism for the future met with embarrassed silence, Back of the Net report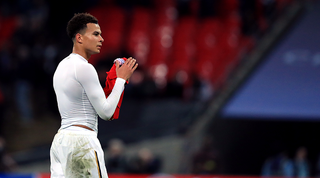 Dele Alli led Tottenham to victory over CSKA Moscow on Wednesday night to round off his side's Champions League campaign, and immediately turned his attention to next year's competition.
Alli scored as Spurs ran out comfortable 3-1 winners, an experience the youngster described with embarrassing naivety as "great preparation for next season".
"We'll come back stronger in 2017, no doubt," Alli said with all the misplaced optimism of a man born in 1996. "This is just the beginning for this club," he added, blissfully ignorant of Tottenham's long tradition of underachievement and relentless self-sabotage.
The midfielder's more experienced colleagues listened on awkwardly as he described how much he was looking forward to playing at the Camp Nou and the Bernabeu, as though qualifying for Europe's premier club competition was something Spurs would be doing again in Alli's career.
Mid-table mediocrity
Goalkeeper Hugo Lloris said: "Realistically, we're going to be hit by a series of injuries, fall agonisingly short of fourth, have our manager and best players poached by our rivals, invest the money badly, and return to upper-mid table mediocrity by the end of the decade.
"The only way Dele is going to play at the Bernabeu is if Real Madrid buy him. I know this. You know this. Everyone knows this except Dele. Is it crueller to tell him now or to let him find out for himself?"
When informed that Alli was also bullish about England's chances at Russia 2018, Lloris shook his head wearily, muttered something about the fleeting innocence of youth, and began following PSG on Snapchat.
Please note: This satirical news story is not real. Obviously.
Funny stuff • New features you'd like every day on FourFourTwo.com
Thank you for reading 5 articles this month* Join now for unlimited access
Enjoy your first month for just £1 / $1 / €1
*Read 5 free articles per month without a subscription
Join now for unlimited access
Try first month for just £1 / $1 / €1
Get the FourFourTwo Newsletter
The best features, fun and footballing quizzes, straight to your inbox every week.