Norman Whiteside: What Happened Next?
By Nick Moore
"I spent so much time with the United physio that he was setting me homework"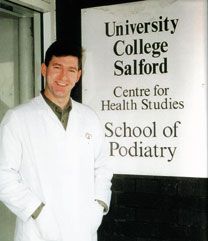 "I got really interested in the medical side of the game when I was injured as a player," says Whiteside, now 42, from his Podiatry Clinic in Manchester. "Mainly because I got a lot of injuries and had about 17 operations! I spent so much time with Jim McGregor, the United physio, that he educated me. It got to the point that he was setting me homework! But I was so bored, it was good learning about how muscles work."
Before injury ended his playing days at 26, the Belfast-born, 6'2" forward was the Wayne Rooney of his day. Whiteside was the youngest man since Duncan Edwards to pull on a United shirt when he made his Old Trafford debut in 1981; he later became the youngest player to appear (and score) in an FA Cup final and broke Pelé's record as the youngest participant in a World Cup (17 years and 41 days at España 82.)
NORMAN'S FEET NIGHTMARES
Sweaty feet
Dry feet
Athlete's feet
Once he knew he wouldn't have a very long career due to all the knocks he began to think about alternative careers. "I'd thought about becoming a physio," he explains, "then one day I went to a podiatric clinic in Salford and decided on going down that avenue. I'm now a qualified chiropodist and podiatrist."
Podiatrists don't just do feet, explains Whiteside. "We deal with problems from the hip down to the big toe. I do full assessments that analyse how people move, and we can build special insoles. I have a pressurised foot tread, which shows the foot in 3D, so we can find out what the problem is."
"It was quite hard going back to the classroom and sitting with kids who'd just done their A-levels. I'm no academic, I just had to work really hard. It sounds impressive that I've got a load of letters after my name, but it's been the toughest thing I've ever done! Give me a football and even if there's a million people watching, I'm OK. Standing up and getting the question wrong in front of the class is much scarier."
"After graduating Salford University, I wrote to the PFA and got work with them. I worked with 88 of the 92 league clubs for around eight years. I used to go round the clubs and screen the 16 year-old boys to check out any lower limb problems they may have before they become professionals."
"It was nice to go up and down the country and walk into a club. I'd always know someone – the physio, coach or the manager. It went well but eventually the PFA pulled the plug on the service, which was a shame. Now I'm building up my practice in Manchester and I enjoy it because I get all walks of life come to see me, not just sport people."
Interview: Nick Moore. From the October 2007 issue of FourFourTwo. 
Quizzes, features and footballing fun
Get the best features, fun and footballing frolics straight to your inbox every week.