Olivier Ntcham: Man City's long-term answer to Toure who's thriving in Serie A
By Blair Newman published
Blair Newman profiles the young French midfielder who's made a bright start in a competitive environment at Genoa...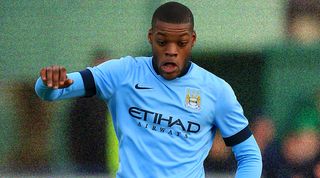 The 60-second story
FACT FILE
Date of birth: February 9, 1996
Place of birth: Longjumeau, France
Height: 5ft 9in
Position: Attacking midfield
Club: Genoa, on loan from Man City (6 apps, 0 goals)
International: France U19 (5 caps, 0 goals)
Olivier Ntcham has risen quickly since leaving Manchester City for Italian football in the summer. After joining Genoa on an initial two-year loan deal, the 19-year-old Frenchman has settled immediately into the first team, starting five of the Grifone's opening six league fixtures.
In doing so, the youngster has gone from playing youth-team football – where he was developing quietly under the radar as part of Manchester City's Elite Development Squad – to the daunting realities of life on the Serie A frontline. However, despite the speedy ascendancy, the youngster has shown no signs of distress. Instead, Ntcham has relished the chance to shine on a bigger platform.
He could have arrived in Italy at a much earlier stage. When, aged 16, he left Le Havre to join Manchester City for £730,000, Ntcham was also reported to be attracting interest from the likes of Juventus. He opted for English football instead, though, and was making inroads this year when Manuel Pellegrini involved him in City's pre-season tour of Australia. On the back of that, Ntcham signed a new five-year contract at Eastlands before heading out on loan, when Genoa were entrusted with his development until 2017.
Why you need to know him
Ntcham's move to Genoa has proven worthwhile thus far and there is reason to think this should continue. Playing first-team football for Gian Piero Gasperini necessitates positional flexibility, and that – as well as playing within the tactically diverse confines of Serie A – will ensure he improves cognitively. Combine that with his already-imposing stature and City could see him become a fine all-rounder.
Genoa are a good team for a growing player to be a part of because of the coach's philosophy and the club's transfer policy. Gasperini likes to use a 3-4-3 formation with an emphasis on connections all over the pitch. Within that framework, players come and go as the club buys and sells. As a result, the names on the teamsheet are relatively fluid and there is plenty of opportunity for new signings and youngsters to make a name for themselves, so long as they fit the tactics in place.
Ntcham seems to fit the bill, though he'd already hinted at having the requisite pedigree to succeed at the highest level well before this season and his breakout with Genoa. He was captain of the French under-16 team and viewed as one of the brightest talents of his generation having come through Le Havre's renowned youth system. The northern French club have produced multiple internationals in the past including Jean-Alain Boumsong, Vikash Dhorasoo, Lassana Diarra and, more recently, one of the world's finest midfield talents in Paul Pogba.
Almost inevitably, Ntcham has been compared with the Juve man, though a more fitting comparison could be made with Yaya Toure. Indeed, City are reportedly keeping close tabs on Ntcham after his eye-catching start at Genoa, perhaps with a view to assessing if he is a viable long-term candidate to replace the ageing Ivorian icon.
Strengths
Ntcham's most obvious traits stand out immediately. He is tall and strapping, with his neck overtaken by muscle. A physically mature force, he is potentially perfect for the Premier League's tempo, but to describe him purely as an athlete would be reductive.
While powerful, Ntcham also possesses useful technical qualities. He has showcased a sound range of passing, astute decision making and an ability to retain possession by keeping things simple. The Frenchman has done this while performing in numerous different roles within Gasperini's 3-4-3 system, demonstrating good versatility at a young age.
He's been predominantly used in a rough false nine role within Genoa's three-man forward line, though occasionally used to good effect on the left wing. At home to Milan on Sunday, meanwhile, he came off the bench to occupy a central midfield berth. Ntcham seems to enjoy the creative licence of a more offensive role but, when tasked with a deeper one, shows the requisite restraint.
Skip to 4:22 for Ntcham's excellent goal against Roma
Weaknesses
Ntcham's flexibility and athleticism may suggest he has what it takes to be Toure's replacement at the Etihad Stadium, but the reality is that he still has some things to work on if he's to fulfil such lofty expectations. He's still raw and, while composed, lacks finesse. He doesn't have the capacity to open things up with one pass and hasn't yet found his optimal position. Such characteristics may take time, but Toure is 32 and City may find themselves needing to replace their barrelling midfielder sooner rather than later.
Ntcham will have to hone his passing and ball control if he's to return to Manchester with a place in the starting line-up in his sights, though the fact he seems switched on and willing to learn stands him in good stead.
They said...
Genoa president Enrico Preziosi boldly asserted: "I've been in the world of football (for) 26 years and I've never seen a similar player at his age. He has unlimited potential, and is really a fantastic talent." It's not faint praise, but then Preziosi is hardy shy with his words. Perhaps more attention should be paid to the words of the more modest Gasperini, who said: "Ntcham is 19 years old (but) has played with the confidence of an accomplished player."
RECOMMENDED
Did you know?
Before dedicating himself wholeheartedly to football, Ntcham dabbled in boxing and his hero was Mike Tyson. He carries the pugilistic attitude into every match, something shown in his post-match comments. After Genoa's loss to Juventus, he tweeted "Every game is a fight… Forza Genoa," and also had some kind words for Gasperini before Sunday's win over Milan (below).
Il boss ha sempre le parole giuste @GenoaCFC spero la victoria oggi pic.twitter.com/HyG6c1sABj
— Olivier Ntcham (@OlivierNtcham) September 27, 2015
What happens next?
Genoa have a two-year loan agreement in place with Manchester City, including the right to buy Ntcham for an agreed fee. City, however, ensured they had a buy-back clause inserted so they have the option of bringing him back. They will have to be careful, though, as several other top Italian sides have already reportedly shown an interest in the French prodigy – including Roberto Mancini's Inter. For the time being Ntcham will concentrate on progressing his game with Genoa but, should he continue to excel at the current rate, he might make his competitive Premier League bow sooner than expected.
More of football's hottest prospects scouted on FFT.com • Features
Thank you for reading 5 articles this month* Join now for unlimited access
Enjoy your first month for just £1 / $1 / €1
*Read 5 free articles per month without a subscription
Join now for unlimited access
Try first month for just £1 / $1 / €1