Opinion: Why David Luiz should be everyone's guilty pleasure
The Sideshow Bob lookalike may not be to everyone's taste, but John Robertson explains why the marauding Brazilian is merely misunderstood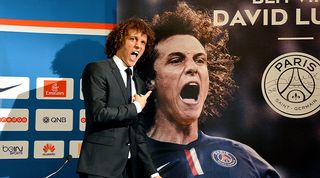 The Premier League lost a shiny, fuzzy-haired light when David Luiz left Chelsea for Paris Saint-Germain in 2014. From his trademark one-man-army runs to a fondness for goofy antics on and off the pitch, the Brazilian has long been an easy target for rival fans, pundits and anyone still irritated by the fact tactics and attitudes have moved on from the 1950s.
Imagine the joy, then, of Chelsea fans and otherwise, when it was revealed during the transfer deadline day circus that the defender would be heading back to west London for a fee in the region of £30 million. Can Twitter handle the memes?
Important acquisition
Luiz is ahead of his time; someone grossly misunderstood and a player capable of performing the wide variety of actions required of a top defender in 2016. He's the ultimate guilty pleasure, even if that 'guilt' stems from most other people's lack of appreciation. Yes, he's capable of silly mistakes, but his other qualities more than make up for that.
However, it's not just this writer who should be happy. The move makes perfect sense for club, player and manager Antonio Conte.
No matter how loud and often Stamford Bridge erupts in proud support of John Terry, the club captain isn't getting any younger. Nor, for that matter, is Gary Cahill. With Matt Miazga requiring more time to grow as a player on loan at Vitesse and Kurt Zouma battling long-term injury, Chelsea were in desperate need of central defenders.
Familiarity and 3-5-2
With three centre-backs, Conte now has the option of employing the 3-5-2 system he used to great effect with Italy and Juventus. Three at the back would allow the Italian to use wing-backs along the touchlines and field both Diego Costa and Michy Batshuayi at the sharp end of the pitch.
This is an unusual tactical system for Chelsea (and English football as a whole – just ask Manchester United under Louis van Gaal), and it'll take time for the players to come to terms with the changes. By bringing in a player who already knows multiple members of the squad, though, Conte's job is made slightly easier.
Making a new defender feel welcome and comfortable in his surroundings is difficult enough without simultaneously teaching the whole squad a brand new system, but the first part of the job has already been done given Luiz's existing relationships.
Luiz scores against Fulham
It's been reported that Chelsea were trying to acquire the services of Kalidou Koulibaly and Alessio Romagnoli earlier in the transfer window, but by securing Luiz they forego the adjustment period those players who've never played in England would have required. Like the rest of the defense, Luiz will need time to adapt if Conte attempts to play a 3-5-2, but his return at least means there's some familiarity in an otherwise unusual situation.
Kante and Luiz: The perfect match
Many believe Luiz should learn how to be a "proper defender", namely by no longer rushing up the pitch and instead concentrating on heading and kicking the ball clear. This opinion is outdated and should be discouraged, particularly for a team like Chelsea who are expected to win the majority of their matches.
Luiz's natural game is to move higher up the pitch when he thinks he can add something to the attack (which is often), and playing in the same team as N'Golo Kante will provide him with all the necessary cover to make those forward runs.
Kante's already been dropping back to split the centre-halves whenever full-backs Branislav Ivanovic and Cesar Azpilicueta take up higher positions to support Eden Hazard and Willian. If Conte plays a back three, Luiz can push up and Kante can drop back without a loss of shape.
">
Death of a No.10
It's becoming increasingly difficult for No.10s to find space to operate, particularly when facing sides that use the popular 4-2-3-1 formation.
This is one of the reasons why many of the world's most creative players start in wide areas before cutting inside; it's the only way they can find the space to make best use of their talents. It's also the reason why more static inventive types like Cesc Fabregas are vanishing.
Another way to find space is to give creative responsibility to a player operating in a deeper position, as Juventus did with Andrea Pirlo and Bayern Munich do with Xabi Alonso. Luiz might not have the passing ability of these two, but he does have the ability to run through opponents and carry the ball into dangerous areas.
In order to prevent this happening, holding midfielders will have to move up the pitch earlier to cut him off. In turn, this will open up more space for the likes of Oscar, Hazard and Willian, who can then move the ball on quickly to Costa and Batshuayi.
Celebrate the crazy
Let's make no mistake: Luiz is not a perfect player. He does make mistakes in the box and he's prone to conceding needless penalties; he's the kind of player who combines the ridiculous and the sublime to such an extent that we should be celebrating him as an entertainer as much as we value him as a player.
Ultimately, though, his positive qualities outweigh the negative, and he could thrive as part of a talented Chelsea lineup. Either way, the Premier League is much more fun with him around again.
Quizzes, features and footballing fun
Get the best features, fun and footballing frolics straight to your inbox every week.
Thank you for signing up to Four Four Two. You will receive a verification email shortly.
There was a problem. Please refresh the page and try again.