Pantilimon interest is nobody else's business, embarrassed Watford insist
Watford are refusing to discuss their desire to sign Costel Pantilimon in public, Back of the Net reports.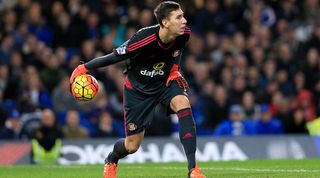 Watford have angrily refused to confirm or deny links with Sunderland goalkeeper Costel Pantilimon, insisting that such things should remain behind closed doors.
A scurrilous rumour has been circulating in various media outlets, on social media and in the dark corners of gentlemen's establishments, that the Hornets have been watching Pantilimon with interest and are preparing to swoop.
But the club have reacted with moral outrage to the issue being discussed openly by strangers.
"Watford FC is a family club and we won't stand by as people baselessly speculate about our hankering for Pantilimon," a club spokesman told FFT.
"Like anyone else, from time to time we may feel it'd be nice to have the option of putting on Pantilimon for an occasion, but that's a decision made within the privacy of our boardroom.
"Our fans don't want to hear these tawdry rumours about us and Pantilimon in their morning newspapers. Nobody wants to really think about that at all."
Mixing it up
However, rumours continue to intensify that Watford have been sizing up Pantilimon for some time and have gone as far as agreeing a fee and finding a time to bring Pantilimon to Vicarage Road to see how he fits there.
"There's nothing surprising about high-profile clubs taking an interest in Pantilimon," Pantilimon's representatives told FFT. 
"Manchester City loved nothing more than spicing things up with Pantilimon when things with Joe Hart weren't quite working out. 
"I live in hope that one day we'll be able to discuss Pantilimon without a club's fans feeling such shame and revulsion."
Please note: This satirical news story is not real. But you knew that already, right?
Quizzes, features and footballing fun
Get the best features, fun and footballing frolics straight to your inbox every week.
Thank you for signing up to Four Four Two. You will receive a verification email shortly.
There was a problem. Please refresh the page and try again.