Portugal Women's World Cup 2023 squad: 23-player team named
The Portugal Women's World Cup 2023 squad has been released ahead of A Seleccao das Quinas' first-ever World Cup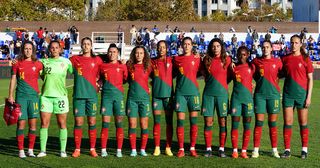 (Image credit: Gualter Fatia/Getty Images)
The Portugal Women's World Cup 2023 squad is starting to take shape ahead of the nation's first ever World Cup Down Under this summer.
The Portuguese were a late entry for last summer's Euros, earning a spot in the group stage when Russia were banned from the tournament for political reasons. A Seleccao das Quinas put up a decent fight despite being drawn in a tough group, losing to the Netherlands and Sweden as many expected but managing to grab a draw against Switzerland.
Now, this team packed with experience will be looking to build on their last tournament experience – and perhaps even avenge the Dutch for last year's narrow 3-2 in their opening game in New Zealand. Vietnam and the United States make up the rest of the group.
Portugal have plenty of know-how in defence – Carole Costa, Ana Borges and Silvia Rebelo have over 420 caps between them at the back – while Jessica Silva is the standout attacker and first Portuguese woman to win the Champions League. Kika Nazareth, meanwhile, is still just 20 but seen as the next big thing in Portuguese women's football – she was the first female player to have Jorge Mendes as her agent, too.
Little is expected from this group, who are slowly but steadily building on each tournament. In a tough group, four points would be a huge ask – but drawing against the Dutch and bettering their result against Vietnam is a very clear objective to have from the outset.
Portugal are in World Cup Group E with the United States, Vietnam and Netherlands, their first World Cup fixture is against the Netherlands on July 23 and below is their provisional 25-player World Cup squad, announced in May.
Portugal Women's World Cup 2023 squad
Portugal Women's World Cup 2023 squad: the 25-player preliminary squad for Australia and New Zealand
GK: Ines Pereira (Servette)
GK: Patricia Morais (Braga)
GK: Rute Costa (Benfica)
DF: Joana Marchao (Parma)
DF: Lucia Alves (Benfica)
DF: Carole Costa (Benfica)
DF: Ana Seica (Benfica)
DF: Diana Gomes (Sevilla)
DF: Silvia Rebelo (Benfica)
DF: Catarina Amado (Benfica)
MF: Dolores Silva (Braga)
MF: Fatima Pinto (Alaves)
MF: Andreia Norton (Benfica)
MF: Andreia Jacinto (Real Sociedad)
MF: Tatiana Pinto (Levante)
MF: Kika Nazareth (Benfica)
MF: Ana Rute (Braga)
FW: Diana Silva (Sporting)
FW: Ana Borges (Sporting)
FW: Ana Capeta (Sporting)
FW: Jessica Silva (Benfica)
FW: Carolina Mendes (Braga)
FW: Telma Encarnacao (Maritimo)
Who is Portugal's manager?
"We would exchange our place at this European Championship for a world without war and without the shocking events that we have been following on television," Francisco 'Mina' Neto said when Portugal were granted a place in last year's Euros: now he's led them to a first-ever World Cup fair and square. Still just 41, this will be his third tournament in charge of the national side.
When will the Portugal squad be announced?
With the preliminary squad already named, two names will drop out of contention between now and the start of the tournament.
How many players are Portugal allowed to take to the World Cup 2023?
The Portugal Women's World Cup squad will be made up of 23 players. Despite requests from some countries to extend the squad sizes, as was done with Men's World Cup in Qatar, they will be limited to a smaller squad of just 23.
Thank you for reading 5 articles this month* Join now for unlimited access
Enjoy your first month for just £1 / $1 / €1
*Read 5 free articles per month without a subscription
Join now for unlimited access
Try first month for just £1 / $1 / €1