Quiz! Name the FA Cup finalists since 1900
Cup finalists, there's been a few, but then agai– oh, just name them please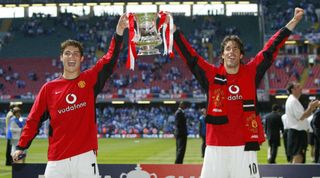 Get out the cardboard cut-out, tinfoil wrapped trophies: it's FA Cup final weekend!
That's right, the oldest tournament in the world reaches its pinnacle again this weekend, as Watford take on Manchester City at Wembley.
But can you name every team to ever play in an FA Cup final?
No, you can't. Along the way, some long-forgotten team like Royal Engineers, Blackburn Olympic or Notts County would trip you up. (Sorry, Notts County. Only joking.)
However, you might be able to name every club that has reached a final since 1900. There's a mere 48 to get, and we're giving you eight minutes to get them. If you manage to them all then, well, that's just the magic of the cup.
Let us know how you get on @FourFourTwo – we'll give shouts out to those we feel deserve them (but pictorial evidence is required – your word alone is useless).
THEN TRY...
The hangover: Coming to terms with Leeds United's play-off heartbreak
Quiz! Can you name all 59 players to win three or more Premier League titles
---
Quizzes, features and footballing fun
Get the best features, fun and footballing frolics straight to your inbox every week.
Thank you for signing up to Four Four Two. You will receive a verification email shortly.
There was a problem. Please refresh the page and try again.