Ranked! The 10 best players of the 2018 World Cup group stage
With three games down and only half of Russia 2018's teams remaining, Nick Miller picks out the stars who've shone brightest so far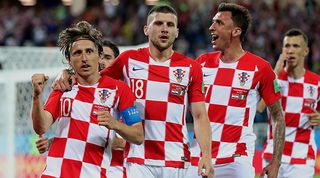 10. Andre Carrillo (Peru)
If you'd only been paying vague attention, you may be forgiven for thinking that Peru didn't actually have a football team at the World Cup – simply a set of very enthusiastic fans determined to have a brilliant time.
The supporters and team are on their way home, but a few players deserved better; notably winger Andre Carrillo, who was terrific in their first two games and scored the first in Los Incas' win over Australia. "We are slightly bitter because we're better than Denmark, and at times we were even better than France," he sighed.
9. Aleksandr Golovin (Russia)
Before the tournament we were promised a shambles from Russia; a mess of embarrassing proportions that would make a mockery of the hosts. As it turned out, they blew their first two opponents away and could put their feet up for the third game.
Denis Cheryshev has got the goals, while the giant Artem Dzyuba has caught the eye, but Aleksandr Golovin – perhaps the only genuine individual star in this Russian team – has been at the heart of everything good they've done. He scored one and set up two in the battering of Saudi Arabia.
Few expect Russia to go much further, but then again, few expected them to get this far. If they do beat Spain, Golovin – a summer target for Chelsea, according to reports on Friday – will be the man they look to.
8. Takashi Inui (Japan)
"Inui has been performing beyond our expectations," said Japan coach Akira Nishino before their final group game against Poland. "He has been excellent."
When your own manager is surprised and impressed by your performances, you know something has gone very right. It's perhaps an indication of how highly Nishino rates Inui that he was left out of Japan's final game: a fairly remarkable gamble that only came off because Senegal lost to Colombia.
Nishino rested many of the Blue Samurai's best players against Poland, despite still requiring a point to ensure qualification. Inui, a busy midfielder who scored in their draw with Senegal, will be crucial in the last-16 game against Belgium.
7. Christian Eriksen (Denmark)
"Great things can happen," was Denmark midfielder Thomas Delaney's assessment of what it's like to play alongside Christian Eriksen.
When a relatively limited side plays with an outstanding talent, there will always be a temptation to lean on them; to always look towards said star when things aren't going well. Where Eriksen is concerned, you can hardly blame the Danes for doing so.
His goal against Australia was an extraordinary piece of skill: a half-volley he hit while the ball was still rising; the sort of effort that most players would have been delighted even to get a touch on, never mind send it fizzing into the roof of the net. But then Eriksen isn't most players.
6. Isco (Spain)
Julen Lopetegui's departure might have impacted Isco the most. Real Madrid's playmaker was a favourite of the former Spain coach, so apart from anything else in the hours after his dramatic departure, the player must have been wondering how his role would change.
As it turned out, he needn't have worried. With Andres Iniesta's career winding down and the same fate for David Silva not too far away, Isco was always going to take over as Spain's primary creative force at some point – and he arguably did that in the group games.
He's generally found himself in the shadow of more imposing figures for both club and country, but this tournament might be the time he steps out of it.
5. Hirving Lozano (Mexico)
Links with Barcelona are always likely to fluff up a player's confidence, but Mexico forward Lozano's performances at the World Cup have been good enough not to require that sort of validation.
His standout showing helped produce arguably the tournament's standout result so far, the win over Germany which set Jogi Löw's men away on their spiral out of Russia – but more importantly, set Mexico up for qualification.
The 22-year-old known as 'Chucky' got the goal that day, showing ice cool nerve and skill to get it, and was thrilling against South Korea. A big move might happen tomorrow, but for today Lozano is a Mexican hero.
4. Harry Kane (England)
Kane probably merits a place on this list for that first penalty against Panama alone, but he's the tournament's top scorer and has only played 153 minutes of it.
His tally of five goals would already be enough for a share of the Golden Boot in both 2010 and 2006, and while one of those was a freak that he knew little about, the other four showed why he's arguably the best centre-forward in the world. His goals against Tunisia were scored with the poacher's finest instinct; that intangible thing the best goalscorers have of knowing exactly where to be and when.
While it's easy to gloss over the penalties against Panama, one only has to think about the pressure involved in taking a spot-kick at a World Cup. Even the nerve of the best sometimes fails them…
3. Cristiano Ronaldo (Portugal)
Let's quickly move on from that miss against Iran, then, shall we? Ronaldo's hat-trick against Spain was further evidence of his genius, adding to an already-groaning file.
It was quite good fun, in the immediate aftermath of the game, to see a few people contort themselves into arguing that it really wasn't that special an achievement: a penalty, a goalkeeping mistake and a free-kick. What's so good about that?
You could make that argument if it was a training match, but when Ronaldo stepped up to take that free-kick, his team were two minutes away from losing their first game of the tournament. He sent it flying into the top corner, and not for the first time we shook our heads in wonder that he'd done it again.
2. Diego Godin (Uruguay)
Uruguay's World Cup has been a slightly curious one, in that they didn't really play particularly well in any of their three games, spells here and there aside. But they won all of them anyway, and qualified with ostensible ease.
A huge part of that was the iron bolt they have in defence, slamming the door and locking it shut whenever an opposition attacker had the temerity to approach them. Uruguay were the only team to qualify without conceding a goal, and a big part of that defensive impenetrability was down to Godin, 32 years old and still making a good argument that he's the best central defender in the world again.
His battle against Ronaldo in the last 16 should be terrific fun.
1. Luka Modric (Croatia)
Perhaps we should no longer be surprised that Modric does remarkable things: he is, after all, an utterly remarkable footballer. But the context of his excellence in Russia must be considered too – this, after all, is a man who was charged with perjury in March, after his testimony at the trial of former Dinamo Zagreb director Zdravko Mamic.
That would be enough to take anyone's mind off football, but Modric has continued as if nothing is wrong, directing Croatia to the second phase. He has been the conductor of a sometimes-erratic orchestra, and his understated brilliance has once again proved his status as one of this generation's great midfielders.
Honourable mentionsto: Romelu Lukaku, Artem Dzyuba, Kieran Trippier, Philippe Coutinho, Denis Cheryshev, Kevin De Bruyne and Cho Hyun-woo.
Thank you for reading 5 articles this month* Join now for unlimited access
Enjoy your first month for just £1 / $1 / €1
*Read 5 free articles per month without a subscription
Join now for unlimited access
Try first month for just £1 / $1 / €1
Get FourFourTwo Newsletter
The best features, fun and footballing quizzes, straight to your inbox every week.