Ranked! The 10 best players of Italia 90
Despite a defence-dominated tournament, a 38-year-old dancing Cameroonian, blubbing British barnpot and bona fide home-nation hero still managed to set Italia 90 alight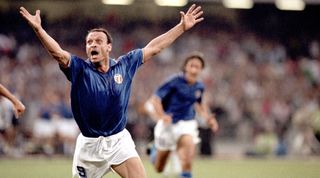 10. Jurgen Klinsmann, West Germany
Klinsmann came away from the tournament with a deserved reputation for diving, but he also proved himself an extraordinary striker.
His header against Yugoslavia showed what he could achieve when he put his leaps to a positive use, but the performance that defined him came against the Dutch in the second round.
Left to play as a lone frontman after Rudi Voller had been sent off, he led the line tirelessly, scoring the opener. Inevitably, it was a foul on him – suitably brought to the referee's attention with an extravagant fall and shoulder spin – that led to Pedro Monzon's red card in the final against Italy.
9. Franco Baresi, Italy
Baresi was the keystone of an Italian defence that went into the tournament having conceded only one goal in their previous nine games, and maintained their form through the early stages.
The calm distributor in a backline that also included Giuseppe Bergomi, Paolo Maldini and Riccardo Ferri, Baresi's unflustered reading of the game helped bring clean sheets against Austria, USA, Czechoslovakia, Uruguay and the Republic of Ireland.
When they finally conceded a goal, following a misjudgement by Walter Zenga in the semi-final, it proved terminal: Italy lost to Argentina on penalties, despite Baresi coolly dispatching the first kick of the shootout.
8. Luis Gabelo Conejo, Costa Rica
Costa Rica's unexpected progress to the second round was based on three things: canny organisation, the inspirational impact of their coach Bora Milutinovic, and the form of their goalkeeper Luis Gabelo Conejo.
He kept a clean sheet as Costa Rica beat Scotland to become the first Central American side to win a World Cup match in Europe, and was then outstanding in their second match against Brazil, making a string of fine saves and being beaten only by a deflected shot.
Injury kept him out of the second round defeat to Czechoslovakia, but he had already made sufficient impression to be named goalkeeper of the tournament by France Football.
7. Dragan Stojkovic, Yugoslavia
Stojkovic barely featured in the opening game against West Germany, eclipsed by Lothar Matthaus, but thereafter he was magnificent – the central intelligence of a deft Yugoslavia side.
It was from his crosses that Mirko Jozic headed goals against West Germany and Colombia in the group stage, but it was against Spain in the second round where Stojkovic excelled. That performance earned him a move to Marseille.
Having dominated midfield, he won the game with two goals, the first involving a masterly dummy that left an embarrassed defender on his backside. He missed a penalty in the quarter-final shootout against Argentina – but so did Diego Maradona.
6. Paul Gascoigne, England
Only assured of his place in the squad after a brilliant performance against Czechoslovakia in April, it was Gascoigne who transformed England from functional also-rans into potential winners.
Liberated by Bobby Robson's switch to a sweeper system, he played with impudence and intelligence, taking the free-kicks that led to winners against Egypt and Belgium, and generally giving England the sort of midfield control and creativity they'd been missing since Bobby Charlton retired.
His tears in the semi-final after picking up a booking that would have kept him out of the final seemed to usher in a new, more sensitive age.
5. Roger Milla, Cameroon
Milla was 38 and winding down his career in semi-retirement on the Indian Ocean island of Réunion when the call came from the president of Cameroon, Paul Biya.
Despite misgivings among the rest of the squad he proved his worth, coming off the bench to score twice against Romania, and then hitting another double against Colombia in the second round – celebrating each goal with a hip-wiggling shimmy at the corner flag.
He briefly turned the quarter-final against England as well, drawing a foul from Gascoigne to win a penalty, before chipping the through-ball from which Eugene Ekeke gave Cameroon the lead.
4. Andreas Brehme, West Germany
He scored the winner from the penalty spot in the final, which was a fitting end to the tournament for a player who effectively defined the role of the wing-back. Never less than solid defensively, Brehme had the engine to work up and down the left flank and was probably the best crosser in the side.
It was from his delivery that Klinsmann headed West Germany's second against Yugoslavia, he scored the second against the Dutch with a right-footed curler and, of course, struck – with his left foot this time - the free-kick that deflected off Paul Parker for West Germany's goal in the semi-final.
00:37 for the penalty
3. Diego Maradona, Argentina
He didn't hit the heights of 1986 – how could he have? – but Maradona, despite the pain of an inflamed toe-nail, again dragged Argentina further than seemed possible after they'd lost 1-0 to Cameroon in the tournament's opening match.
He even got away with another handball (or a third, if you count the one that had mysteriously won Napoli a penalty in the UEFA Cup final earlier in the year), palming an Oleg Kuznetsov header off the line in the 2-0 win over USSR.
Maradona's moment of the tournament came against Brazil in the second round. He'd been sent off against Argentina's biggest rivals in his first World Cup (1982), pushed beyond the limits of his temper by persistent fouling. This was the most glorious revenge.
Brazil had enjoyed much the better of 81 goalless minutes, but then Maradona picked up the ball just inside his own half, turned, jinked by two challenges and – for the first time – had some space. It was suddenly like Mexico again. The Brazilians panicked to the extent that Ricardo Rocha and Ricardo Gomes ran into each other, and as Claudio Caniggia was left free, Maradona played him in with the perfect pass.
2. Salvatore Schillaci, Italy
Italy went into the tournament having scored just two goals in their last seven warm-up games, and with nobody convinced by Azeglio Vicini's centre-forward pairing of Gianluca Vialli and Andrea Carnevale.
They needed a striker to hit a hot streak as Paolo Rossi had done in 1982, and they found him in Salvatore 'Toto' Schillaci, a Sicilian who had been called into the squad off the back of 15 goals in his first season at Juventus after seven seasons in Serie B.
He replaced Carnevale after 75 minutes of Italy's opening game against Austria, and within four minutes had headed in Vialli's cross for the game's only goal. He celebrated with the manic, bulging eyes that would become a feature of the tournament. Schillaci came off the bench against the USA and then, handed a start in what was effectively a dead-rubber against Czechoslovakia, headed in Giuseppe Giannini's miscued shot. That kept him in the side for the second-round game against Uruguay, and he swept the opener in a 2-0 win.
He got the winner against the Republic of Ireland in the quarters, heading in after Packie Bonner had parried Roberto Donadoni's shot, and put Italy ahead in their semi-final defeat to Argentina. A penalty in the third-place play-off against England ensured the Golden Boot was his.
1. Lothar Matthaus, West Germany
West Germany in 1990 were an awesome side; a blend of power and class, and at their heart stood Matthaus. He was their captain but also their embodiment, an indefatigable driving force who could also think and pass – and, as Yugoslavia discovered, shoot.
It may be that the World Cup has never seen a more complete series of performances from any player than those Matthaus produced in 1990.
In terms of how they are remembered, West Germany are unfortunate that they produced their best first. Yugoslavia were an excellent team, but West Germany destroyed them their first group game, winning 4-1. Matthaus not only negated Dragan Stojkovic but also scored twice, first with a sharp turn and low arcing left-foot shot into the corner from just outside the box, and then with his right foot from slightly further out having surged from inside his own half.
He added another long-rage effort against the UAE, and then got the winner from the penalty spot against Czechoslovakia in the quarter-final.
Needless to say, he made no mistake in the shoot-out against England in the semis and, suffering an ankle injury, had the good sense to leave converting the winning penalty in the final to Andreas Brehme.
Thank you for reading 5 articles this month* Join now for unlimited access
Enjoy your first month for just £1 / $1 / €1
*Read 5 free articles per month without a subscription
Join now for unlimited access
Try first month for just £1 / $1 / €1
Quizzes, features and footballing fun
Get daily World Cup 2022 news, updates and other football frolics to your inbox
Quizzes, features and footballing fun
Get daily World Cup 2022 news, updates and other football frolics to your inbox
Thank you for signing up to Four Four Two. You will receive a verification email shortly.
There was a problem. Please refresh the page and try again.