Ranked! The best 10 Players of Mexico '86
published
World Cup 86 was characterised by prolific goalscorers, creative genius, and guile aplenty. There was a handy Argentine fellow, too. Diego something or other…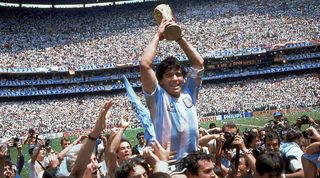 1. Diego Maradona, Argentina
He was kicked to breaking point in 1982, finally snapping against Brazil as he thrust his studs into Joao Batista's groin. He'd endured two miserable years at Barcelona, where he suffered hepatitis and a potentially career-ending foul which still affected him to the extent that, in Mexico, he wore different-sized boots on each foot. But this, the most concentrated display of genius by any man in any tournament, was Diego Maradona's revenge on the world.
More specifically it was his revenge on England, as he made the quarter-final his 
own personal mission against, as he saw 
it, the pirates who occupied Las Malvinas. His two goals exemplified the two sides of what's known in Argentina as the viveza – cunning, cleverness or subtlety – on which Argentinian football prides itself.
First there was the dark side, with the Hand of God goal, then the brilliant second, a goal that with its preposterous slaloming gambetas bore the hallmark of childhood games in the back streets of Buenos Aires.
He had already set up all three goals against South Korea, volleyed an equaliser against Italy and created the second against Bulgaria; he would go on to score two more mesmerising goals against Belgium, before laying on the winner for Jorge Burruchaga in the final. Mexico 86 was, indisputably, Diego Maradona's tournament.
2. Preben Elkjaer, Denmark
Denmark made such an impression in the 1986 tournament that it's hard to believe 
they were knocked out in the last 16.
They might have gone out three rounds earlier, but they were what the Dutch had 
been in 1974: a vibrant side who played with 
a spirit of mischief and had about them an ineffable sense of cool.
Most mischievous of them all was Elkjaer, whose irreverent humour had attracted the nickname Den Gale Mand fra Lokeren ('The Crazy Man from Lokeren') during his time in Belgium. He had balance, poise, imagination (he invented a variation on the Cruyff turn), a staggering desire and the sort of lung-busting energy – scoring 38 goals in 69 international matches – that would have defied belief even 
if he hadn't been a chain smoker.
Elkjaer bundled past Willie Miller to score the only goal against Scotland a few minutes after half-time, but it was in the second game, as Denmark humiliated Uruguay 6-1, that he really reached his peak.
Relentless as ever, Elkjaer scored a hat-trick spread across the two halves – two of them fine finishes, one a tap-in – set up Soren Lerby for the second, superbly creating space for the cross by knocking the ball forward with what had seemed to be his standing leg, and laid 
on the sixth for Jesper Olsen with another blistering burst down the right.
3. Gary Lineker, England
England, having lost to Portugal and drawn against Morocco, were in desperate trouble, and early defensive errors put them under pressure in their final group game against Poland.
Then Glenn Hoddle cleared a ball tight by his own corner flag. Lineker won the header on halfway by the left touchline, and exchanged passes with Peter Beardsley. Cutting infield, 
he checked, laid it square for Trevor Steven, who waited, and pushed the ball into the path 
of the overlapping Gary Stevens, who crossed low. Lineker, with a classic feint to go left 
before darting across to the near post, lost 
his marker, and England had the lead. Great finisher he may have been, but Lineker was 
far more than that.
4. Careca, Brazil
With Careca, it is impossible not to wonder what might have been had he not been injured for the 1982 tournament. By 1986, when he was fit and in form, he was surrounded by ageing talents.
His first goal of the tournament was a tap-in against Algeria, but both his strikes against Northern Ireland – a crisp drive through Pat Jennings' legs and then a clever shot in at his near post – showed a finisher at his absolute peak. A penalty followed against Poland, before he swept Brazil into the lead 
in the quarter-final, only for France to hit back and win the game on penalties.
5. Harald Schumacher, West Germany
Justice might have demanded that he should never have played again after his disgraceful foul on Patrick Battiston in the 1982 semi-final, but Schumacher was the star of West Germany's stuttering run to the final, and even captained the side when Rummenigge was unavailable through injury.
He produced his best display 
in another semi-final against France, making a 
string of fine saves to keep the score at 1-0 before Rudi Voller added a late second, but he was also key to West Germany's victory over Mexico in the quarter-final, denying Fernando Quirarte and Raul Servin in the shoot-out.
6. Ihor Belanov, USSR
Valery Lobanovsky had taken over the USSR from his arch-rival Eduard Malofeev a matter of weeks before the tournament, and to a large extent fielded his Dynamo Kyiv side that had won the Cup Winners' Cup earlier in the year.
Not surprisingly the star of that side, Ihor Belanov, named European Player of the Year for 1986, was the central figure. He scored a penalty and pulled the strings in a 6-0 win over Hungary, laid on Blokhin's goal against Canada, and then scored a hat-trick in the USSR's 4-3 defeat to Belgium in the second round.
SEE ALSO Pep Idol: the Anti-Lobanovsky who inspired a generation – inside and outside Russia (opens in new tab)
7. Sergio Batista, Argentina
No player, of course, actually wins the World Cup single-handedly, however close Maradona came to doing so.
When, in the quarter-final, Maradona was advanced to play as a second striker to play just behind Jorge Valdano, Jorge Burruchaga took on a vital creative role. But probably even more important was the bearded Sergio Batista, who operated at the back of 
the midfield, just in front of what at the time was a radical back three.
He was a ball-winner, capable of dropping in to the backline where necessary, but he could also distribute, and 
so set the tempo of much of Argentina's play.
8. Luis Fernandez, France
With Michel Platini diminished by tendonitis, France had to find another midfield general, and of the other three members of their great quartet, it was Fernandez who emerged.
The least creative of that midfield, he was still gifted, and his discipline and reading of the game gave France stability. It was his cross that laid on the goal against Canada, and he converted Alain Giresse's pass against the USSR. But against Brazil in the epic quarter-final, he did as much as anybody could have to neuter them, before scoring the decisive penalty in the shoot-out.
9. Emilio Butragueno, Spain
Can one game lift a player to the pantheon? Yes, if he scores four goals to eliminate one of the best sides.
In the second round Denmark were 1-0 up when, two minutes before half-time, Jesper Olsen passed across the top of his own box. Butragueno ran on, and beat Hogh without breaking stride. He then headed in from a corner, converted a cross from Eloy, and was brought down for two penalties, the second of which he converted in a 5-1 win. Nicknamed 'The Vulture', Butragueno feasted on Denmark long before the body was cold.
10. Jan Ceulemans, Belgium
There was something unsatisfying about Belgium's progress, as they scuffed their way through the easiest group, had the benefit of a couple of unusual refereeing decisions to help their rearguard action against the USSR, and then needed penalties to beat Spain in the quarter-final before Maradona dismantled them
 in the semis.
But throughout it, the awkward, brave, bony figure of Ceulemans stood out as
 a captain, a classic leader of the line and target man. His diving header against Spain from Franky Vercauteren's cross was true class.
Thank you for reading 5 articles this month* Join now for unlimited access
Enjoy your first month for just £1 / $1 / €1
*Read 5 free articles per month without a subscription
Join now for unlimited access
Try first month for just £1 / $1 / €1
Quizzes, features and footballing fun
Get the best features, fun and footballing frolics straight to your inbox every week.
Thank you for signing up to Four Four Two. You will receive a verification email shortly.
There was a problem. Please refresh the page and try again.