Ranked! Manchester United's 15 best academy graduates of the last 25 years
Revamped by Fergie in the early '90s, the Old Trafford youth academy produced terrific players for United – and beyond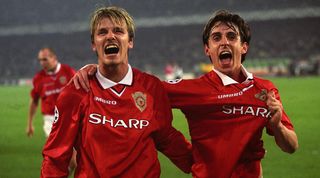 Also in this series...
15. Ryan Shawcross
Shawcross joined United when he was 15 years old and went on to make just two appearances, in the League Cup.
He was sent out on loan to Stoke when he was 19, before eventually being sold to the Potters in 2008. Sir Alex Ferguson made sure there was a clause in his contract that would allow United first refusal on him in the future – and after Shawcross got his first England call-up in 2012, Ferguson conceded that maybe it had been a mistake to have let the defender leave.
Shawcross was named Stoke's captain when he was just 22 and still wears the armband there now, eight years later.
14. Danny Drinkwater
Any player who has spent time at United over the past three decades is likely to have quite a few winners' medals in the cabinet. What makes Drinkwater noteworthy is that he managed to win the league title away from Old Trafford, with Leicester, after playing 35 Premier League games in the 2015/16 season.
His efforts were recognised by Antonio Conte, who signed the former United player for his title-winning side in the summer. Drinkwater didn't make a single appearance for United's first team and is still awaiting his Chelsea debut due to injury, but his efforts at Leicester deserve recognition.
13. David Healy
Healy signed for United as a teenager but only made two first-team appearances for the club. The best years of his career were spent at Preston North End and at Leeds.
His inclusion in the list isn't down to his club form, though, rather his performances at international level. With 36 goals in 95 appearances for Northern Ireland, Healy is his country's all-time top goalscorer. Kyle Lafferty, at 30 years old, is the closest player to him with 20 goals, so you'd imagine his record will stay intact for some time.
12. John O'Shea
O'Shea's United career is better summed up in moments, rather than periods of time, since he played more of a squad role than a starring one.
When he was 21, he nutmegged Real Madrid's Luis Figo; when he was 23, he put the 10 men of United 4-2 up away to Arsenal; and when he was 25, he scored a last-minute winner in front of the Kop.
Playing across the back four, as well as in midfield, O'Shea probably paid the price for his versatility and was unable to specialise in one position – although being able to play all over the pitch meant he was able to play in more games for United than he likely would have done otherwise.
After 393 appearances, he was sold to Sunderland in 2011. He turns 37 this season and is still their captain.
11. Jonny Evans
Evans is a lifelong supporter of the club, growing up with a United-themed bedroom in a United-mad family. When he was loaned out to Sunderland, his dad would still go to Old Trafford to watch the Reds play instead.
Evans's time at United was mixed: he had seasons when he looked like having the makings of a future captain, but also suffered campaigns he wanted to forget.
His best year came in 2011/12, when he filled in for the injured Nemanja Vidic; Evans played in 40 games in all competitions for United, and was incredibly reliable.
While he was never able to consistently replicate the form he enjoyed that season, it was still a shock when Louis van Gaal sold him in 2015. The fact that title favourites Manchester City tried to sign him in the summer speaks volumes about the current West Brom captain's worth.
10. Phil Neville
Neville's best moment at United likely came in the 2004 game against Arsenal that ended the Gunners' 49-match unbeaten run. Jose Antonio Reyes's career in England never recovered after P-Nev bullied him all afternoon.
The most enjoyable footage is his reaction to Ole Gunnar Solskajer's winner in the 1999 Champions League Final. Neville – an unused substitute in Barcelona – celebrated like an absolute loon alongside all Reds in the crowd that evening, typifying his love for the club.
Neville went on to enjoy a successful enough career after United, too. He spent eight years at Everton, as captain for most of them, displaying the leadership qualities that are so familiar in those who played under Ferguson.
9. Darren Fletcher
Fletcher wasn't always the most popular figure among United fans, but eventually left the club with the fondest feelings from supporters. The Scottish midfielder was always a favourite with Ferguson and went on to prove himself as a valued squad member.
He could regularly be relied upon for the big games; his wrongful sending off in the 2009 Champions League Semi-Final against Arsenal meant he missed the final, and was seen as a turning point for United that season.
Since leaving United he's gone on to captain West Brom and Stoke, which is a reflection of his excellent leadership and never-say-die attitude.
8. Marcus Rashford
If we're to compile this list a decade from now, Rashford may well find himself higher up. To have made such an impact while still a teenager is quite some feat: Rashford has scored on his debut in every competition he's played in, as well as three minutes into his England debut.
He can already claim goals against Manchester City, Chelsea and Arsenal, despite having only just turned 19, and is also closing in 100 appearances for club and country. The forward has the makings of a special player.
7. Nicky Butt
Pele once named Butt as his best player of the 2002 World Cup, in what was a rare moment for the midfielder to outshine his fellow graduates from the Class of '92.
Aside from his talent, a welcome attribute of the midfielder was his ability to stand up for others. Having grown up in Gorton he was the toughest player of the bunch, and if an opponent started something with one of his team-mates, Butt would be the one to finish it.
He started the 1999 Champions League Final in the absence of Paul Scholes and Roy Keane, in what was surely the most memorable occasion of his United career. Butt also played close to 400 games for the club and 39 for England before being sold to Newcastle. The midfielder wasn't away for long though, returning as a coach, and is now in charge of United's academy.
6. Paul Pogba
As with Rashford, Pogba's standing on this list may well have increased by the end of his playing career. In terms of natural ability, the Frenchman is on another level – and that's why United sanctioned the (embarrassing) move to pay £89m and bring him back to the club after the midfielder was allowed to leave as a teenager in 2012.
Pogba went on to win four league titles in four years at Juventus, plus four more domestic trophies, and made an appearance in a Champions League final.
Since his return to United he's already scored in one final, helping his club win the Europa League and book their place in this season's Champions League. There's still much more to come from him.
5. Wes Brown
Had injuries not plagued Brown, he may well be even higher up in this list. At the beginning of his career, he lost out to Steven Gerrard for the PFA Young Player of the Year after being shortlisted. Alex Ferguson tipped him to go on to be better than Rio Ferdinand and Sol Campbell, later stating that Brown was the best natural English defender.
The 2007/08 season was the best of his career, as he played a vital role in helping United win the Premier League and Champions League. Brown played more games than anyone else in the squad and put in fantastic performances at right-back, filling in for the injured Gary Neville. It was his inch-perfect cross that allowed Cristiano Ronaldo to score United's only goal in the triumphant Champions League final over Chelsea.
4. Gary Neville
Neville, more than any other player at United, was the embodiment of a fan on the pitch. He sacrificed his friends and a social life from a young age because he wanted to be a Manchester United player. He initially had his heart set on midfield, but couldn't compete with the likes of Butt or Scholes, so moved to right-back.
Of course he had ability, but wherever this was lacking he made up for in his sheer desire to do well for the club. Watching him celebrate wins over Liverpool and Manchester City – notably after injury-time goals by Rio Ferdinand and Michael Owen – was like seeing how a fan would behave if they had the opportunity to be on the pitch.
The fact that only four people have played more games for United than him, added to his 85 caps for England, are testament to his talent and hard work.
3. David Beckham
Beckham's career is like something from a film. After starting out with success at his boyhood team, he went on to play for the biggest teams in Spain, Italy, France and the USA.
RECOMMENDED
Year Zero: The making of David Beckham (Manchester United, 1996/1997)
His breakthrough in the 1995/96 season, alongside his team-mates from the youth team, was the start of something special at United. Beckham was integral to that.
He was blessed with talent, but also worked hard to get to where he did. He used to stay behind after training to perfect his free-kick technique, which allowed him to score so many important goals for club and country.
England fans terrorised him in the season following his sending off at World Cup '98 – but United's worshipped him to counteract it. He had a great individual season as United won the Treble, with that night at the Camp Nou the best moment of his career.
2. Paul Scholes
When it comes to football ability, Scholes is up there with the greatest. You don't need to hear the quotes from Zidane, Ronaldinho or Thierry Henry to know that (although how highly rated he is by other world-class players goes some way to explaining his talent).
With his asthma and small stature, there were worries as a youngster whether he'd ever be able to make it at the top, but he answered any questions the coaches may have had about him.
Rio Ferdinand referred to Scholes as "Sat Nav", given how accurate his passing was – he red-haired dynamo was able to spot a run and play perfect balls again and again. He had a decent shot on him to boot, and scored plenty of belters during his career.
It's remarkable that someone as gifted as Scholes could be so humble and unassuming. He was a player who loved the game, but was never attracted to all the attention that came with it.
1. Ryan Giggs
In terms of pure excitement and anticipation whenever he received the ball, peak Giggs is up there with the best players to ever wear a Manchester United shirt.
Sir Alex Ferguson said he left defenders with "twisted blood". He wasn't wrong: the pace at which the Welshman could run with the ball at his feet was a sight to behold; he'd drop one shoulder, then the other, before cutting inside or delivering a brilliant ball.
That sort of enjoyment can't be reduced to numbers alone, but it's worth noting that Giggs has more assists – 162 – than anyone who has played in the Premier League.
What was even more remarkable about his career was the way he was able to reinvent himself in later years, when he couldn't rely on outrunning opponents anymore.
Watching him walk onto the pitch as manager at the end of the 2013/14 season was one of the most special moments fans inside Old Trafford have witnessed over the past few decades. A legend of the game, Giggs has over 200 more appearances than anyone else who has represented the club – and an astonishing 13 league titles.
Thank you for reading 5 articles this month* Join now for unlimited access
Enjoy your first month for just £1 / $1 / €1
*Read 5 free articles per month without a subscription
Join now for unlimited access
Try first month for just £1 / $1 / €1
Get FourFourTwo Newsletter
The best features, fun and footballing quizzes, straight to your inbox every week.