From red to blue: the seven shifts in Manchester power
Stephen Tudor explains how City overcame United to become Manchester's main men...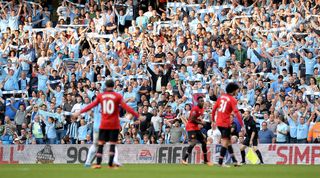 There may only be four points that separate the Manchester sides, but Manuel Pellegrini's men head into the 168th derby this weekend as clear favourites and reigning champions, the city's undisputed present-day top dogs.
It's a status that was unimaginable only six short years ago, with City seemingly forever fated to languish in the shadow of their all-conquering red neighbours. Derided for being 'iccle Citeh', the Blues veered from catastrophe to comedy while their hated rivals collected silverware with hungry aplomb.
This all changed in September 2008 when the Abu Dhabi United Group – owned by Sheikh Mansour Bin Zayed Al Nahyan – invested a fraction of their incalculable wealth into the club and immediately vowed to build a dynasty. At a stroke of a pen the English football landscape faced change from a blue tidal wave.
If City were to conquer England, they needed to identify the team to beat, an enemy to dethrone, just as Sir Alex Ferguson had concentrated his zeal on knocking Liverpool off their famed perch. City didn't have to look far. They were right on their doorstep.
But the shifting of power from red to blue in Manchester has not happened overnight: it took seven steps to make the inconceivable a reality...
July 14, 2009: Signing Carlos Tevez
The first meaningful shot across the bows as City flexed their newfound fortunes in spectacular fashion with a £25 million shock swoop on their rivals.
Tevez joined a raft of extravagant signings that summer but while the purchases of Emmanuel Adebayor and Joleon Lescott caused ructions with Arsenal and Everton respectively, it was the Argentine's actions in jumping ship from Old Trafford to Eastlands that made all the headlines.
King Carlos certainly wasn't the first to defect across the city, but often the players who washed up in blue – Peter Schmeichel and Andy Cole – were glorified hand-me-downs. Here was a player Ferguson wanted, and wanted badly. In his two-year extended loan spell at United, Tevez had brought home successive titles, banged home 34 goals in 97 appearances and become a firm fans' favourite.
Reds who had implored their gaffer in song to "sign him up" feigned indifference to the news but City fans saw through the bluff. They knew the look in the eyes: they had been pretending not to hurt for years.
The shrugs soon gave way to outright anger, however, at the mocking 'Welcome To Manchester' sign that accompanied the signing. Erected at the behest of the City marketing department, it was perhaps a touch crass in hindsight but revealed there would be plenty of cheek with the chequebook.
Apr 16, 2011: The FA Cup semi-final
There were times when a derby win for City felt like a rebel raid that temporarily tripped the electric on some insignificant part of the Death Star: a cause for celebration, certainly, but of no real consequence beyond bragging rights.
Here, though, was a Wembley clash of tangible significance to determine which side faced Stoke or Bolton in the FA Cup final. For City it represented a chance to finally vanquish their 34-year trophy hoodoo.
For the Reds it was arguably more important to deprive their 'noisy neighbours' than to increase their impressive tally of 10 FA Cup triumphs.
Post-takeover City had suffered nothing but heartbreak at the hands of Ferguson's team with five losses that included a two-legged Carling Cup semi. A fixation loomed.
United got off to the brighter start, with Dimitar Berbatov spurning two glaring chances in quick succession, but as the game evolved so too did City. According to some reports Vincent Kompany asked Mancini and the coaching staff to vacate the dressing room at half-time and delivered a rousing speech.
Whatever he said seemed to work as the Blues tore into the second period with relish, Yaya Toure pouncing on disarray in the United defence and slotting them ahead. The spell broken, City began to dominate until Paul Scholes settled matters with a late lunge that saw him see red.
What was left behind at Wembley that day were thousands of plastic pint-pots, some forgotten flags, and a lifetime's inferiority complex.
Oct 23, 2011: The 6-1
Gil Scott-Heron was quite wrong – the revolution was televised, to millions of bewildered supporters of every allegiance who witnessed the surreal sight of United being comprehensively outclassed in their own back yard. Rarely has a league game so starkly revealed the contrasting trajectories of two clubs.
First came Mario Balotelli's nonchalant steering home of the opener before lifting his shirt and fronting the world like a beautiful Italian Cantona. Next, Jonny Evans grasped desperately at a shirt and was dismissed before the break.
Yet nobody could have anticipated what was to come: a masterclass of fluid passing and movement that bamboozled the hosts with the artful David Silva pulling every string.
Like a child waking up to heavy snowfall it was just too much to initially process, especially to City fans whose collective mindset is still hardwired to disappointment and farce.
Perhaps the most galling aspect from United's perspective was the apparent ease in which the humiliation was dished out, accompanied by no small degree of haughty disdain.
In the esteemed home of the Red Devils, a demon had been well and truly laid to rest.
Jan 8, 2012: The FA Cup third round
It may seem odd to include a defeat, especially one that centred on controversy and frustration, but many Blues pinpoint this game as their personal watershed moment, the undeniable realisation that it was now they who wore Goliath's sandals.
Roberto Mancini sent out a weakened side while the visitors were bang up for this one, the spittle from Fergie's pre-match bombast still sprayed across their cheeks.
United duly opened proceedings with a Wayne Rooney header followed swiftly by the highly contentious dismissal of Kompany for an innocuous challenge on Nani.
With City a goal down and a captain down, United scented revenge for the 6-1 mauling three months earlier and rampaged through the opening 45, bagging two more before the referee blew for respite.
During the break the majority in the Etihad silently brooded, desperately hoping for damage limitation, while the away end understandably broke out into party mode.
Yet something strange occurred when the teams re-emerged; a spontaneous and unexpected resilience resounded through the ground and fed into the 10 men in blue. Micah Richards busted his lungs covering every blade of grass. Sergio Aguero was a one-man war.
In the event, two goals were pegged back and United desperately clung on through a barnstorming finish, grateful to escape extra-time. The Herculean effort shown that day was a statement of intent in adversity.
Apr 30, 2012: The title decider
Having surrendered an eight-point lead, United travelled to the Etihad knowing defeat would bring City level on points but ahead on goal difference.
With just a further two games to play it was a league decider in all but name.
This was supposed to be Ferguson's farewell season and his opportunity to deprive his new detested foe of their first title for 44 years before retiring to fitting plaudits.
Suddenly it was unexpectedly slipping from his grasp. Perhaps then it was panic that prompted a rare misguided team selection that essentially conceded the mother of all derbies before a ball was kicked.
Going with one up front, Ferguson weakened his own team's strengths and instead went like-for-like against a side who – by his own admission – were specialists at 'cluttering up the midfield'. The omission of Antonio Valencia was bizarre.
In front of a record worldwide audience for a Premier League game, and with Aguero's father-in-law Diego Maradona watching in the stands, City powered their way to an invaluable 1-0 victory with a performance that was surprisingly comfortable considering its magnitude.
This was also the first league clash in living memory where City started as bookies' favourites, an occurrence Ferguson had previously firmly stated would never happen in his lifetime. A strangely lacklustre display from the Reds only proved the bookmakers correct.
Apr 30, 2012: Mancini squares up to Ferguson
The fear that Ferguson commanded often extended to his peers and afforded him impunity to harangue officials without challenge or complaint from the rival dugout. It was a luxury the great don rarely wasted, and with his side a goal down and a 13th league title slipping from his grasp, he duly strayed from the technical area, incensed at a late challenge by Nigel de Jong on Danny Welbeck.
It must have been quite a shock for him to be so forcibly confronted by a fellow manager – so often sycophants or former players under his charge. But this was Roberto Mancini, a man whose fiery temper equalled that of Fergie's and someone capable of eliciting discord in an empty lift.
For a surreal few moments the events on the pitch became a sideshow to the sight of a knight of the realm being reduced to a touchline spat. While fourth official Mike Jones faced the unenviable task of separating the pair, Mancini gesticulated with his hand indicating his opposite number was talking too much.
Ferguson, for his part, skulked away, his chewing gum switched for a handful of wasps.
Sep 22, 2013: The not unexpected 4-1
Considering the undeniable gulf in class between both clubs from 2008 back to the introduction of the Premier League and beyond, Manchester City still boast a reasonable record in derby games of yore.
Yet each draw was scrapped for with an underdog's tenacity, and any victory entirely due to playing above themselves and wanting it more on the day.
Here, though, for the first time in living memory, was a complete role-reversal: a City side that started as clear favourites and lived comfortably up to their billing as the superior XI.
With David Moyes' United hinting heavily at the crisis that was to come, City tore them apart, administering a thrashing that could have been plentiful more had the hosts not stepped off the gas.
Still adapting – or not – to life after Fergie, the visitors looked uncharacteristically ordinary with City inventive, ruthless and gleefully exposing the flaws.
The much-anticipated duel of Yaya Toure vs Marouane Fellaini was a hopeless mismatch, while all day long Aguero tortured the ageing limbs of Rio Ferdinand. It bordered on the cruel.
Such one-sided Blue victories used to be very few and far between and were dutifully put into song and legend. Now they were becoming the norm and that – perhaps more than any other aspect of City's rise – has been the most extraordinary thing of all.
Quizzes, features and footballing fun
Get the best features, fun and footballing frolics straight to your inbox every week.
Thank you for signing up to Four Four Two. You will receive a verification email shortly.
There was a problem. Please refresh the page and try again.