The ridiculous refereeing obsession: why the hell would you bother?
Refereeing standards are higher than they'e ever been – so why are they on the receiving end of so much abuse? Daniel Storey looks at how we got here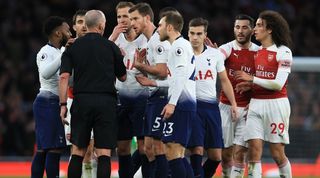 In the race for acceptance, referees start 10 yards behind the start line. These are sport's pantomime villains. Listen to the reaction when an official awards a perfectly correct free-kick decision that the home supporters don't agree with: boos, hisses and jeers. As Professional Game Match Officials Ltd chief Mike Riley says: "By definition, you make a decision and one team is happy, the other team isn't, and so are their supporters."
They can't win.
But even considering referees' entrenched role as football's bad guys, the obsession with them and their decisions is becoming unbearable.
On Monday evening, 55 hours after Saturday's north London derby had ended, two national sports radio stations were discussing an offside decision at great length. That morning, four national newspapers included columns from former referees on that and other incidents. In post-match press conferences, managers are quizzed about potential refereeing controversies and invited to use the officials as scapegoats for their own – and their players' – deficiencies.
The big conspiracy
On social media, tribalists have become crackpot conspiracy theorists convinced that dark forces are plotting against them. Pundits, commentators and journalists are all biased against them, but referees get it worst.
A quick note, should it be needed: if an entire profession was indeed plotting to conspire on one issue, they would probably aim a little higher than deliberately avoiding giving your team a penalty.
There was a Respect campaign once, one of those initiatives where the idea alone is wholesome but it becomes entirely vacuous because nobody actually bothers to change their behaviour. The campaign has now faded into the sunset, because there's only so many times you can watch Premier League players scream 'f**k off' in the direction of an official and have faith that anything will change.
Rising ref standards
Every study into refereeing standards – independent and internal – concludes that they are improving, while the improved fitness and professionalism of officials is without question.
According to PGMOL, Premier League referees make 245 decisions per game on average, or one every 22 seconds. Sky Sports calculated in March 2018 that, again on average, five of those decisions were incorrect. Any player on the pitch is likely to make more: misplaced passes, failed dribble, missed chances, fouls committed, poor position or marking, the wrong decision taken.
But to watch a Premier League match, and the extended analysis that follows, is to witness an explosion of blame culture laid at the feet of officials. We do focus on mistakes made by players too, but the crucial difference is that it is offset by praise. Take the example of Sergio Aguero, who scored a hat-trick against Chelsea after a monumental miss from three yards and was rightly lauded for his three goals. If a referee had made a similarly catastrophic error, followed by three excellent calls, what would be the focus of post-match assessment?
At this point, someone usually pipes up to say that the issues could be appeased if referees were permitted to speak to media after matches and explain their decisions – it is the lack of discourse that exacerbates the bitterness.
But that sounds even more bleak. Not only would we have analysis of decisions, but subsequent analysis of their explanations of decisions. The problem isn't a lack of explanation. It's the explosion of blame culture in which supporters and managers are desperate to deflect attention and avoid introspection.
Refereeing route
The route to becoming a referee is long and tough. It starts with a course at a local county FA, at which point referees will be assigned amateur matches. They can then apply for promotion through Levels 7, 6, 5 and 4, which takes them up to semi-professional football. These promotions usually involve spending a full year at each level and are secured after fitness tests, exams on the laws of the game and being observed during matches. During this entire period, referees might get paid £20 per match.
To progress from Level 4 to Level 2A, the highest level of non-league, referees are continually assessed and marked by clubs and observers, a process that is also likely to take time and during which they receive little pay. To actually break into the Football League, and break through the magic £300 per match barrier (£9,000 a season – heady days), referees must pass through an interview process in addition to the regular tests.
Refereeing at the top level is hardly a picture of wanton opulence. Championship referees only went full-time in 2016 – before then they were paid £380 a game and forced to manage their work around other jobs. Premier League referees are paid £70,000 a year. It's decent money, but not when you consider the financial sacrifices made along the way, the fact that these are among the 17 best at what they do in the country and the vast wealth of the environment in which they operate. The average Premier League player is paid £50,000 a week.
Revisiting Respect?
In January, Ref Support UK urged the Football Association to reboot their Respect campaign after a study revealed that physical and verbal abuse had spiked. Sixty per cent of amateur referees in England reported severe verbal abuse, compared to 2.2% in Netherlands. Referees are threatened and have been physically attacked, and are paid £20 for the privilege.
Which raises the inevitable question: why on earth would you bother? Getting to the top requires extraordinary perseverance or a strand of masochism.
This bears repeating over and over again: refereeing is bloody hard. The advent of blanket television coverage leaves no place to hide, replays played in ultra slow-motion used to lambast officials for what they failed to spot at full speed while trying to keep their eyes on myriad potential flashpoints. Try this assistant referee exercise from The Times on the hardest level, then add in ten thousand people behind you and the pressure of knowing that one error could lead the sports news agenda for the next three days. (Full disclosure: this writer got the first one wrong. Typical bias against the blue team – they never get those calls.)
New weapon in the blame war
We now have the looming figure of VAR's blanket introduction across the Premier League, sold in PR terms as a tool to help officials get things right. Some former referees believe the system will help those following in their footsteps, but you'll forgive FFT's cynicism.
Just as likely is that VAR is used as an added weapon in the blame game. Newspapers will have VAR success league tables with a relegation zone of officials who've had the most decisions overturned highlighted in red. The demand for extra bodies trained to administer the system threatens to create a dearth of officials that really might cause a drop in standards.
Nobody is saying that referees are perfect, because humans aren't. Nobody is saying that standards couldn't improve. Players, managers, coaches, physios, commentators, pundits, journalists, you and us; everyone makes mistakes. But in comparison with the sphere in which they work, officials are underfunded, undervalued, underestimated and scapegoated. Ask yourself whether that's a positive climate for change.
The cliché is that the best referees are barely noticed; the understated conductor who lets the orchestra shine. But in a culture that desperately seeks to apportion blame and hankers after controversy, the opportunity to stay below the surface has been rendered impossible. It's time we all grew up.
NOW TRY… Predicted! How the Premier League table will (definitely) end up this season
Quizzes, features and footballing fun
Get the best features, fun and footballing frolics straight to your inbox every week.
Thank you for signing up to Four Four Two. You will receive a verification email shortly.
There was a problem. Please refresh the page and try again.