Rio Ferdinand
By Nick Moore
"Robbie Keane and I would watch So Graham Norton, then cuddle up together and fall asleep"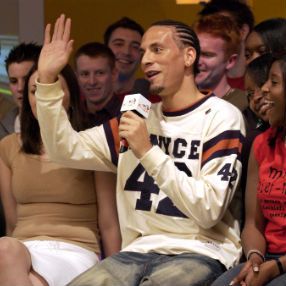 "I've loved watching telly since I was a kid. Growing up, my normal after-school routine was to go out and play football with my mates and pop back home for Neighbours and Home & Away. For me, Neighbours reached a peak when Natalie Imbruglia played the part of Beth. Superb... and I hear Natalie's been enquiring about me!
After Home & Away, we'd go and have another kickabout, but I'd make sure I was back by 7.30 in time for my all-time favourite programme EastEnders – the whole family would sit down and watch that. I've got loads of brothers and sisters so it was mad scramble for the remote control after that, but I usually won because I'm the oldest and biggest!
Rio's top six shows
When I was really young, my Mum would tell me to go to bed at half past nine. I didn't have a telly in my room, so sometimes I would sneak into the hallway and try and watch from there. Mum doesn't know I did that to this day!
Now I'm a professional footballer, we are told to rest when we get home from training and I've turned into a bit of a daytime chat show addict. I watch everything from Jenny Jones and Rikki Lake to Jerry Springer and Maury Povich. I don't like Montell though – he's a bit too serious. I'll usually flip the TV on for an hour or two of chat after training and then fall asleep.
EastEnders apart, if you had to narrow down my taste in evening viewing, I would say the programmes have to be either documentaries, funny or violent!
On the comedy front, I thought The Fresh Prince Of Bel-Air was wicked when I was a kid and I still watch the repeats on BBC2. Things like Game On, Trigger Happy TV, Gimme Gimme Gimme and So Graham Norton also make me chuckle.
Quick Questions
As for violence, I've got into this series on Channel 5 called Hard B*****ds which profiles, erm, hard b*****ds from around London. I prefer it to things like The Sopranos, which seems a bit false to me. I like anything where you can get an insight into other people's lives. Harlesden is my top docu-soap and I like that programme where Ruby Wax hangs out with showbiz celebrities too.
Since I joined Leeds I room with Robbie Keane on away trips. If we are staying in a hotel on the Friday night before a Premiership game, we'll watch Trigger Happy TV then So Graham Norton. After that we cuddle up together and fall asleep! Of course there is always the temptation of pay-per-view channels in hotels, but that would be embarrassing on your room bill. Mind you, when we go abroad the normal channels have some interesting programmes on!
I reckon I watch about two or three hours of telly a day. But I've just had a TiVo installed in my house that automatically records every episode of my favourite programmes. From my choices it also suggests other programmes I might like and lets me pause and rewind live TV. The lads are well envious...
From the July 2001 interview of FourFourTwo.
Quizzes, features and footballing fun
Get the best features, fun and footballing frolics straight to your inbox every week.