Ronald Koeman: 'There was contact with Aston Villa once, but never a meeting'
"Before, there was talk of Manchester City too, but again, I had no direct contact with the club"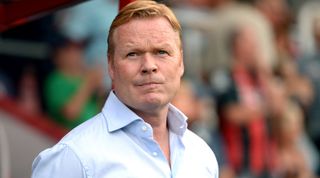 The venue for today's interview is De Kuip, arguably Holland's most popular football stadium. Built in the 1930s, it exudes an authenticity reminiscent of proper old English football grounds. That's no coincidence perhaps, as the architecture was inspired by Arsenal's Highbury stadium.
This morning, Feyenoord's head coach Ronald Koeman has put his team through their drills on the training ground, adjacent to the historic stadium. A small motorway separates the two locations, meaning players and staff have to cross the traffic every day before they can start training. It's an amusing sight, to see the Feyenoord squad in their football boots on the public road. The romance might not be for long, though, as Feyenoord is investigating possibilities to build a new stadium. The current stadium holds many special memories for Koeman, the most infamous one probably being the Holland-England game in 1993, in which he escaped being sent off, before one of his most talked about free-kicks helped his country qualify for USA '94.
FACT FILE
Date of birth: January 1, 1968
Place of birth: Zaandam, Netherlands
Height: 6ft 0in
Position: Centre-back
From a director's box lounge he opens up about that night, among numerous other subjects. In a professional and straightforward manner, values which also characterised him as a player, he discusses the questions from FourFourTwo readers, beginning with his youth...
You're from a pretty sporty family. Was there ever any chance of you being anything other than a footballer? What was the best piece of advice your father gave you? Did you used to go with him to training and matches? Did you play any sports other than football?
Justin Bryan, Lincoln
No, no, since the moment I could walk there has been a ball with me. My dad was a football player, and me and my brother Erwin would accompany him to training sessions, where we played on a field adjacent to the training pitch. There was nothing else for us than football, but we loved it: in fact the only thing we wanted was to play football. The best piece of advice from my dad was to stay grounded. He always said: it doesn't matter if you're a good football player, just make sure you behave normally and always maintain your values. Plus, on a sporty note, he insisted: live for your football and try to get the maximum out of your talent.
PLAYING CAREER
1982-83 FC Groningen: 89 games (33 goals)
1983-86 Ajax: 94 games (23 goals)
1986-89 PSV Eindhoven: 89 games (51 goals)
1989-95 Barcelona: 192 games (67 goals)
1995-97 Feyenoord: 61 games (20 goals)
1982-1994 Netherlands: 78 games (14 goals)

Eredivisie 1985, 1987, 1988, 1989
KNVB Cup 1986, 1988, 1989
European Cup 1988
La Liga 1991, 92, 93, 94
Copa del Rey 1990
Supercopa de Espana 1992, 94
Champions League 1992
European Super Cup 1992
European Championship 1988
Who was the better player growing up: you or Erwin? Who had the hardest shot in the back garden? Did playing in the same Groningen team as him help you early in your career?
Lars Beurskens, London
Well, Erwin was a different type of player. He was a more refined, attacking footballer, I was more defensive minded. At the start especially, he was a bit more graceful, but later he became more defensive as well when he went to Mechelen in Belgium. It was great to play alongside him in the same Groningen team, that was a dream come true. And that year was one of the most successful in the club's history as well, as we qualified for Europe. It was fun to train with him every day, because besides being my brother he is my best friend. We still speak to each other often, we're in touch a lot. Going back to our youth, we didn't have any other siblings so we always played together. And now we are both managing clubs in the Dutch Eredivisie.
What made you leave Ajax in 1986 after winning the Eredivisie and Dutch Cup? Rijkaard, Van Basten, Silooy: there were some special players in that team…
Ryan Bennett, Chelmsford
That was because I didn't come to an agreement about a contract extension. My manager and I knew PSV were interested, so we could drive a hard bargain. Eventually Ajax didn't accept our proposal and subsequently we parted company.
How nerve-racking was it taking the first penalty in the 1988 European Cup Final? Did you do anything differently beforehand?
Hans Beerman, Eindhoven
Yes, I did. Usually if I had to take a penalty, I would watch the keeper and decide at the very last moment in which corner I would shoot. But on very important occasions, like this, and during the semi-final at the European Championship against Germany as well, I would choose a corner beforehand and then I just tried to hit it as hard and precisely as possible.
How did if feel to be part of the first Dutch side to win an international trophy at Euro 88? How did Rinus Michels inspire the side to avoid past defeats in 1974 and 1978?
Tom Collins, Preston
It was incredible. The victory was especially a collective achievement. But one of the things Michels did was to go into a small internal battle with the so-called bobos, the board officials who were present with the team in Germany. Perhaps that was partly to create a mutual enemy, something to react against. The players followed suit, which increased the unity within the team. But I have to say we already had a big motivation ourselves, which was further strengthened by the way in which the German press approached us. Once the semis were there, the desire was even bigger to beat Germany in their own tournament and to go on and win the final. In the end, there was a special atmosphere in that group.
It took you some time to adapt at Barcelona. Was there ever a point you thought about moving on? How important was Cruyff, and his constant support in the press, to your adaptation?
Oleguer Baldoma, Lleida
There were moments I was thinking: 'How will the future unfold for me?' 'Will I cope?' At the outset, I was playing in midfield and results weren't that good. There were moments of doubt, but after a while the situation improved. Cruyff had to find me a position which would be most ideal for the team. I started as a midfielder, but later Cruyff put me in the same sweeper role I was used to playing in at PSV. From that moment onwards, it got better
Cruyff was very important for me. You need the support of the manager, especially if you are the biggest signing and then have periods of doubts and criticism. I felt Cruyff's support every day, and that gave me confidence. Our bond was further strengthened outside the field, because we became neighbours in Barcelona. Our families spent time together, so I got to know Cruyff in a different setting as well. For me, that was sometimes a little complex. Cruyff was quite easy-going and was able to separate both worlds quite easily, but for me that was sometimes difficult.
PAL'S POSER
What was the secret behind Barcelona's four successive league titles? Which gave you most pleasure?
James Ince, via email
You would say it's the one in 1991 which we obtained by our own force. To command it that way was, in some ways, the most satisfying. But the other three titles, which we each won on the final day of the season, were great too. That joy was perhaps greater, because you didn't expect it. We became champions thanks to Real Madrid – twice – and Deportivo La Coruña, due to them losing points in their final match. In the end, every league title was fantastic; moreover because it broke up the hegemony of Real Madrid. Our team gelled both on and off the pitch. Cruyff, together with the players he brought in, changed the way of playing football. It became more the Dutch way; a much more attacking style, which has had its continuation at Barcelona ever since.
I've read that Barcelona vice-president Joan Gaspart went for a swim in the River Thames to celebrate the 1992 European Cup. Is this true, and did anyone else join him in the water?
Marc Bantorla, Tarragona
That's right. I wasn't there – and I don't know if anyone else joined him – but I have seen pictures of him swimming in the water. Prior to the final, he had promised to go for a swim if we would win.
Romario and Stoichkov – is this the craziest forward pairing in the history of football? What was it like working with them, and did you ever tag along for one of Romario's famous nights out?
Jan Beus, via Twitter
They were two players with tremendous qualities, who formed an integral part of the success of Barcelona. If you look to the efficiency they had… they could make the difference. Stoichkov was the one with the strong character, a bit fiery at times. That was not always easy, you had to pull him by the hair sometimes to tell him what to do. Romario was someone who lived in his own world, he was unconcerned with anything outside that. I didn't hang out with him outside the field, although in our mutual time at PSV I made efforts to help him settle in Eindhoven. But Romario was usually surrounded by his own people, Brazilians, and they were largely kept to themselves.
Were the players aware of what was going on at Deportivo with their last-minute penalty at the end of the 1993/94 season?
Jose Maria Pena, Valencia
While we were playing, we suddenly heard the stadium fall silent, so we realised something was happening over there. Via the dugout we heard Deportivo had been awarded a penalty, which they missed eventually. Then, there was an incredible cheer going around the stands. It was unbelievable, a magnificent experience.
It's been suggested that part of the reason Barca lost the 1994 Champions League Final is that you underestimated AC Milan. How much truth is there to this? Did you prepare for that game as you would any other final?
Henry Craig, via email
There was no underestimating, but given the fact we had just won the league in dramatic fashion on Sunday – after Deportivo had missed that last-minute penalty – perhaps we didn't feel the real pressure in the game against Milan four days later. They were better prepared, because they hadn't played a match for one-and-a-half weeks. They were purely focused on that game, whereas we had become champions of Spain en route to the final. So physically and mentally we were less prepared.
I've read that you used to play golf with Johan Cruyff and Marco van Basten, who'd fly from Italy for a round. Who was the best golfer, and did either of those two try anything underhand, like moving their ball or making noise during your swing?
Damien Francis, via Facebook
Yeah, that's right. I have always been close to Marco and we're still in contact. He was the best golfer of us, because he had played for years following his enforced retirement. On the course, Cruyff sometimes had an extra ball in his pocket!
MANAGERIAL CAREER
2000-2001 Vitesse
2001-2005 Ajax
2005-2006 Benfica
2006-2007 PSV Eindhoven
2007-08 Valencia
2009 AZ
2011-14 Feyenoord
2014- Southampton

Eredivisie 2002, 04, 07
KNVB Cup 2002
Johan Cruyff Shield 2002, 09
SuperCup Candido de Oliveira 2005
Copa del Rey 2008
Spill the beans, Ronald, what are the secrets to taking the perfect free-kick? Who's the best free-kick taker you've ever seen?
Theo Delay, via Twitter
You have to have a good kicking technique in the first place, and the rest is down to practicing really. I practiced maybe three or four times a week, after training sessions. Some people talk about hitting the valve, but in my time we didn't focus on that. It was purely training. I remember two specific goals against Madrid – free-kicks in the far corner – which I had practiced for a long time. I was already practicing them when at PSV.
Did you think Pep would go on to be such a successful manager? Some ex-Barça players say he used to half-commentate the games to team-mates.
Inderjit Singh Nahal, via Facebook
You never know beforehand, but I knew he had the ability because tactically he was very well educated. He would analyse situations, possessed the one-touch playing style and was always quick to see solutions on the field. Even when he was young and just breaking into the first team, he already showed leadership skills. It didn't surprise me he took that path. Later, when I was an assistant to Louis van Gaal, I came across José Mourinho, who came in as Bobby Robson's interpreter and became an assistant coach.
When I was there, he was mainly analysing Barcelona's opponents, but I remember he also helped Van Gaal to communicate with Portuguese-speaking players like Rivaldo and Figo. At that time, I didn't expect Mourinho would go on to become one of the best coaches in the world. During our time together at Barcelona, he was a very friendly guy, and you could see he had a strong character, which has developed even more since.
Admit it, Ronald, you must have thought you would be sent off in the World Cup 94 qualifier for pulling back David Platt? Was it also a penalty? How much pleasure did it give you to score with a chip over the wall?
Gaz Costello, via Twitter
At that time, those kind of offences where sanctioned differently sometimes, but yes, the referee could have given me the red card. I was lucky to only get a yellow one. After the foul, I was just busy gesticulating that the offence had taken place outside the box, to avoid a penalty. I was able to play out the match and play an important role later on. Having scored that goal, which led to qualification for the World Cup, I realised afterwards that the outcome could have been very different had I been sent off.
Have you ever watched the Graham Taylor documentary An Impossible Job? What did you think? Did you speak to Taylor about it after the game or since? He was pretty annoyed…
Andrew Murphy, via Twitter
Yes, I have seen part of it, but I've never spoken to him about it.
You've played alongside some of the all-time greats: Gullit, Rijkaard, Van Basten, Stoichkov, Laudrup, Romario. Who was the best?
Alan Mackie, via Twitter
Marco van Basten. He was such a refined player, intelligent but also mean in a smart way. He knew, for instance, when to just touch an opponent or when to put his foot just in front of someone. He was difficult to stop, he had so many qualities. He was technically and tactically gifted and had a strong personality. And his finishing touch as a striker was unprecedented.
How come you never played in England? Did you ever come close to signing for an English side?
Kim Lee, via email
No, actually not. When I went to Barcelona, there was a lot of interest from Italian sides like AC Milan and Juventus. In Spain, besides Barcelona, Atletico and Real Madrid wanted me. But there were never any concrete proposals from England.
Were you surprised to be sacked so soon after winning Valencia's first Copa del Rey for nearly 10 years? How difficult was that spell, especially with some of the abuse that fans gave you?
Jermaine Johnson, Nottingham
When I arrived, I wanted to change some things at the club. There were a few players I wanted to offload, because in my opinion the team needed a rejuvenation. I had the support of the president, but soon he had to resign because of health issues. His successor had different views and meanwhile the results in the league weren't good. The club was not in a healthy state; I tried to improve things but I didn't get the time. Eventually – and this is important to me – I took the decisions I wanted to take at the club, but to continue building you know the results have to be good. It was not an easy period for me. But if you look at the club today, they have problems and debts. They haven't really made progress – for example, they haven't won a trophy since.
How have you found Feyenoord since returning to De Kuip as coach? What's changed at the club?
Wesley Menke, Utrecht
Well, it was a club with big financial problems, but with potential too, if you looked at the youth. We started with nothing, and we created a team which has been successful for two years. We are trying to expand it, but that's still a challenge because our financial situation is still different than at PSV and Ajax. But the Feyenoord fan is proud again, something we have achieved together.
You're the only person to have played for and managed Holland's big three. How much pride does that give you? Which did you most enjoy playing for? Did you ever face any hostility from a team for having played for one of their biggest rivals?
Caleb Connor, Oxford
Yes, it's unique, because no one had achieved that before. To have managed and played for the three biggest clubs does make me feel proud. There is no Dutch club in particular where I enjoyed playing the most, the feeling also depends on your achievements. Barcelona was my most ideal club as a player. But speaking about the teams in Holland, I have to say I'm impressed with the way the Feyenoord fans rally behind their team. Their support is extreme, bigger than elsewhere. Especially in bad times you notice what a club's supporters are like. I've never really faced hostility when arriving somewhere new, I think because I'm not associated with only one club. It depends on your background and how you express yourself as well.
Ronald, I thought you were going to become our (Aston Villa) manager in 2010 – what happened? If you'd got the job we might not have had to endure Alex McLeish, who went on to become one of the most hated Villa managers ever.
David Butcher, via Twitter
Yes, there was contact at the time, but that was between agents, I never spoke to the club myself. My manager talked with someone who was involved, but it never led to a meeting. Before, there was talk of Manchester City too, but again, I had no direct contact with the club. It usually goes via intermediaries, who test if you are interested. I do like England and the Premier League, it's a fantastic competition. It would be nice to work there one day. I think it would be great to experience the approach and atmosphere of English football at a club, and there are many beautiful clubs in England.
Who do you think will be Holland's next big thing?
Josef Aikman, via Facebook
At PSV, they are giving the youth a chance now. There is much talent there, one in particular is Adam Maher. But at Ajax and Feyenoord there are players with huge potential too. With us, there is Tonny Vilhena for instance, only 18 years old but already playing as a regular in the Feyernoord first team, and he has also been selected for the national side. But he has to develop himself further. There are many talented players in Holland, but to make it to the big competitions in Europe is not easy.
How is it that Holland with its relatively small population can consistently produce better players than England? Is there any English player you look at right now and think 'he has Dutch technique'?
Jess Henly, via Facebook
I think we have very good coaches and the facilities for young players in Holland are great. We do a really good job with the organisation of youth football. We are doing what we are good at, which is increasing our technical ability. We spend a lot of time on that, though perhaps we should actually focus a bit more on other areas, like the defensive and physical parts of the game. But in general, we have a lot to offer to young players. For example, in every training exercise we use a ball – that's not always the case in other countries.
Another reason young players can develop here is because they do get a chance in the first team. If you look at Feyenoord – partly because of financial problems – we fit in talented players. A club like Manchester City attracts a lot of youngsters, but their chances are very slim because the club buys big players at the same time. England get both coaches and players from abroad, which means home-grown talent doesn't get a chance. At the moment, I don't see any great young players in England. The U21 squad at the European Championship in Israel didn't impress me, no one caught my attention there. In the national team, there are quite a few technically gifted players, though – people like Frank Lampard and Steven Gerrard for instance. Of course England does have some great players.
You had two nicknames as a player: Tintin and Snowflake, after an albino monkey at Barcelona zoo. Did you embrace these or did they annoy you?
Esteban Sanchez, Girona
They didn't annoy me. In Spain it wasn't used in a disparaging way, although in Holland they used it in a belittling way sometimes. For a TV broadcast, I visited that gorilla once. I have to say it was a remarkable monkey in that zoo! Regarding the other nickname, Tintin, I remember I once dressed up like him for a photo session, I still have that picture. I didn't experience those names as negative.
This interview originally featured in the November 2013 issue of FourFourTwo.
Thank you for reading 5 articles this month* Join now for unlimited access
Enjoy your first month for just £1 / $1 / €1
*Read 5 free articles per month without a subscription
Join now for unlimited access
Try first month for just £1 / $1 / €1
Get FourFourTwo Newsletter
The best features, fun and footballing quizzes, straight to your inbox every week.
Arthur Renard has been writing for FourFourTwo since 2013, when Ronald Koeman hosted him for a Readers interview in a small room in stadium De Kuip. Two years later Arthur moved to London, where he still lives and from where he covers English football, while he has also been travelling the world to cover events like the World Cup and Copa America.