Rooney to be awarded man of the match, unlimited penalties against USA
The ex-Manchester United striker will be the star player in his last outing for the Three Lions, Back of the Net reports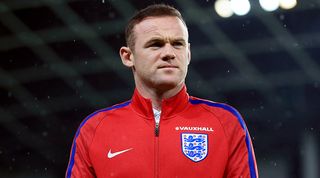 The Football Association has confirmed that Wayne Rooney will not only start for England against the USA, he will also be the best player on the pitch and the only player to receive any applause.
Responding to suggestions that Rooney – whose last appearance for England came in November 2016 – may not be deserving of a call-up, the FA insisted in oddly empathic terms that the D.C. United striker will prove he still has what it takes.
"Fans can expect Wayne Rooney to be the star of the show," an FA spokesman insisted to FourFourTwo.
"Oh, we'll take care of that," he continued, tailing off with stuttering laughter.
The friendly, which will be called 'The Wayne Rooney Foundation International', will contain a few house rules, such as Rooney being allowed to demand and receive a penalty at any given time, and the match ball being a perfect mould of his head.
Rooney will be given the right to pick up the ball with his hands, and will be issued with a mace to commit acts of ultra violence against opponents should the need arise. Discussions about providing the striker with a horse are still open.
"There will be those who say that this is a bizarre vanity project masquerading as an international friendly, but they will be silenced when they see just how deadly Rooney is at this level," the FA spokesman insisted.
"Both with his trusty right boot and with his Shestopyor mace, which will make him a defender's nightmare."
Special instructions
Leaked memos have revealed that USA players will be instructed 'not to mark' Rooney and encouraged to 'play really, really badly', while Rooney's team-mates will be informed that they can only pass the ball if they can prove that the intended recipient is him.
It remains to be seen whether fans will flock to buy tickets, but the FA has made it clear that supporters will also be under certain obligations as the insistence in their marketing materials that 'all eyes will be on Wayne' is not just a turn of phrase.
Stewards will monitor eye-lines to ensure that fans are focusing on Rooney at any given moment regardless of what he's doing, and will strike up compulsory pro-Rooney chants should the crowd fail to create them of their own volition.
There are unconfirmed reports that the friendly will end with Rooney being ceremonially fired out of a cannon towards the Moon, which will be temporarily renamed 'Mooney' as a mark of respect.
Please note: This story is satirical. Incredibly, history suggests we have to say this.
More Back of the Net • New features you'd love on FourFourTwo.com
Quizzes, features and footballing fun
Get the best features, fun and footballing frolics straight to your inbox every week.
Thank you for signing up to Four Four Two. You will receive a verification email shortly.
There was a problem. Please refresh the page and try again.