Rooney's future lies in central midfield and not just under Van Gaal
Although the Manchester United No.10's performances have been hit and miss so far, Alex Keble sees reasons to believe he will excel in the role...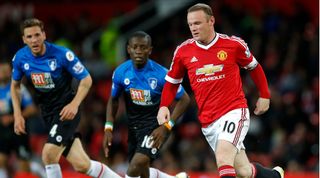 The swagger in Wayne Rooney's performance on Tuesday night made it look as though he's played in attacking midfield for his entire career – and in a sense, he has.
His late run and finish for the opener and his clipped through ball for Ashley Young's goal were the moves of a classic No.10 and textbook Rooney, a player who always looked slightly oppressed as a central striker, spending most of the last decade wriggling away from the No.9 position in search of greater control.
And yet the various attempts to permanently re-sculpt the England captain into an out-an-out midfield playmaker have invariably failed.
Rooney almost left Manchester United in 2013 after Alex Ferguson shifted him away from the front line, and Louis van Gaal's efforts this season have shown Rooney to be largely disappointing – anonymous, even – in this role. But now, after his heroics at Old Trafford, Rooney has confessed that he sees his future as a midfielder.
"Sometimes you have to make choices in your career and at the minute it's probably better for me to play deeper," he told Sky Sports. "Certainly after that, for next season [midfield] is where I see myself playing."
So why has Rooney so rarely impressed when asked to play in attacking midfield? And is he suited to the job?
A natural No.10
As the increasingly popular German model of gegenpressing and minimalist passing lines intertwines with the 'Barcajax' possession-centric system, the football pitch is becoming narrower and the tempo quicker. The No.10 has evolved accordingly.
As a basic prerequisite they must be agile, quick-footed, and capable of mapping their environment with lightning precision in order to out-manoeuvre opponents in an increasingly congested area of the pitch. This is because most of the big clubs utilise inverted wingers to increase their short-passing options in the middle, which in turn draws the game inwards; quickness of thought and nimble, one-touch creativity are essential.
Rooney possesses these characteristics in spades. Since he was a teenager at Everton, Rooney has shown a genuinely extraordinary sense of geometric and spatial intelligence; coupled with his technical ability and constant movement, he looks like the perfect modern No.10.
This idea of movement is key. The Premier League's best playmakers are constantly gliding into space, searching for the ball, and weaving between the line of defence and midfield in order to pull defenders away, open up gaps, and sew together the high-tempo passes needed to build through the compressed defensive throng. Rooney, desperate to be on the ball at all times and thus impossible to track, is clearly suited to the change.
Rooney's work-rate has historically made him unreliable when asked to lead the line, but from a deeper role his defensive instincts would make him stand out above the likes of Juan Mata, Christian Eriksen, or Kevin de Bruyne.
Constant high pressing is utilised almost ubiquitously at the top of the game; attackers willing to apply the first wave of pressure onto the opposition's deep-lying midfield distributor are hard to find.
The evidence from 2015/16
Rooney has played in central midfield on 13 occasions this season for Manchester United and the statistics do not read particularly well. Across these matches, he has completed 54.9 passes per game at an 86.2% completion rate: fewer than Yaya Toure, Cesc Fabregas, David Silva, and Mesut Ozil, but slightly more than Christian Eriksen (52.6 per game) and Juan Mata (47.4 per game).
His chances created statistics are even less impressive. Rooney averages 1.15 per match, significantly fewer than Ozil, Eriksen, De Bruyne, Silva, Dimitri Payet, Eden Hazard, Alexis Sanchez… and pretty much every top-level attacking midfielder in the Premier League.
However, he has also averaged a high 1.7 tackles per game – more than any of the above listed players – and completed 8.1 long balls per match, which can be explained by Van Gaal's insistence on keeping his formation wide and frequently switching the play.
Clearly, Rooney has not adapted particularly well to playing in this new position, but there are reasons to be encouraged; when comparing his last six appearances from this position with his first seven, Rooney outscores his earlier performances on almost every measure – including shots, chances created, passes, touches, tackles, take-ons, and accurate long balls.
For example, in his last six matches Rooney has averaged 82 touches per game (up from 57 in his first seven) and 67 passes per game (up from 44). Progress is being made.
Why hasn't it worked so far?
But aside from his recent improvements, Rooney has still largely underwhelmed in attacking midfield. However, the main reason is not the player's adaptability or waning talents but the overriding tactical deficiencies of Van Gaal's side.
The low-tempo, possession-recycling style implemented by the Dutch manager is flawed in numerous ways that prevent any of United's attackers from creating chances for their team-mates, but the primary problem affecting Rooney is the width of their formation.
Unlike the vast majority of Europe's top teams, United do not use inverted wingers or look to play through the middle of the pitch via quick interchanges and constant movement (such as Spurs, Bayern, or Barcelona).
Instead, Van Gaal's wingers hug the touchline in a very wide formation that creates needlessly large spaces between players; so far apart, they are not able to pull the opposition out of their defensive lines (25% of United's attacks are through the centre of the pitch, the least in the Premier League).
Things have improved with Juan Mata back on the right and Rooney centrally (Mata naturally drifts infield to link with the captain), but not enough. Put simply, Rooney has little chance of excelling in a No.10 role while United's attacking lines follow Van Gaal's outdated preferences.
The only reason he looked so good against Bournemouth is because Eddie Howe's team – who do not use a defensive midfielder and similarly play in an ultra-wide formation – are remarkably inept at defending his zone of the pitch.
Their combined score-line against the top four for possession this season is 5-25, and the opposition central attacking midfielder has scored nine goals across these eight games. In the Van Gaal system, Rooney will not be afforded so much space against any other Premier League side.
Jose Mourinho, however, would love Rooney in this role. So hard-working and defensively resolute, the Portuguese will be impressed to see Rooney average 2.5 tackles and 0.8 interceptions in his last six games from attacking midfield.
Can he play there for England?
Rooney told Sky Sports that "I think I'll still be the striker with England", but the emergence of Harry Kane and Jamie Vardy makes this increasingly unlikely long-term.
Rooney's intelligence, composure, and experience could bring a calming influence to midfield alongside Dele Alli and Eric Dier – particularly if Jordan Henderson is unavailable.
It is worth pointing out that Rooney has never truly been successful as an out-and-out striker. Even during his most productive years in the noughties at Man United he predominantly played in a free-role alongside Carlos Tevez and Cristiano Ronaldo, alternating positions and regularly dropping deeper than his partners.
Recent attempts to use him as a sole striker have perhaps been naïve; throughout his career Rooney has more or less featured in a No.10 role, and under new management at Old Trafford he could finally embrace the position.
Thank you for reading 5 articles this month* Join now for unlimited access
Enjoy your first month for just £1 / $1 / €1
*Read 5 free articles per month without a subscription
Join now for unlimited access
Try first month for just £1 / $1 / €1