10 amusing football petitions: featuring Real Madrid, Heskey and Mike Dean
Los Blancos are the most successful side in European Cup history and no one can take that away from them. Or can they? Mark Blackburn recalls some of football's most memorable petitions...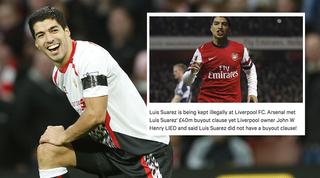 1. Strip Real Madrid of five European Cups
One can only imagine this petition was started by jealous Barcelona and Atlético Madrid fans.
Just 10 days before the 2016 Champions League Final, Justicia Deportiva (Sports Justice) called for Real Madrid to be stripped of the five European Cups they won between 1955 and 1966. Their argument? That the European Cup doesn't represent the values of the Champions League as we know it today.
The petition secured more than 50,000 signatures in one week, which could persuade Manchester United fans to try the same with Liverpool.
Anyone else laughing hard at this?
— BlancoStats (@BlancoStats) May 17, 2016
2. Ban Tom Cleverley from the World Cup squad
Poor Tom Cleverley. His career at Manchester United never really blossomed despite his 55 appearances for the Red Devils, with the midfielder often the scapegoat for the team's poor performances. 
That would have been hard enough for a young player trying to make his way in the game, but to be possibly the most hated footballer in England as well? That must be tough.
In 2014, an incredible 19,713 people signed a petition to ban Cleverley from going to the World Cup because "further embarrassment could be avoided by not having his inept performances undermine the rest of the team's efforts".
Roy Hodgson condemned the mischievous mob but didn't name Cleverley in his squad, as the rest of the players embarrassed themselves by crashing out at the group stage anyway.
England, sans Cleverley, exit the World Cup
3. Free Luis Suarez from Liverpool
Some Arsenal fans went to great lengths to try to persuade Luis Suarez to join their club in 2013. After the Gunners submitted that infamous £40 million + £1 bid for the Uruguayan, triggering the then-Liverpool striker's release clause, Gunners followers were furious at the Reds' refusal to allow their prized asset to move to London.
In stepped a fan who created the "Free Luis Suarez" Twitter account and a petition that claimed Liverpool were keeping Suarez illegally. Not only did the supporter want the striker at the Emirates, he also demanded an apology from Liverpool and £4.5 million in compensation. Not much, then.
2,535 supporters signed the petition but Suarez ended up signing a new contract with Liverpool before moving to Barcelona the following summer. 
4. Northern Ireland: Get a proper kit for Euro 2016
Northern Ireland was overcome with excitement when the nation secured their place at Euro 2016 with a 3-1 win over Greece. The mood fell flat, though, when the FA revealed the kit they'd be wearing in France, with (some) fans starting a petition for the team to "get a proper kit".
"I'm praying to God, Allah and David Healy that this is a wind-up," one disgruntled fan posted on Twitter. "An absolute monstrosity."
Unfortunately for Northern Irish fans, the petition garnered only 6,528 signatures, with the "awful mess" of a kit going nowhere.
@OfficialIrishFA I'm praying to God, Allah and David Healy that this is a wind-up. An absolute monstrosity #gawa
— Chris Adams (@cmadams18) November 9, 2015
5. Ban Mike Dean and Jon Moss from refereeing Arsenal matches
It's well established that Arsenal fans love a good social media vote, and it turns out they're rather fond of a petition, too: the Gunners' second appearance on this list stems from their action against not one, but two Premier League referees.
Firstly, there was the case of Mike Dean, who sent off both Gabriel Paulista and Santi Cazorla in Arsenal's 1-0 loss to Chelsea at Stamford Bridge last season, as well as failing to dismiss Diego Costa. Oh, and they were less-than-pleased that the same ref appeared to celebrate a Tottenham goal against them a few seasons earlier. In fairness, they might have a point on this one, particularly as Dean also appeared to enjoy a Spurs goal against Aston Villa last season. 
Mike Dean: Tottenham fan
The result? 106,837 angry Gunners calling for Mike Dean to be banned from refereeing Arsenal matches again. They should have known he likes his... er, gestures.
Moss then received the same treatment following Arsenal's 4-0 defeat by Southampton on Boxing Day last year. No one's safe in Gooner territory. 
6. Name daughter after Jamie Vardy
Leicester fans were understandably delirious when their side upset the odds to win the Premier League title this year, but one Foxes fan figured there was no better way to celebrate his side's achievements than by naming his daughter after star striker Jamie Vardy. Yep, really.
The supporter in question revealed that his girlfriend would allow their daughter's middle name to be "Vardy" if he managed to get 5,000 signatures on his petition.
Needless to say, he achieved that amount in almost no time at all, before going on to claim that both he and his unborn daughter would "be forever grateful". Let's wait and see about that.
banging night with the lads , and main man @vardy scored a worldie , baby vardy will be proud when i show her that in a few years #lcfc
— Ash Bash (@AsH_LcFc_4_LiFe) March 27, 2016
7. Stop Michael Owen commentating for BT Sport
Not a bad striker, but quite a bad pundit apparently. That was the view of 2,336 people who signed a petition asking for Owen to banned from commentating on matches.
The former England striker's commentary was described as "absolute dross and drivel", with one dissenter even threatening to cut his own ears off in protest. Calm it, Van Gogh. 
Unsurprisingly, No.10 rejected the petition, insisting it was a matter "outside the responsibility of the Government". Over to you, BT Sport.
8. Knighthood for Emile Heskey
Sir Emile William Ivanhoe Heskey – got a nice ring to it, doesn't it?
One fan thought so, starting a petition asking the Government to give the former Leicester and Liverpool striker a knighthood for "services to football". It's not clear how many signatures the petition got, but Heskey's 127 goals in 588 games in a club career spanning 12 years was surely enough to bag a considerable amount.
The Big G rejected that one as well, though, claiming that petitions 'cannot contain information about honours and appointments'. The spoilsports.
9. Allow Massimo Cellino to remain Leeds owner
In 2014, some 20,446 Leeds fans supported a petition calling for for the Football League to stop their attempts to force Cellino out of the club. Their argument was that the madcap Italian had invested a considerable amount of money and prevented the club from falling into administration for a second time.
But just a year after the petition was created, Leeds fans held several demonstrations against the Italian's ownership, calling it a "toxic regime" following several controversial events including manager sackings and allegations of sexual discrimination. Be careful what you wish for, football fans.
10. Give Brian Jensen a testimonial at Burnley
Ten years at one club is usually enough to earn you receive a testimonial, unless you're Frank Lampard or Petr Cech. When Burnley failed to fulfil a promise to give club legend Jensen one, the goalkeeper's wife Maria started a petition for 'The Beast' to be rewarded with a farewell game.
Despite securing 763 signatures, the match still hasn't taken place three years later. Jensen, currently plying his trade at Mansfield Town at the grand old age of 40, might need to come up with an alternative form of protest.
Quizzes, features and footballing fun
Get the best features, fun and footballing frolics straight to your inbox every week.
Thank you for signing up to Four Four Two. You will receive a verification email shortly.
There was a problem. Please refresh the page and try again.