Step aside, Andrés: Why Isco is now proving the rightful heir to Iniesta's Spain crown
By Lee Roden published
The Real Madrid midfielder was lauded by Elche fans last weekend, and Lee Roden says the 22-year-old is now (quietly) one of Carlo Ancelotti's most important stars...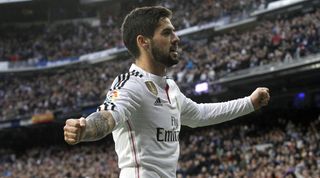 FACT FILE
Place of birth: Benalmádena, Spain
Date of birth: April 21, 1992
Transfer: €30m from Malaga, summer 2013
Former clubs: Valencia, Malaga
Real Madrid: 89 apps, 16 goals
Spain: 6 caps, 1 goal
Elche losing 2-0 to Real Madrid may seem distinctly ordinary, but last Sunday, something rather more unusual happened at the Estadio Manuel Martínez Valero. In the 88th minute, with the game long since settled, the No.23 flashed up on the fourth official's board.
His job well done, Isco started to walk towards the edge of the pitch. Then the Elche supporters began to applaud. Quite a few of them even got to their feet. The midfielder had been a nightmare for the home team – most spectators would have been tempted to boo – but his performance was so brilliant that this crowd felt it deserved positive recognition. It was a rarity, even in a competition with the depth of individual talent that La Liga commands.
Standing ovations from away crowds used to be the trademark of one other Spanish midfielder. Following his decisive goal in the 2010 World Cup Final, Andrés Iniesta was applauded off the pitch at almost every stadium in Spain he visited with Barcelona. The only notable exception was the San Mamés, but then again, Athletic Club are special.
Passing the baton
Isco receiving the same honour felt significant; symbolic, even. For a while now the Madrid man has been compared with Iniesta, talked up as the natural heir to his throne, thanks to their shared style of carrying the ball forward through congested areas. As usual, that kind of talk started before it was really due.
Iniesta is one of the most decorated players in Spanish football history, and as clear as Isco's talents already were a few years ago, he still had much to prove before earning the right to be compared with a World Cup and European Championship winner.
Sunday's recognition highlighted a gradual process of reversal over the last year or so, however. On this season's evidence, the apprentice may well be ready to overtake the master.
Iniesta has struggled to match his great performance levels of old for some time now, rarely proving as decisive as he once was, and certainly not with any consistency. A change in style at Barca has played its part, but so too has age. At almost 31, he is unlikely to find his best form for a sustained period.
Isco, meanwhile, is in the form of his career. Putting aside Cristiano Ronaldo, the midfielder has emerged as Real Madrid's most important player in 2014/15; the one who has stepped up every time an injury problem in the middle of the pitch threatened to derail Los Blancos' La Liga title campaign.
It is incredible to think that he was not a certified starter for Carlo Ancelotti in the opening weeks of the season. Benched behind James Rodríguez in the August Super Cup match which outlined the Italian's initial first XI, Isco had to wait patiently before grabbing an opportunity to play regularly, which was eventually presented by Gareth Bale's autumn fitness concerns.
The ex-Málaga man took the baton and ran with it. His showing in Madrid's 3-1 win over Barcelona in October was a real eye opener for anyone not convinced he can settle games at the highest level. Hard working off the ball, but also shielding it exceptionally well from Barça players while in possession, he gave Madrid the breathing space they needed to kill off any hints of a comeback.
Appropriately, Isco's instrumental part in the counter-attack for the decisive third goal of that game involved wrestling the ball from Iniesta of all players, before laying it off to Ronaldo.
Ancelotti kissed his star midfielder on the cheek as he left the pitch, and praised his work-rate in the post-match press conference, but could just as easily have waxed lyrical about his creative importance.
Action man
Isco has been on an upward trajectory since. Now fully adapted to the inside midfield role Ancelotti has been pushing him to learn over the last 12 months, he is just as capable of dropping back to the edge of his own area to cut off space and win possession as he is of producing a jaw-dropping dribble and drawing a foul at the opposite end.
Tellingly, even when Madrid aren't great, he still tends to be. Watching him at Mestalla in January, the 22-year-old was perhaps the only away player to come away from the 2-1 loss to Valencia with any credit, never tiring in his efforts to battle through the storm Los Che brought upon the Champions League holders. That's the sign of a player comfortable with seizing responsibility at a club where the pressure is huge.
The applause of Elche fans on Sunday rewarded yet another complete performance from Madrid's No.23, one that summed up his evolution as a midfielder well. Opposition full-back Damián Suárez must have been counting the minutes down for the game to end, so relentless was Isco's tormenting of him, both when Madrid had the ball and when they did not.
When Suárez dived into crunching challenges Isco was fearless, getting half a yard ahead of his marker and putting his body in the way to reclaim possession for Madrid.
When the defender attempted instead to stand him up, he was sucked in, then beaten by a change of pace - one such example resulting in Isco bursting to the byline before cutting back a perfect cross for Ronaldo's header. A touch of vintage wing play from the midfielder, who spotted the space and took advantage.
Supporter, not striker
Isco's deeper role means there are slightly fewer goals now than in his Málaga days – a disappointment for anyone who remembers his spectacular strikes in a blue and white shirt – but when they do appear, they are more often than not works of art.
Rarely low and driven shots, Isco favours placement over power, regularly shooting from behind the shield of a defender, curling the ball high into the net to maximise the difficulty for goalkeepers. All three of his league strikes this season share those traits, a reminder that this creator and battler is also an exceptional finisher if the opportunity arises.
Displays this season ensure his name is on everyone's lips, from players to writers. On Sunday, Iker Casillas claimed: "We're talking about the next most important player this country will have," when asked about his team-mate. Given the keeper has shared a dressing room with many of Spain's all-time greats, he is in a good position to judge.
El País sports writer Cayetano Ros, meanwhile, labelled him "the replacement for Iniesta" in his round-up of the weekend's league action. Ros is no sensationalist writer, and his use of the term carried weight. The familiar comparisons between the two now look more justified than ever.
What about Iniesta himself? The midfielder was early to the party, stating back in August 2013 that while Isco was already good, if looked after properly he would soon be even better – for both La Roja and his club. The club part is already being fulfilled, the international part will come soon, perhaps at Iniesta's expense.
Real Madrid vs Villarreal LIVE ANALYSIS with Stats Zone
Thank you for reading 5 articles this month* Join now for unlimited access
Enjoy your first month for just £1 / $1 / €1
*Read 5 free articles per month without a subscription
Join now for unlimited access
Try first month for just £1 / $1 / €1
Quizzes, features and footballing fun
Get the best features, fun and footballing frolics straight to your inbox every week.
Thank you for signing up to Four Four Two. You will receive a verification email shortly.
There was a problem. Please refresh the page and try again.