Sterling leaving would be even worse for Liverpool than Suarez's exit
James Dutton says the Reds aren't just losing a player – there's an entire structure at risk here...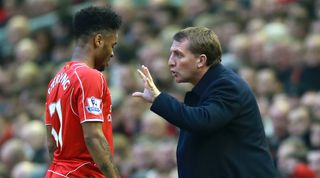 September 13, 2014. Four games into the new season and Liverpool find themselves in a familiar position, trailing at home to Aston Villa. An hour gone and the toothless Reds are directionless, purposeless and lacking in attacking penetration. It's the first signs of the trouble ahead, the death of last season's direct football that reaped 101 goals, 52 of them shared between the absent strikeforce of Luis Suarez and Daniel Sturridge.
Brendan Rodgers shuffles his pack, replacing summer signing Adam Lallana with the 19-year-old Raheem Sterling. Fresh from an impressive end to the season, a strong showing at the World Cup and a dazzling performance at White Hart Lane before the international break, the young prodigy is set to continue his upward trajectory, and Anfield is ready and expectant. As he enters the pitch the roar is deafening and the young England international is awarded a standing ovation; this is the Kop anointing its new hero.
It was a great show of faith for a teenager, but an awful amount of pressure to heap on the shoulders of one so young. This season Sterling has played like that pressure has weighed him down, too much for someone so young to bear such responsibility. His form has deteriorated as the season has gone on, yet he has started more games than any outfield other than Jordan Henderson.
Bad blood
Eight months on from that rousing reception at Anfield, the mood has shifted to one of antipathy towards his on-field performances and anger at the news that he will seek to leave Liverpool this summer. How has it come to this? Portrayed as bad boy, wantaway and contract rebel across the media, his image has been battered ever since Roy Hodgson claimed he was too tired to play for England last October.
The reasons for his desire to leave paints no one in a good light: Sterling and his yearning to be paid his worth in an industry that has long since lost the common ground with its paying audience; LFC-owning FSG's inclination to play hardball in negotiations; his agent's use of the media to play out this stand-off in public. It paints a picture that depresses those already alienated with the excesses of the modern game, so much so that the impact of Sterling's potential departure from Liverpool is being far too underplayed.
Sterling has a long way to go in his career and is far from the finished article. Too often he can combine the sublime with the farcical; a glorious first-half goal against Newcastle last month was followed by an inexplicable miss from six yards in the second half. He can effortlessly slalom his way through a crowd of players yet struggle to kick a ball cleanly through his laces.
But he is the current holder of the Golden Boy award, an honour previously held by Lionel Messi, Sergio Aguero and Mario Gotze among others. Since December 2013 only Steven Gerrard has scored and assisted more than Sterling for the club, and in the Premier League this season only Alexis Sanchez, Eden Hazard, David Silva, Santi Cazorla and Gylfi Sigurdsson have scored and assisted more from attacking midfield.
Losing Raeem Sterling at the age of 20 would be far worse for Liverpool than the departure of Luis Suarez last summer because of the message it sends. Losing one of the best players in the world at 27 to one of the best clubs in the world can be excused, but to lose a 20-year-old with his best years ahead of him – probably to a rival club – is a damning indictment of the club's model and its suitability for other young players.
The big question
FSG look to make clever, young signings, identifying players who can grow at the club, use them as a stepping stone to further their careers and be sold on for profit. Suarez delivered on those fronts, and the signings of Henderson, Sturridge, Philippe Coutinho, Lazar Markovic and Emre Can were all made with this formula in mind.
Sterling pre-dates FSG's time at the club, but there is no doubting that the owners see him following a similar process. The idea would never have been for him to leave so soon into his development, though.
When a 20-year-old believes the club can no longer match his ambitions, how can the owners continue to realistically pursue that model? When a player the club wants to build the team around for the next five years isn't prepared to stick around for it, how can Liverpool convince the current crop that they are progressing and continue to be attractive to other youngsters?
It calls into question how Liverpool are progressing on and off the field more than any departure since Xabi Alonso in 2009, and offers FSG their biggest test since taking ownership nearly five years ago. The club have qualified for the Champions League once in six seasons, and in the last nine years have won only the League Cup. Consistently losing their best players will only see their competitiveness wane further.
Calls for Rodgers and the transfer committee to reinvest will inevitably surface, but their record in the market hardly inspires confidence among the Liverpool fanbase. The news this week that the Financial Fair Play rules may be relaxed only reinforces the uphill struggle that the Reds face in competing within an unfair market, and the need to keep hold of what they already have.
In reality, Liverpool have failed Sterling. Since returning from a January holiday to Jamaica he has started 23 games out of a possible 25. At 20 he needs regular football, but not the burden of responsibility that comes with leading Liverpool's attack one week and then plugging gaps at wing-back the next.
The likely arrivals of Danny Ings and James Milner this summer, combined with the signing of Divock Origi, hardly convinces that the weight of expectancy on Sterling's shoulder will ease the longer he stays at Anfield. The club has become a hyper elite academy, and as much as it puts faith in young players it can hang them out to dry too.
More features like this every day at FFT.com (opens in new tab)
Thank you for reading 5 articles this month* Join now for unlimited access
Enjoy your first month for just £1 / $1 / €1
*Read 5 free articles per month without a subscription
Join now for unlimited access
Try first month for just £1 / $1 / €1
Quizzes, features and footballing fun
Get daily World Cup 2022 news, updates and other football frolics to your inbox
Quizzes, features and footballing fun
Get daily World Cup 2022 news, updates and other football frolics to your inbox
Thank you for signing up to Four Four Two. You will receive a verification email shortly.
There was a problem. Please refresh the page and try again.