From Südtribüne to Selhurst: One Dortmund supporter's take on English fandom
Three weeks ago, FourFourTwo reported the tale of two Aston Villa supporters on Borussia Dortmund's famous south stand. Now, Südtribüne native Yannick Hesse offers his take on two English atmospheres in the Premier League...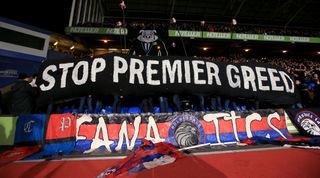 On the evening of February 28, I staggered out of the Zeitgeist pub onto the streets of south-west London, half-drunk and euphoric.
A few hours earlier, Borussia Dortmund had beaten local rivals Schalke 3-0 in impressive fashion. However, my joy was soon mixed with melancholy.
As a season-ticket holder for Europe's biggest home end, Dortmund's Südtribüne, I had just missed the match of the year. I consoled myself with the fact that at least I would be back in time for the Bayern game.
A few days later, I read my father Uli's story about him taking two Aston Villa fans onto the terrace for that Schalke game. The remarks about its exceptional atmosphere made me homesick again for a short time, but above all I was once again taken aback by the apparent gap between German and English football. "You'll never get an atmosphere like that in England now. Impossible," groaned Tony, one of the Villa fans.
But is that really the case, or was Tony exaggerating? Is English football really that sterile? I felt strengthened by my intentions to attend at least one Premier League match during my stay abroad.
Hey, where is everyone?
However, that turned out to be easier said than done. Having no favourite club, I didn't really care about the game or the stadium, but naturally I first tried to get tickets for teams from the upper echelons of the table. When it turned out that this would be too difficult – and costly – I decided to look lower.
So on March 14, I found myself outside Selhurst Park, ready to watch Crystal Palace against Queens Park Rangers – my first-ever Premier League game.
The first confusion was not long in coming: about 70 minutes before kick-off, I entered the stadium (because that is the time I usually arrive before games), but there was not a soul in sight.
Fortunately, the food stand was already open and it was a pleasant surprise to see – contrary to the widespread misconception in Germany – that alcohol isn't completely banned from all Premier League stadiums, but only from the stands.
So I bought myself a (ridiculously expensive) Palace ale and strolled through the catacombs of the Arthur Wait Stand, its narrowness eventually making the pre-match atmosphere very intense. It was nice to not be annoyed by the dozens of sponsored lotteries and other actions I was used to before the game kicked off.
But then a bitter surprise awaited me when I went out to my seat: although I was able to see the whole pitch, the other stands were hidden by a wall and part of the roof, which at the same time prevented the atmosphere to transfer from the main stand. As far as I could tell, the home fans were in a good mood and vociferously supported their team. The match itself was rather low quality, but at least I seemed to bring the hosts – who had been without a win at home for two months – good luck as Palace beat QPR 3-1.
Bring the noise
A week later, I had the chance to visit Upton Park too see West Ham United against Sunderland. Just like at Palace, I was again amazed at the stadium's situation. In Germany, many grounds are located at the edge of town or near a motorway, but stadiums in London's residential areas just seem to pop up out of nowhere.
David, a friend who took me to West Ham that day, revealed that from 2016 the Hammers will play in a different stadium. To the question of what will happen with the old ground, he replied: "Oh, they'll just knock it down and build residential buildings." I cringed. For a second, I tried to imagine BVB fans' reactions if the Westfalenstadion was to be torn down, and quickly put the thought to one side.
We entered the stadium (this time, only 10 minutes before kick-off) and went out to the Bobby Moore Stand. Before, David had almost apologetically reminded me that "it's not the Westfalenstadion".
However, I immediately felt at home as not only was my view of the pitch exactly the same as in Dortmund, but the pre-match atmosphere was very good too.
The three main prejudices I hear about an English football audience is that they are wealthier, older and less noisy than in Germany. I cannot disprove the first two, but the latter is – in part – not true. The intensity with which the fans were belting out their club anthem I'm Forever Blowing Bubbles was overwhelming.
Unfortunately, that changed as soon as the match started. Everybody sat down, and as the game was not very exciting, that early gusto wasn't achieved again. Or maybe it was, but I just missed it: when David assured me that West Ham "never score late anyway", we decided to leave in the 87th minute so as not to queue at the Tube station. A minute later, Diafra Sakho scored the winning goal.
I could guess the eruption of the Bobby Moore, but was reminded again of the basic rule my dad told me 16 years ago during my first visit to the Südtribüne: never ever leave a football match before the final whistle.
Priced out
I will fly back home next Saturday, and many of my friends will ask me whether English football really is as sterile as everybody says. At least from what I've witnessed, I can deny that.
Although many British fans look enviously on the German fan culture, Bundesliga fans can still learn a thing or two from the Brits. Although the overall support of the team might not be as constant as it is in German stadiums, fan chants to me appeared much more creative at Selhurst and Upton Park.
I won't go into details, but Sunderland's Adam Johnson bore the brunt of many. It's the type of spontaneity and humour I sometimes miss in Germany, where the variety of songs often leave much to be desired.
In addition, the human speech organs appear to be anatomically bigger over in England, as fans create an incredible volume when belting their songs. Unfortunately, they're mostly followed by eerie silences.
What also struck me was the tactical knowledge with which many supporters discussed the match, always with an eager eye on the course of the game.
But a major fact suddenly dawned on me: if I was living in England, I would have serious problems affording to see my favourite team on a regular basis. I paid £40 for the seat at Selhurst Park, and that at the Boleyn Ground would have cost me the same under normal circumstances. That's €110 for two games, which is half the sum I pay for my season ticket at Dortmund. Although it seems unrealistic, I hope ticket prices in England will drop to give more people the chance to see their teams in the flesh.
On this occasion the money was worth it – I enjoyed every second of my two matches. Nevertheless, I definitely look forward to going home – that is, to be back on the Südtribüne – against Bayern Munich after the international break. Anyway, thanks England. I'll be sure to come back.   
Quizzes, features and footballing fun
Get the best features, fun and footballing frolics straight to your inbox every week.
Thank you for signing up to Four Four Two. You will receive a verification email shortly.
There was a problem. Please refresh the page and try again.