Supporter, cheerleader or cynic? Manchester City and the modern football dilemma
The aftermath of their FA Cup victory was dominated by tough questions of the club's ownership – but this is a grainy issue that City fans are not alone in shouldering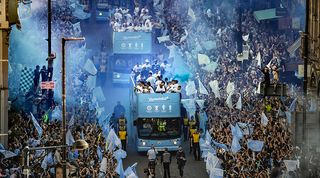 Manchester City are the most relevant example, whether or not they choose to accept it. The Citizens are currently England's most successful club – and its most political.
Owner Mansour bin Zayed Al Nahyan is the deputy prime minister of the United Arab Emirates, member of Abu Dhabi's royal family, and effectively holds presidential sway in his country. The UAE's dismal human rights record over the last decade has been well documented, but it was Amnesty International who offered the most apposite take.
"The UAE's enormous investment in Manchester City is one of football's most brazen attempts to 'sportswash' a country's deeply tarnished image through the glamour of the game," their Gulf researcher Devin Kenney said last November. "As a growing number of Manchester City fans will be aware, the success of the club has involved a close relationship with a country that relies on exploited migrant labour and locks up peaceful critics and human rights defenders."
The Premier League is the UK's most successful export of the last 20 years, and thus attracts the wealthy. This is not intended to be a debate on the merits and flaws of rapid and rampant capitalism, but it's certainly true that English football has welcomed owners based on their bank balance while choosing not to ask the difficult questions. "You start to follow the money," as Lester Freamon famously says in The Wire. "And you don't know where the fuck it's gonna take you."
At Manchester United, the Glazer family is taking money out of the club (they were paid a £22m dividend last year while United struggled to match its grand history or potential) and Ed Glazer held a fundraiser for Donald Trump, who refers to him as a friend. United plc is now registered in the Cayman Islands, a tax haven. Is it morally acceptable to give the Glazers your money?
Liverpool's rise this season has been a comparative feel-good story, but they did receive a ban on signing academy players after reneging on a deal to pay a 12-year-old's school fees, leaving his parents in thousands of pounds of debt. And they agreed a four-year, £160m sponsorship deal with Standard Chartered, the bank who have put aside £690m for fines relating to investigations into illegal financial practice. Also morally dubious?
Tottenham, Southampton and Bournemouth are understandably all viewed as wholesome clubs doing things right, but two have parent or affiliate companies registered in the British Virgin Islands (tax haven) and the other in the Bahamas (tax haven).
Back to human rights issues, a five-word phrase that shouldn't belong in any football article. At Leicester City, messages of congratulations and support are plastered around the King Power Stadium for Thai king Maha Vajiralongkorn Bodindradebayavarangkun – a figure repeatedly criticised by Human Rights Watch for jailing dissenters who question his leadership in social media posts, and there have been strong accusations of other questionable activities in the past.
Elsewhere, Roman Abramovich's close relationship with Vladimir Putin and practices in gaining his extraordinary wealth have long been open to interpretation, while newly promoted Sheffield United face accusations of accepting a £3m loan from a member of the Bin Laden family. This is not an attempt at whataboutery, merely unearthing a conclusion that slaps you in the face: the Premier League is not the natural home for pure sporting fairytale.
In this climate, supporters are given two choices: put their fingers in their ears or boycott. This happens all the time. Some people refuse to buy Nestlé because of Africa's breastfeeding formula scandal in the 1990s. Some refuse to wear Canada Goose jackets because they trap and mistreat animals for their fur. In 2008, Primark was revealed to use suppliers that paid children 60p per day. People continue to eat meat despite experts insisting that veganism is one route to easing climate change.
Life as a consumer is full of moral decisions. Each one might reflect well or badly on the individual but, rightly or wrongly, we draw out unique moral lines and then make our peace with it.
But despite football's vast commercialisation, its followers remain uniquely loyal as customers. Put it this way: if you learned that your preferred brand of washing powder was owned by a company that had undisputed links to the degradation of human rights, you might well go for Persil or Bold instead. But we cannot – or will not – change our football club so easily. The default (and fully understandable) position of football supporters is that they were here long before the owners, and will be here long after. A loyalty engineered over decades and passed on through generations will not be broken by the actions of those in charge.
Some do boycott, but they are in the emphatic minority. When supporters to drift away, it is far more likely down to a push factor that directly affects them – ticket prices or dismal performance – than anything geopolitical.
This wilful blindness is allowed. Sport is supposed to be escapism from the rigours of everyday life, and therefore an escape from its endless moral decisions too. Following your team is a means of forgetting the trudge of Monday to Friday, reconnecting with a community, meeting friends and continuing familial ties. Football supporters were wholly ignored during English football's capitalist power grab, so it's a bit much to then hold them morally responsible for the end result of something they were powerless to stop.
Still, some fans are guilty of drinking the Kool-Aid. If supporters make the reasonable choice to continue supporting their club and avoid questioning the morality of those in charge, they are making a definite separation between club and owner, and choosing to focus their support firmly on the former. Some have jumped beyond that line – you can find Manchester City supporters vehemently defending Sheikh Mansour and making themselves instant experts on geopolitics and human rights. By any reasonable assessment, it's a jump too far.
We must remember that this is only a small minority – albeit a very vocal one. There are 13 million Twitter users in the UK, around 20% of the population, but only a fraction of those are active and using the platform to offer opinion (and often anger). While the vast majority of City supporters have basked in their treble glory, it is the exceptions to that rule who make the headlines.
But the vagaries of Manchester City's ownership does raise an obvious question: how much is too much? Is there a tipping point when wilful ignorance becomes the minority, and boycott on moral grounds the rule? If your club exploited its own staff, perhaps? Or was proven to have actively engaged in child labour? Or deliberately engineered a culture of workplace victimisation?
Or, as is probably most likely, will most football supporters continue to sit in the middle ground between cheerleading their morally dubious owners and refusing to fund the sportswashers?
Here, the mantra of the modern football supporter rings true: Whoever's name is above the door, and whoever holds the key; they'll never own your football club. It belongs to you and us – even if it's getting harder and harder to believe in it.
Then read…
INTERVIEW Arsene Wenger: "When Arsenal played their first match without me, it felt strange"
QUIZ! Can you name the clubs who've been promoted from the Championship since 1999/2000?
While you're here, why not take advantage of our brilliant subscribers' offer? Get 5 copies of the world's greatest football magazine for just £5 – the game's greatest stories and finest journalism direct to your door for less than the cost of a London pint. Cheers!
Quizzes, features and footballing fun
Get the best features, fun and footballing frolics straight to your inbox every week.