Tim Cahill is enjoying Shanghai - where 20 million people talk about football
Australian stalwart Tim Cahill talks goal celebrations, continent hopping and settling in China with FourFourTwo's Zee Ko...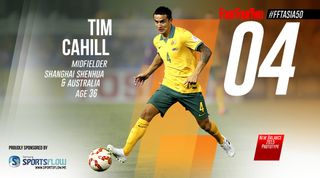 What was it like winning the Asian Cup for the first time since joining the AFC? Did it make up for the disappointment last time out?
There was a lot of pressure on us being at home and there was this expectation for what was a new team, but the way we did it was really professional. I think there wasn't a game where we didn't dominate, even the game where we lost to Korea in the group stages it was one of those contests where we thought we could still do well. The mindset that the manager put into the team helped, also the youngsters believing in each other... The way we did it over a tournament to win the Asian Cup and become the best team in Asia was absolutely massive, but more importantly the impact it has made on football in Australia has been tremendous.
Any nerves at all, coming off after an hour with a slim 1-0 lead? What was it like on the bench after Son Heung-min's equaliser?
It was nervewracking when they scored of course. We thought oh no here we go again, but deep down inside we were all confident that we had enough on the pitch and enough to come on to effect the game, even if it meant penalties. We'd set out at the start of the tournament to be attacking and to go for every game regardless of the scoreline but most importantly every game we played was with intent and it was no different in the final. We didn't go defensive at all, if anything the boss made a few changes in extra time that resulted in an early goal which was the telling factor in the end.
Son's goal was unfortunate because it was against the run of play. To concede the way we did and that late in the game, it was more disappointment that we couldn't see out the 90 odd minutes to win the Asian Cup. Everyone thought that the tide had gone with Korea and we would lose because they had the momentum but we stuck to the game plan. We knew that they would tire more than we would in their half if we attacked and it was great to get that goal to win the tournament.
You spoke last year about feeling in great shape and hoping to play on till 40. Do you still feel the same way now?
I'm not going to make any targets. I'm just going to enjoy my football here in China and make sure that I can stay fit. The season's started off really well and I'm someone that holds myself at a high professional level on and off the park and I'm lucky that internationally if I'm playing well, the manager will always give me the opportunity to continue. If I'm not playing well or my body doesn't stand up to it then it's something I'll have to reassess later on.
Speaking of World Cups, last year was a bit of a bittersweet campaign wasn't it? Scoring one of the goals of the tournament but bowing out in the group stages...
I think it was probably one of the biggest learning curves for us. We really made a massive impact even though we didn't win a game and we gained a lot of respect. Against Chile we dominated large parts of the game and were unlucky not to get a better result. Again against Holland, we gave them a massive scare but we didn't see out the game and lost out in the end. The final game against Spain was a chance to play against one of the best teams in the world so for us it was just great to know we could hold our own at such a big tournament. You see Holland beating Spain by that ridiculous amount and also how close we got to beating Holland.
For myself, to get that goal [against the Dutch] and to score another two goals in my third World Cup, it's something that I'll never forget.
It's been eleven years since your debut for the Socceroos. How has your role in the team evolved over that decade?
I've always been a leader as a footballer, whether domestic or international. I think now it's probably the most pivotal part of my career with the Socceroos to help guide these younger players through the right processes of what it means to be an international player.
What's been your fondest memories playing in the green and gold so far?
Wow. It's hard since I have so many. We can start with my first ever goal for Australia in the World Cup, or the goal against Holland... You know, I think it's just basically putting the green and gold shirt on. I've been lucky to have so many great memories and score so many goals with my team. I think putting the armband on as well, that was pretty special too at a big tournament like the Asian Cup and in front of my home town.
Moving on to your club career, you started off in the English second division with Millwall. Did you ever dream you would one day play in the Premier League?
I think I've always been someone who's chased his dreams, I always had it in my mind as a kid that one day I'd play in the Premier League and it's just something that came through hard work and perserverance and really guiding myself mentally and physically through the right processes. That's what got me to the biggest stages in the world and I can't thank enough my parents and friends who helped along the way.
You made the flag punching celebration a trademark after joining Everton. How did that come about?
(Laughs) This is something that came about after Archie Thompson did the kung fu celebration for Australia and his club side. At tbe time he had a baby boy and I had a baby boy and I said I like the celebration. I did a bit of a collaboration with punching the corner flag rather than kicking it and boxing rather than kung fu. It's something that started off as a bit of fun and then once I saw the kids doing it in the local park, it just stayed on as something that I used all over the world, even here in China now!
Moving to America in 2012 meant you followed the likes of David Beckham and Robbie Keane in crossing the Atlantic. Looking back now, how much did you appreciate your time in Major League Soccer and was it all you expected it to be?
Yeah it was amazing to join a massive club like New York Red Bulls and play with Thierry Henry, Rafael Marquez and Juninho (Pernambucano). It was an exceptional time for me and it was a different level of football compared to the Premier League, but also it was something I enjoyed commercially and on the pitch, being part of the team that lifted the first silverware for the club in 18 years by winning the supporters shield and being MVP for my club. But most importantly it was the experience of living in New York and also helping to grow the league and being an ambassador for my club and the league. I'm lucky to have spent three years in New York and played with some very big players.
Would you care to go into the circumstances behind leaving New York a year early?
It was simple for me. I had a massive opportunity to join other clubs for longer terms while at New York I would have only had a year left on my deal. In six months I would have been looking for a new football club so we sat down and we spoke and I was ready for a new adventure. I'm still a Red Bull athlete and part of the Red Bull family so we left on very good terms but sometimes in life you pick things that you want to do. Afterwards it was agreed that I could leave and the opportunity to play in Asia was something that was very enticing to me, something that I've always wanted to do and now that I'm here in China, I couldn't be happier.
You're now playing your club football in China with Shanghai Shenhua. What's the level of football like in the CSL?
It's fantastic. At my club, I'm very lucky because the professionalism is really high but more importantly our training ground and facilities are amazing. We get treated very well and as footballers we have the best staff and a great setup. The Chinese players have welcomed me, and the club is part of the Greenland Group which is a massive company. The league itself is very big and players from all over the world play here; there is a lot of money being invested in top quality players.
The support here is fanatical. There are 20 million people in Shanghai, and everywhere you go in the streets all they talk about is football.
Are you learning the language and seeing the sights?
I'm always seeing the sights and learning the language slowly but I'm really embracing the culture. The players have gone above and beyond to welcome me and help me settle in very quickly.
You've now played club football in four different continents. Any chance you could sneak in an African sojourn and a South American adventure before hanging up your boots?
(Laughs) I don't know! I'm 35 now and I just want to enjoy the Asian experience. I'm loving China and I'm very fortunate to be in Shanghai but to be in four continents in my career and to do what I've done, I feel very humbled. Coming to a league like this, I want to try and make a big impact not only on my team but also to help the league grow to new heights.
Debate the #FFTASIA50
The FourFourTwo Asia50 is in association with Samsung SportsFlow – bringing you the most comprehensive sports coverage in one place via a single app. Find out more and download at www.sportsflow.me (opens in new tab)
Thank you for reading 5 articles this month* Join now for unlimited access
Enjoy your first month for just £1 / $1 / €1
*Read 5 free articles per month without a subscription
Join now for unlimited access
Try first month for just £1 / $1 / €1