Tottenham players locked inside Wembley deny curse talk
Tottenham's Wembley woes have intensified as they appear to have lost the key to the stadium, Back of the Net reports.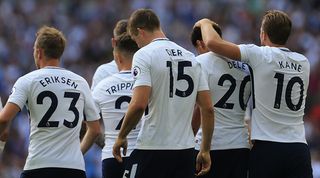 Tottenham boss Mauricio Pochettino has denied that there is a Wembley curse, despite speaking from within the stadium as his players attempt in vain to jimmy a fire exit.
Spurs have won just one of their last 11 matches at Wembley after conceding a last-gasp equaliser to Burnley, and talk of a curse has intensified with the news that the players remain trapped inside the stadium after the doors inexplicably locked and the lights went out.
However, despite his players becoming panicky and the sound of disjointed footsteps echoing around an apparently-empty upstairs walkway, Pochettino remains unfazed.
"If there's one thing we know about curses from TV and films, it's that those who don't take them seriously always come off OK in the end," Pochettino told FourFourTwo in grainy camera footage.
"The fact that this team who seemed invincible for long stretches of last season are suddenly shorn of all confidence when playing home matches is no more a mysterious state of affairs than the sudden drop in temperature in here, or Kevin Keegan peering back at me when I defogged the mirror in the dressing room.
"It will all be totally fine. But wait a minute, did the formation on the tactics board always spell out 'You're Going To End Up In The Europa League'?"
Some pundits and fans have criticised Pochettino's handling of the situation after the manager insisted that all of Spurs' players should split up and wander the echoey, dark corridors of Wembley alone.
"I make the tactical decisions here and it's my belief that our best course of action is for each player to stalk the foreboding halls of the stadium completely alone," Pochettino asserted.
"I've also told the lads that on no account should they turn any lights on as soon as they enter a room."
At the time of publication, Dele Alli (trapped in cupboard) was a doubt for England's clash with Malta, while Kieran Trippier (possessed by vengeful spirit of FA Cup final loser) is rated 50/50.
Calm your fears: this satirical news story is not real. Fairly obviously.
Quizzes, features and footballing fun
Get the best features, fun and footballing frolics straight to your inbox every week.
Thank you for signing up to Four Four Two. You will receive a verification email shortly.
There was a problem. Please refresh the page and try again.