I'm worth £1m, says pub footballer who just heard about Kyle Walker
Sunday League player puts seven-figure price tag on his own head, Back of the Net reveal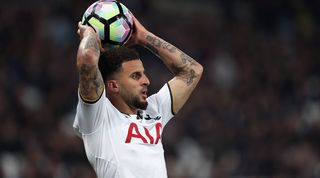 A man who plays right-back for the Dog & Duck Reserves is pretty certain that he must be worth around £1 million in the current market, rising to £1.5 million with add-ons.
Dom Archer, who started his career at St Thaddeus Technical College before taking in spells at the Fox & Hounds XI and HMP Leyhill, is talking up the possibility of a move to local rivals the George & Dragon FC - if they stump up the cash.
Archer said: "You can't tell me I'm not one fiftieth as good as Kyle Walker.
"I too can run quite a long way, deliver a disappointing cross, and get caught up the pitch on the counter-attack multiple times a game.
"I'm pretty sure I can kick the ball further than Kyle Walker too, which has to be worth something. Probably about five hundred grand.
"I'm also versatile enough to do a job elsewhere, like off the shoulder of the targetman, or behind the bar if I turn up too hungover to move both my legs at once.
"Anyway I'm putting myself in the shop window, if the George & Dragon FC moneymen want to take a punt on a 32-year-old with irritable bowel syndrome who occasionally leaves at half-time if the dog walker has to cancel."
Archer's team-mate Billy Waddock said: "If Dom's worth £1 million, and Gylfi Sigurdsson's worth £50 million, I'm probably about £20 million. Not bad for a part-time traffic warden.
"Now let's talk wages. Based on what Lukaku's getting at Man U, I reckon I deserve £40,000 a week, plus a five grand appearance bonus if I turn up with the right kit."
Dog & Duck Reserves manager Dave Kildea said: "This should all be achievable if we raise the price of a pint to £10,000."
Please note: This satirical news story is not real. Like, clearly.
Quizzes, features and footballing fun
Get the best features, fun and footballing frolics straight to your inbox every week.
Thank you for signing up to Four Four Two. You will receive a verification email shortly.
There was a problem. Please refresh the page and try again.