USA give England reality check: FFT's 10th game in five days ends in stalemate
After a hectic week, Chris Flanagan was at the Al Bayt Stadium to see the Three Lions held to a 0-0 draw at World Cup 2022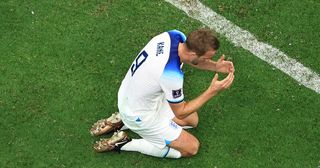 (Image credit: Buda Mendes/Getty Images)
The steward was racing past the crowd outside the stadium on a scooter, and he was singing a familiar tune.
"It's coming home, it's coming home, football's coming home!" he sang - even the Qataris know Three Lions by now.
When you go to an England game, it's a tune that's impossible to escape. The bus from the city centre had travelled approximately 20 yards on its journey to the Al Bayt Stadium before an England fan started playing it on his phone. "Come on boys, sing up!" he said.
FFT were on our way to our 10th World Cup match in an incredible five days that we're unlikely to forget in a hurry. With four matches a day in the group stage and the stadiums all within close proximity of Doha, the opportunity was too tempting - two games a day simply hasn't been possible at pretty much any other major tournament in history. In five days then, we've seen England twice, Wales twice, Argentina, France, Germany, Belgium, Uruguay and Brazil.
Logistically it's presented some challenges - generally the post-match press conference finishes around two-and-half hours before our next game, so getting between stadiums has been a little hectic, but a combination of metro, Uber and buses have come to our aid - the tournament organisers have put on special shuttle services between venues to cater for that very scenario.
Sleep hasn't been plentiful, but it was always going to be worth it - in which other week would it ever have been possible to see Lionel Messi, Kylian Mbappe, Neymar, Kevin De Bruyne, Harry Kane, Gareth Bale, Luis Suarez, Manuel Neuer and plenty more? Temperatures have generally been tolerable for the most part - only the first match of the day, 1pm kick-off, is played in the heat of the day, and it's dark before the 4pm game has finished. Air conditioning in stadiums has also helped considerably.
We've seen the drama of two huge upset victories for Saudi Arabia and Japan, plus the majesty of Richarlison's acrobatic goal against Serbia, inside the impressively huge Lusail Stadium, which will host the final and stacks up well against most of the best football venues in the world. OK, Uruguay versus South Korea wasn't great, but you can't win them all - and indeed neither team did.
✨🇧🇷 Simply magical from Richarlison! #BBCWorldCup #FifaWorldCup #BBCFootball pic.twitter.com/1y8uvjyu7xNovember 24, 2022
Brazil boss Tite came across as the most charismatic and impressive manager at a post-match press conference, holding court on tactics and pretty much everything else after his side's 2-0 victory.
He even took the unusual step of bringing most of his backroom staff into the press conference with him, plus Brazil's national team co-ordinator Juninho. Occasionally, he'd defer to his trusty sidekick, assistant Cleber Xavier, the Robin to his Batman. "Perhaps I talk too much, Cleber?" Tite asked at one point. You could see the unity he's fostered and why Brazil are favourites for this tournament - he's the sort of manager that you could imagine that players love playing for.
The most vocal fans: undoubtedly the Mexicans, helped by the fact that there are thousands and thousands of them everywhere. Even this evening when we went for a walk on the Corniche in the city centre, a mariachi band was entertaining the crowds. "Viva Mexico!" they shouted as they finished their latest tune, amid a festival atmosphere by the water. A call to prayer from the nearby mosque soon rang out - a reminder of just how different the location for this World Cup is.
Of all the games we've seen, England's performance against Iran was probably the most impressive we've seen, so emphatic was the demolition - particularly considering that the Asian side then went on to outplay and defeat Wales. Understandably then, England fans were pretty confident as they headed to the Al Bayt Stadium for this game against the USA, knowing that victory would confirm progression to the next round. "If we can get an early goal, we can get a few," one said on the journey up to the stadium.
This venue is the furthest from Doha of the eight World Cup stadiums, situated in Al Khor, 35 miles to the north, a 50-minute bus ride from the Corniche. It was the sixth World Cup arena we've visited during this five days, and it was the first one that felt like it's in the middle of absolutely nowhere, albeit the centre of Al Khor is only just a little further to the north.
Given the city's population is just 200,000, what they're going to do with a 68,000-capacity stadium after this tournament is unclear. It's architecturally impressive, though - the exterior is designed like a giant traditional tent, and inside it's massive. As we got off the bus outside the stadium, a man dressed as a giant eagle got off another bus. He's a famous USA fan, called simply 'Eagleman' - it must have taken a while to come up with that name.
There were plenty of USA fans around to rival the England supporters, who were busy converting some of the locals. A stilt man was handed a Burnley flag to pose for pictures with, although stadium security didn't seem to need much persuading.
"Ah, you're from England - I love Harry Maguire," one told us. Is he a Manchester United fan, we asked? "I was, but after Harry Maguire, it's over," he adds, clearly not happy about the criticism the defender has received at Old Trafford in recent times. It was Maguire or United, and this bloke chose Maguire.
It wasn't only the England fans who were confident - inside the stadium, a USA fan interviewed before the game insisted that "We've got stars on our flag, now it's time to get one on our shirt". Steady on, mate - it'd take quite an upset for Gregg Berhalter's side to win the entire World Cup. England went into this game having never beaten the USA in a World Cup, though - infamously losing in 1950, despite winning their next four friendlies against the Americans 6-3, 8-1, 10-0 and 5-0. Rob Green's fumble held the Three Lions to a draw in Rustenburg at the 2010 World Cup.
As the stadium filled up, more and more England fans filtered in - soon there was a sea of white shirts around the stadium, with a giant 'Hope and Glory' banner unveiled before kick-off, bearing the faces of Bobby Moore, Michael Owen, Harry Kane and more. For most of the week so far, Welsh fans have been more noticeable around Doha - at least, to FFT. Tonight, it was clear that there are an awful lot of England fans here, seemingly many more than at the first game against Iran.
Admittedly this stadium holds 24,000 more people, but support for the Three Lions seemed to ring around this venue, in a way it didn't quite on Monday - even when they were racing to a 6-2 win. Flags in the stand represented Huddersfield, Rochdale, Bradford City, Middlesbrough, West Ham, West Bromwich Albion, Sheffield Wednesday, even Ellesmere Port.
Some England fans on our bus to the stadium were attending their first game of the tournament - maybe a sign of pre-match optimism that the Three Lions might stick around at this World Cup for a good while yet. The team itself initially seemed to pick up where it had left off against Iran, starting on the front foot, with Kane seeing a shot deflected wide after good work from Jude Bellingham and Bukayo Saka.
Maguire even went on a mazy dribble on the edge of the box, presumably to the delight of the Qatari security chap. Like against Iran though, there were still hints at defensive frailties, something that Southgate admitted he was concerned about after England's opening game. This time, Weston McKennie was left all alone in the area to fire over when he should have scored, before Christian Pulisic rocketed a shot against the crossbar. Having dominated the early stages, England were lucky not to be behind, their tempo grinding to a halt.
When the match resumed after the interval, Southgate's side didn't get going - a shout of "USA! USA!" eventually went up around the stadium, from American fans encouraged by how this game was going. England had the safety at least of knowing that even a draw would leave them top of the group and on the verge of going through, only needing to avoid a four-goal defeat to Wales in their last group game, perhaps an indication of why the game panned out as it did.
The Three Lions were never likely to risk it, even though this match being a reality check for anyone who thought they'd breeze their way through all three games.
Undoubtedly, this was a disappointing performance, though. Boos rang out from the crowd at full time, despite the pitchside presenter's insistence that "It was a very good match", something that pretty much everyone else would probably contest.
Twelve years ago, a draw against the USA in the group stage felt disastrous, setting the tone for a tournament that never recovered from England's point of view. This time, the opening 6-2 win over Iran put credit in the bank, and ensured that this result need not ruin the Three Lions' World Cup.
There can't be too many more performances like this one, but win against Wales, and top spot is theirs. Ultimately, that was their aim when this group began.
Thank you for reading 5 articles this month* Join now for unlimited access
Enjoy your first month for just £1 / $1 / €1
*Read 5 free articles per month without a subscription
Join now for unlimited access
Try first month for just £1 / $1 / €1
Quizzes, features and footballing fun
Get daily World Cup 2022 news, updates and other football frolics to your inbox