Warning Liverpool, Arsenal and Spurs - World Cup stars aren't always what they appear
By Charles Ducksbury published
Players will often say they will use the World Cup to showcase their talent to prospective buyers and sometimes all it takes is a couple of good games to become a household name, even if you aren't actually that good, as Charles Ducksbury explains...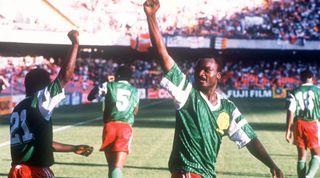 The World Cup will always throw a few previous unknowns into the mainstream, and 2014 has been no different. Several Premier League clubs have been linked with previously unheralded World Cup stars, including Liverpool (Divock Origi - Belgium), Manchester United (Juan Cuadrado - Colombia), and Tottenham (Yacine Brahimi - Algeria), but they should be careful - not every World Cup star takes their fine form back to club football...
Roger Milla - Cameroon, 1990
Milla spent much of his career labouring around mid-table French clubs in the 80's, yet is remembered as one of the World Cup's greatest stars after four goals for Cameroon in Italy (a brace against Romania and a Rene Higuita aided double against Colombia). In between the 1990 and 94 World Cups, Milla once arranged a tournament for pygmies of the Cameroonian rainforest (opens in new tab), only to imprison and starve 120 of them between games. "They play better when they don't eat", countered a tournament spokesman.
El-Hadji Diouf - Senegal, 2002
Following a couple of impressive performances for Senegal at the 2002 World Cup, Diouf was seen by Gerard Houllier as the final piece of Liverpool's title-winning jigsaw. After a double on his Anfield debut against Southampton, he didn't score again until March, and gained notoriety for spitting at a Celtic fan during a UEFA Cup tie. After three goals in 55 games, Diouf left for Bolton at a £7 million loss. "He was always the last one to get picked in training", observed former team-mate Jamie Carragher, damningly.
Oleg Salenko - Russia, 1994
Five goals in one game against Cameroon (plus a penalty against Sweden) saw Russian Salenko share 1994's Golden Boot with Hristo Stoichkov, despite playing four games fewer than the Bulgarian. Following his stateside exploits, Salenko only scored 25 more goals over an eight-year period that saw him take in Valencia, Rangers and Istanbulspor. "I only signed because I thought we'd win the Champions League. But the Scottish league was poor", sighed Salenko, when asked to recall his Ibrox experience.
Toto Schillachi - Italy, 1990
After Marco Tardelli's explosion of joy in 1982, Schillachi took eye bulging celebrations to the next level as his six goals carried the host nation Italy to 3rd place in 1990. Prolific in the lower leagues with Messina, Toto's 15 for Juventus pre-World Cup was as good as it got as he only netted a further 37 in 120 games in Italian football for Juventus and Inter and only once more for the Azzurri. In November 1990, the Sicilian was banned after responding to a punch from Bologna defender Fabio Poli by telling him "…you're done. I'll have you shot".
"I'd rather he punched me back", a quivering Poli said later.
Kleberson - Brazil, 2002
Often maligned as one of Sir Alex's biggest mistakes, Kleberson had dominated Brazil's midfield at the 2002 World Cup and seemed a bargain at £6.5 million. Sadly the Brazilian anchorman only made 20 appearances over two injury-hit seasons at Old Trafford, before hobbling off to Besiktas in 2005 and eventually finishing in the USA's regional leagues. Sir Alex stated "We sold Veron because we knew Kleberson was coming. That's how highly we rated him". Presented at Old Trafford on the same day as Cristiano Ronaldo, it's fair to say their careers went in different directions (although only one of them has a World Cup winners' medal).
Thomas Brolin - Sweden, 1994
Sweden's poster boy of the early 90's, Brolin's impressive performances at USA 94 convinced Howard Wilkinson to part with a generous £4.5 million to take the blonde forward from Parma in 1995. His best moment for Leeds came when a Sheffield Wednesday defender booted the ball into Brolin's face as he was lying on the floor to give him his first goal for the whites. "I didn't get picked so everyone assumed I was rubbish," moaned Brolin. Wilkinson's replacement George Graham told the press not longer after taking over "If anyone is interested in buying him, give me a call".
Denilson - Brazil, 1998
Winning the Confederations Cup's 'Most Valuable Player' award in 1997 and following it up by playing in every game of Brazil's 1998 World Cup campaign, Denilson became the world's most expensive player when loopy Betis owner Manuel Ruiz de Lopera spent £21.5 million on him in 1998. He did manage 186 games for the Spaniards over seven seasons, before he was eventually sold to Bordeaux after scoring a measly 13 goals for the green and whites. "He was no star, he didn't run or fight so I didn't give a shit," stated the president. "Lopera was crazy. It would have been suicide to disagree with him," replied the winger, somewhat disagreeing with him.
Yordan Lechkov - Bulgaria, 1994
Known more for his (lack-of) hair than ability, Lechkov gained a cult following for his performances at USA 94 with Bulgaria, netting a quarter-final winner against Germany before eventually leading them to fourth place. Fall-outs characterised his post-World Cup career at clubs such as Marseille and Besiktas, where he labelled John Toshack as "a man who doesn't teach proper football". Known as a man who got Bulgaria out of jail on numerous occasions, Lechkov was sent down in 2013 for misconduct in his role as mayor of his hometown.
Paolo Rossi - Italy, 1982
He may have arrived at Spain 82 unfit following a match-fixing ban, but the Italian left with a winners medal and as the competition's top scorer with six goals, including a hat-trick against Brazil. Prolific pre-ban for Vicenza, Perugia and Juve, the suspension meant Rossi was a surprise pick from Azzurri coach Enzo Bearzot. He hit 13 goals for Juventus the following season but only managed eight more in 67 games for Juve, Milan and Verona. Now he makes wine and olive oil at his farm in Tuscany, reminiscing: "I'm forever tied to 1982, but I can look back and enjoy it". You bet he can.
Dmitri Sychev - Russia, 2002
Arriving at the 2002 World Cup six months after playing in the Russian third division, Sychev was labelled 'the Michael Owen of Eastern Europe' following a prolific spell at Spartak Moscow. Hailed as Russia's big hope, he scored one and set up three despite Russia exiting at the group stage. Despite being linked with the cream of European football, Sychev never reached his predicted heights. After a legal dispute with Spartak, Sychev left for Marseille in 2002 before heading back to Russia a year later, becoming a squad player at Lokomotiv. "Perhaps I was hasty to leave Spartak," said Sychev ruefully.
Thank you for reading 5 articles this month* Join now for unlimited access
Enjoy your first month for just £1 / $1 / €1
*Read 5 free articles per month without a subscription
Join now for unlimited access
Try first month for just £1 / $1 / €1
Quizzes, features and footballing fun
Get the best features, fun and footballing frolics straight to your inbox every week.
Thank you for signing up to Four Four Two. You will receive a verification email shortly.
There was a problem. Please refresh the page and try again.