Wayne Rooney: Just what happened to that boy from Euro 2004?
By Declan Warrington published
Last week's BBC documentary on the Manchester United captain served as a poignant reminder of what the soon-to-be 30-year-old once was. Declan Warrington wonders if there could have been even more…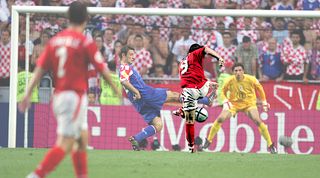 There is little question that, come retirement, Wayne Rooney will be regarded as one of the greatest English footballers in history.
What will be the subject of greater doubt, however, is if despite already being one of the most decorated players, he ever truly demonstrated the absolute maximum of his abilities – whether the natural talent so exciting for England at Euro 2004 and on his Manchester United debut was harnessed in the right way so that his peak years were as fulfilling as they could have been.
Over-polished diamond
At present, despite his recent disappointing form, Rooney – captain for both club and country – is a world-class player. He is England's record goalscorer, has numerous Premier League, Champions League, League Cup, and Club World Cup winners' medals, and requires only another 15 goals to become the highest scorer in United's history.
Perhaps, therefore, the following suggestion will seem unjust but it remains difficult to avoid the conclusion that, had his career been handled differently – as an individual at least – there could have been even more.
There may never be a superior manager to Sir Alex Ferguson on these shores but, for all of the Scot's undoubted qualities and his ability to nurture talent, was he guilty of over-polishing a player at his most impressive when working on instinct? And were circumstances surrounding Rooney such that he was too often sacrificed for his team-mates' gain?
Did the 18-year-old who, when playing with freedom in his best position as a second striker, openly juggled the ball mid-match, scored a hat-trick with a variety of finishes on his United debut against Fenerbahce and readily shot on goal regardless of range, suffer from his versatility and simply become too functional?
Jostling for position
Of the many ways in which Rooney has polarised opinion, one of the most common has surrounded his finest position. He can be an efficient No.9, which says much about his adaptability, but restricting him to the penalty area wastes so much of his variety and vision. He is also an effective, energetic No.10, yet lacks the elite-level intelligence to dictate his team-mates' tempo in the way that only the best, specialist 10s – Juan Roman Riquelme and Kaka are obvious examples – could or can.
Rooney was at his exceptional best when playing off of a clinical, athletic striker content with occupying the penalty area while giving him the freedom to thrive wherever he should please in the final third. For him to do so, a variation of a 4-4-2 or 4-4-1-1 system is required, and therein lies much of the misfortune within his often-stuttering career: what's best for Rooney has often been in conflict with what's best for everyone else.
When he should have been reaching his peak in a system suited to his strengths, the Premier League – United included – was increasingly embracing 4-3-3 and 4-2-3-1, neither of which ever truly encouraged him. One strike partner to whom he looked ideally suited was Louis Saha, and in a less restrictive system, but the Frenchman's injury problems prevented them from consistently combining in 2006/07. Another, Javier Hernandez, declined after they had been so lethal together towards the end of 2010/11.
In between and since those all-too-brief periods, Rooney has played on the left of or behind a front three built to the strengths of Cristiano Ronaldo or Robin van Persie, and was also restricted when Dimitar Berbatov was so disappointing. It is worth recalling that as the No.9 in 2009/10 he enjoyed a run of 19 goals in 15 games, but in neither role or system was Rooney seen in his purist form, as had been intended.
Soothing the sting
Through playing him out of position, restricting his freedom and never discouraging his selfless desire to track back and defend, Ferguson was creating an increasingly workmanlike and over-thinking, functional player who was gradually dwindling his fearless, playground-like instincts. Take that memorable volley against Newcastle in 2005, for example, unleashed with venomous aggression moments after venting his fury at referee Neale Barry; or his first-ever Premier League goal against Arsenal for Everton.
Like Rio Ferdinand, the ball-playing central defender who lost his desire to carry possession into midfield after joining United in 2002, an individual, natural talent was being discouraged for the greater good.
Ronaldo's consistency and United's success, of course, meant that Ferguson was largely vindicated, but the Portuguese's natural talent was arguably inferior to Rooney's, even if the latter's international career equally never helped.
When Rooney was at his happiest at club level – he is an obviously emotional player who excels when happy and disappoints when not – his England career was one of frustration. When there was less pressure on him at United, the scrutiny on him with England was at its most intense; while he was still enjoying working with Ferguson, neither Steve McClaren nor Fabio Capello inspired him.
By the time of Roy Hodgson's appointment, since when he has performed most consistently for his country, Rooney's relationship with Ferguson had begun to deteriorate, and since the Scot's retirement, United have declined. Due to injuries, pressure and dysfunctional regimes – circumstances ultimately beyond the forward's control – Rooney has never simultaneously experienced the luxury of consistent contentment for both club and country, when positive form for both can create an ongoing cycle of confidence and success.
Half a world away
The player who was a scorer of great goals – of multiple deft chips and explosive volleys – in his early days at United became a more efficient but less remarkable goalscorer as he subtly but surely lost his identity, and the Ballon d'Or he once looked capable of winning was taken beyond his reach.
That inherent talent still surfaces, such as with that masterful bicycle kick against Manchester City in 2011, or long-range lob at West Ham in 2014, but through conservative management from those who took his talent for granted, injuries, and his team-mates' needs, they became the exception rather than the norm.
"I think we have got the best young player this country has seen in the past 30 years," said Ferguson upon signing Rooney from Everton in 2004, when he had already been working with Ronaldo for a full season.
He may have been right, but sadly there was simply never once a time when all was completely well in Rooney's world.
Thank you for reading 5 articles this month* Join now for unlimited access
Enjoy your first month for just £1 / $1 / €1
*Read 5 free articles per month without a subscription
Join now for unlimited access
Try first month for just £1 / $1 / €1
Quizzes, features and footballing fun
Get the best features, fun and footballing frolics straight to your inbox every week.
Thank you for signing up to Four Four Two. You will receive a verification email shortly.
There was a problem. Please refresh the page and try again.