What the heck happened to Gael Kakuta? Remembering Chelsea's "most gifted player of his generation"
As his peers excel at the top of the game, the player Chelsea risked FIFA and UEFA wrath to sign has long sunk into the shadows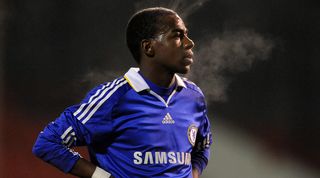 The parallels were plentiful and painful for Gael Kakuta this summer.
As paperwork problems kept the 26-year-old out of Amiens' season opener against PSG, the same problem also confined Neymar – seven months younger, similarly celebrated as a teenager, now many times more valuable – to the stands. No prizes for guessing which absence media attention was focused on.
Yet it isn't just Neymar, understandably keeping him in the shadows. While Kakuta's return to European football went largely unnoticed, the futures of his one-time France youth team-mates Antoine Griezmann and Alexandre Lacazette filled airtime and emptied bank coffers.
Back in May, Marco Asensio – 2015 winner of the U19 Euros best player award that Kakuta had collected five years earlier – scored in Real Madrid's Champions League final victory, already fast-tracked to the summit of the club game.
The rest of his elite class are graduating towards greatness. Kakuta remains the boy wonder who never grew to superhero status.
The dazzling prodigy
Whatever his underlying weaknesses as a footballer, they were well hidden almost a decade ago as he gleefully vandalised age-grade defences. With his shirt hanging long and loose off his slight frame, Kakuta turned composed opponents into tangles, leaving them trailing with swerves, dips and turf-singeing pace.
He had more tricks than Tony Hawk, but there was vision as well; the ability to thread balls to unmarked colleagues in open spaces as defenders descended on him. The attcking midfielder had the appetite and enthusiasm of a Labrador puppy; demanding the ball from team-mates; chasing those who had the temerity to take it from him.
It seemed like a perfect alloy of skills and sensibility – and sure enough, by the time Kakuta had served up the cross from which Lacazette nodded in France's winner in the 2010 U19 European Championship final, he was already starting to realise his promise in Chelsea's first team.
After finishing as the youth team's top scorer and player of the year in his first season at Chelsea, combining well with Fabio Borini and Daniel Sturridge in the reserves, Kakuta made his first Champions League start in December 2009. That match was a disappointing 2-2 draw against Apoel Nicosia, but Chelsea boss Carlo Ancelotti declared that the then-18-year-old was the "only one who could think he played well".
The following season, in 2010/11, Kakuta was one of the few positives in Chelsea's faltering title defence. He appeared 12 times in the first half of the season, with Ancelotti apologetic that the team's patchy form didn't allow him to develop more of the club's emerging talent.
A controversial move
Chelsea backed their belief in Kakuta with a new four-and-half year contract, and it seemed their dragnet approach to Europe's best young talent had landed a prize catch.
The Blues had initially moved for Kakuta after their French scout Guy Hillion informed them in 2007 that he had found "the most gifted player of his generation". The approach that followed could politely be described as lacking the finesse that the player himself was showing on the pitch.
Lens general manager Francis Collado claims he was told to "take the money and shut up" as Chelsea made their play for the 16-year-old. Eventually, Kakuta crossed the Channel without an agreement in place, and the end result was FIFA banning the Blues from making any signings for two transfer windows.
Sepp Blatter and Michel Platini, then presidents of FIFA and UEFA, sang from the same rap sheet, accusing Chelsea of "child slavery" and "child trafficking" respectively.
The upset was soon smoothed over when Lens dropped their complaint after reaching an understanding that satisfied them, in a beautifully French turn of phrase, "financially and technically". A payment of £2.6m was reportedly the balm applied to Lens' burning sense of injustice.
Loaning pains
Given his impressive start at Stamford Bridge and the public relations quagmire that Chelsea had waded through to secure him, it seems Kakuta was on the brink of the big time. But Ancelotti, conscious of the need to give his young talent game time, sent Kakuta on loan to Fulham in January 2011.
Instead of providing the final layer of polish that the player needed, it was the first in a series of short-term loan stints. Bolton, Lazio, Dijon and (inevitably) Vitesse Arnhem all followed as Kakuta lost time and focus. None of these clubs were impressed enough to enquire about a permanent arrangement.
"When you have a high salary it's difficult to find a club that will agree to take part of that on. Those who you can reach agreement with are not necessarily clubs where you want to go," Kakuta admitted in an interview with Foot Mercato in February.
"During my loans, I had my share of responsibility and I didn't really work. I don't have the mentality I do today."
The player was not helped by the flip-flopping leadership back at his parent club. When he returned from Fulham, Ancelotti had been replaced as manager by Andre Villas-Boas. Roberto Di Matteo and Rafael Benitez followed shortly after. All were in charge for fewer than 50 games.
These short-term managers were playing for high stakes - and they weren't about to take a gamble on youth.
For his sixth and final loan spell, Kakuta took his destination into his own hands. He agreed a substantial pay cut to ensure a temporary deal could be reached with Rayo Vallecano, and was rewarded with the best season of his career.
Five goals and seven assists in 35 La Liga appearances for Rayo in 2014/15 were enough to convince another Spanish side – Sevilla – to spring £2.5m and finally free him from Chelsea, still a few days short of his 24th birthday.
Failures and fallouts
It was a second chance, but if Kakuta endured a fluctuating run of coaches at Chelsea, he has made his own bad luck since. He almost immediately fell out with Sevilla manager Unai Emery over his own fitness regime and the manager's tactics, finding himself training away from the first team.
When Hebei China Fortune offered £4.6m for Kakuta less than eight months after he'd arrived in Andalusia, Sevilla opted for quick profit over the long haul of reintegrating the Frenchman.
That move proved to be another misstep. The day after the China Super League cut their quota of foreign players earlier this year, Hebei boss Mauricio Pellegrini had no trouble identifying Kakuta as the odd man out in a squad that included Ezequiel Lavezzi, Gervinho and Stephane Mbia. Kakuta was shipped out on loan to Deportivo La Coruna in January 2017.
There, he duly fell out with another manager – Pepe Mel this time – after being taken off at half-time of a 6-2 defeat by Real Madrid. He didn't play again. Unwanted in Spain, unneeded in China, Kakuta's state of limbo seemed set for a new low.
But then French side Amiens came in for him in the summer. This season-long loan takes Kakuta full circle; he's back less than 50 miles from Lens, where he played as a boy and his family still live. His new club are fresh from back-to-back promotions that have taken them from the French third tier to the Parc des Princes.
Yet that romance had a rocky start. Amiens conceded seven goals and scored none in losing their first three Ligue 1 games - until Kakuta himself provided the winner in a 1-0 win over Strasbourg last weekend.
Onto his 12th club and his second nation (having swapped France for international football with DR Congo earlier this year) and countless fresh starts, Kakuta remains only a name; a reputation; a bar-room rumour of brilliance.
Sady it may fall to former Oldham and Derby youth prospect Medi Abalimba for the most fitting tribute of Kakuta's career.
Himself once a decent teenage footballer, Abalimba was jailed for four years in 2014 after pretending to be Kakuta and using compromised credit cards to fund five-star hotel stays, chunky watches and nightclub jeroboams.
Time is running out for the deeds that would make Kakuta a bona-fide star, and Abalimba's fraud impossible.
Thank you for reading 5 articles this month* Join now for unlimited access
Enjoy your first month for just £1 / $1 / €1
*Read 5 free articles per month without a subscription
Join now for unlimited access
Try first month for just £1 / $1 / €1
Get FourFourTwo Newsletter
The best features, fun and footballing quizzes, straight to your inbox every week.