Where are they now? Chelsea's 2007 FA Cup winners
Garry Hayes remembers Jose Mourinho's team that toppled Manchester United a decade ago in the first final at a shiny-new Wembley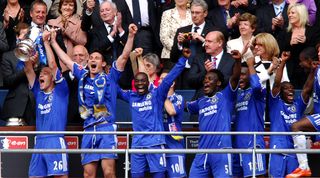 Petr Cech
Remember that time when Cech wasn't just fearing for his career, but also his life? It happened when he collided with Reading's Stephen Hunt early on in a match at the Madejski Stadium, and he was taken off with a fractured skull.
That was in the early stages of the 2006/07 campaign but, by the end of it, Cech was starting for Chelsea at the grand opening of New Wembley against Manchester United. It was a miraculous turnaround for the goalkeeper – one made all the sweeter by the fact Chelsea didn't just help defeat United, but also kept a clean sheet.
Cech, protective helmet in tow, remained Chelsea's No.1 right through until the start of 2014/15 when he was eventually replaced by Thibaut Courtois. The Czech has since moved across London, joining Arsenal in 2015.
Paulo Ferreira
Jose Mourinho's first signing as Chelsea boss in 2004, Ferreira is one of the key figures who is often forgotten in a golden era of success along the King's Road.
A man of undoubted style away from the pitch, he wasn't exactly flashy on it – but that's what Mourinho liked about him. The ex-Porto man was very much one of Jose's boys and would follow his manager's instructions to the nth degree.
It's showering him with faint praise to say that the Portuguese's discipline and graft were his standout attributes, yet they were so effective in the defensive resilience Chelsea fans witnessed at Stamford Bridge in Mourinho's first spell.
Ferreira being a safe pair of hands in that sense hasn't gone unnoticed in the Chelsea boardroom, either – since his retirement, he has become a club ambassador, helping spread the Chelsea message to a global audience.
Michael Essien
Chelsea started the 2007 FA Cup Final with three defensive midfielders in their team – but only two got to play in their familiar roles.
The odd man out was Essien, who partnered John Terry for the day at centre-back. After a long campaign that featured Chelsea playing 63 matches in all competitions before their Wembley visit, Mourinho's team was running on fumes.
Despite having Roman Abramovich's vast wealth to fall back upon, the squad became a patchwork quilt in the final few weeks. With Ricardo Carvalho out and no other qualified centre-backs to call upon, Essien got the nod.
He clearly impressed his manager, as the Ghanaian would later be used as a right-back in his Chelsea career too.
Essien has been seen back at Chelsea this season, training with the development squads after spells with Real Madrid, Milan and Panathinaikos.
John Terry
Of those 64 games Chelsea would eventually play in 2006/07, Terry featured in 45 of them. Not bad for a player who struggled with injuries at times and missed two months of action from December to February with back trouble.
This was peak JT at Wembley, as he marshalled the threat of Wayne Rooney through the middle while guiding the inexperienced Essien through his defensive responsibilities in a major cup final.
We've heard it said so often about Terry and Chelsea, but if we're looking for a match that typifies his influence at Chelsea, games like this one sum him up. The Blues' victory was all about grit and determination; they had to dig in and grind it out.
It's what Terry had to do throughout his career. He's still doing it now, aged 36 and captaining Chelsea into his 20th season as a player with the club.
Wayne Bridge
Before Terry's alleged off-field indiscretions with Bridge's former partner, the left-back was an integral part of the Stamford Bridge dressing room. He was a big name on the terraces, appreciated for his dogged efforts on the left side of defence.
Bridge had been signed in the same summer that Roman Abramovich waltzed into English football and shook up the establishment. He was very much New Chelsea, although up to the 2007 FA Cup Final he'd had to play second fiddle to Ashley Cole.
It was because of Cole's fitness struggles that Bridge started at Wembley. It was the former Gunner's first season and, having been first choice up to his arrival from Arsenal, he was demoted here.
Still, Mourinho had England's two best left-backs, which spoke volumes for the strength in his squad that helped them juggle a hectic season.
Bridge would eventually have enough of losing out to Cole. He joined Manchester City in 2009 and six months later news of Terry's alleged affair hit the front and back pages, strangely killing Bridge's reputation in west London as Chelsea fans took the side of their captain.
John Obi Mikel
"We've found gold!" declared Jose Mourinho when Mikel signed for Chelsea in June 2006. It seemed like a big deal at the time – financially it was, as Mikel would eventually cost Chelsea £16 million – and the Nigerian arrived with a massive reputation.
Mikel was still only 19 and up to that point had played his career in Norway with Lyn Oslo. Still, starring outside the major leagues hadn't stopped a bidding war for his services and Chelsea eventually beat Manchester United to his signature after some legal wrangling (United still made £12m profit for a player who never featured for them, mind).
So when those two sides met in the FA Cup final at the end of Mikel's first season in England, it was another sub-plot to feed the flames. Chelsea would win the battle that day by lifting the silverware, but over the course of his career, United won the War of Mikel.
They must have been laughing all the way to bank after receiving their compensation money from the Blues, seeing where Mikel's career eventually took him. It was fool's gold Mourinho spoke of in 2006, as Mikel never truly delivered on his potential.
The Nigerian is now plying his trade in China with Tianjin TEDA, having left Stamford Bridge in January 2017.
Claude Makelele
Chelsea had an exceptional talent on their hands in the French midfielder.
Indeed, so good was Makelele in his prime that he's still dominating conversations today when we talk about defensive midfielders and the art of the role that would be named after him.
Makelele hasn't kicked a ball for Chelsea in nine years, but N'Golo Kante's emergence has revived his reputation.
For a defensive midfielder to do that shows how valuable Makelele was to Chelsea. He was one of the stars of his day, yet didn't score goals or produce flash moments of brilliance like his team-mates did. His job was to actually do the opposite and go full lockdown in the middle, making the unglamorous... well, glamorous.
Having left Chelsea for a three-year stint at PSG in 2008, Makelele is back in English football as assistant manager to Paul Clement at Swansea.
Frank Lampard
If Lampard wasn't scoring in a Chelsea shirt, you could bet your money that he was probably involved in the Blues netting. So it proved at Wembley in 2007, with his deft pass to Didier Drogba setting Chelsea up for a 1-0 extra-time victory.
For all the money Abramovich has spent in his time as Blues owner, it's Lampard who has been the pre-eminent talent at Stamford Bridge. He arrived a couple of seasons before the Russian and was eventually proved himself to be the club's greatest asset.
Facing United in 2007 was Lampard's second FA Cup final for Chelsea, with the previous having ended in defeat to Arsenal in 2002. He would finish his career with another three FA Cup finals under his belt, scoring the winner against Everton in 2009.
Lampard's FA Cup final record for Chelsea finished: P5 W4 L1. A classy individual.
Joe Cole
If ever there was a player who frustrated Mourinho and turned the air purple (because blue would be too good here, right?), it was Cole. Mourinho was often pulling his hair out with the dynamic Englishman, frustrated that he wouldn't defend exactly how he wanted him to.
Cole's problem was that he wasn't Ferreira-esque. Whereas the right-back was disciplined, the way Cole played football demanded that he be the opposite. He was a maverick, a player who had developed his game in school playgrounds and tried to apply those principles in the professional arena.
It was great to watch, but managers like Mourinho craved something more – which he didn't always give.
Cole would last just 45 minutes at Wembley before being replaced by Arjen Robben that afternoon. Perhaps it's no coincidence that, the following season when Mourinho left Chelsea, he was named the Blues' Player of the Year.
He's now playing stateside for United Soccer League side Tampa Bay Rowdies.
Shaun Wright-Phillips
Chelsea started the 2007 FA Cup Final with five Englishmen in their line-up, Wright-Phillips the last of them. Manchester United's starting XI featured the same number in Wes Brown, Rio Ferdinand, Paul Scholes, Michael Carrick and Wayne Rooney.
Wright-Phillips was probably the lowest profile of those, but Mourinho & Co. had paid Manchester City £24 million for the diminutive attacker. It was a move that eventually backfired, as the pint-sized wideman never delivered.
Consider that transfer fee over a decade ago. It's since come to help ensure an unavoidable premium that Premier League clubs pay for indigenous talent.
Wright-Phillips is also now in America. Having played a supporting role for New York Red Bulls in MLS, he's currently with Phoenix Rising in the USL. Look out for Joe Cole vs SWP.
Didier Drogba
The stat reads like this for Drogba in Wembley finals: P6 W5 L1. That's impressive enough, but then when you throw in the goals he scored it's even better.
Drogba scored in five of those six showdowns, with his late appearance against Spurs in the 2015 League Cup Final the only time he didn't.
His extra-time winner against Manchester United in 2007 started it all off. He wrote his name into the legend of the new Wembley, stamping his and Chelsea's authority in a stadium that has become synonymous with glory for the Blues.
No other player has been as prolific in finals at the new Wembley and no other club has been as successful as Chelsea.
Jose Mourinho (manager)
Whether he's the hero or villain, Mourinho doesn't really mind. It's the role he's played out throughout his entire career – and he's still doing a good job of it now.
Mourinho is currently Manchester United manager, meaning Chelsea are now his enemy and vice-versa. He hasn't shied away from that this season either, going for the jugular in his attempts to get one over on his former employers.
Whether it's labelling Chelsea as defensive and boring or calling out Antonio Conte for his "humiliating" antics on the sidelines, Mourinho's going in full throttle.
A decade ago, it was unimaginable. He was the darling of the King's Road and despite being sacked as manager just four months after this FA Cup win, his legacy and reputation remained strong.
Moments like winning the FA Cup with the Blues were what he was all about; Chelsea did it their way, sucking the life out of the game to grind out a victory. It was two fingers to the world and Chelsea fans loved him for it.
Mourinho's attitude built a character at Stamford Bridge that the club would dine out on well beyond his time. In the present, though, the love affair is dead. Jose's pinned his colours to the mast – and they're no longer blue.
Quizzes, features and footballing fun
Get the best features, fun and footballing frolics straight to your inbox every week.
Thank you for signing up to Four Four Two. You will receive a verification email shortly.
There was a problem. Please refresh the page and try again.