Why this England World Cup side has set the tone for a generation to come
England may have lost to Croatia, yet the success of Gareth Southgate's side has meant a defined future for England – but bad news for those left behind, writes Richard Jolly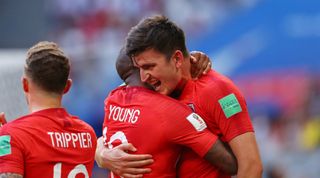 It was the day of the World Cup quarter-finals and Joe Hart spent it playing cricket. Under other circumstances, it would have been another indictment of international football's most reliable underachievers. In a different climate, the presence of England's long-time first-choice goalkeeper on the cricket pitch might have prompted lame quips about butter-fingered wicketkeepers.
But while Hart was actually a promising all-rounder in his youth, that is by the by. England's second-most capped goalkeeper is still only 31 but may need to scan Shrewsbury Cricket Club's fixture list if he is to get a game during Euro 2020.
Because from now, even after England's 2-1 loss to Croatia in the semi-finals in Russia, the sense is that Gareth Southgate has established a clear direction of the team for years to come. England have found an identity and found individuals to suit them. This is not a tournament where the only ones to enhance their reputations are the men who missed it; not when rookies now look ready for long international careers.
For once, England's exit should bring no calls for culls, no root-and-branch reviews, no soul-searching and, hopefully, no scapegoats. No new manager bringing in his own players, either; rather, it is easier to imagine the FA planning through to 2022 with Southgate.
Even though he has presented himself as a thoughtful meritocrat who will not automatically assume that everything that worked in 2018 should be repeated forever, the shift in tactics and team selection which began before the World Cup will surely have a lasting influence.
Southgate's 3-3-2-2 formation has been such a revelation that a reversion to a back four, let alone to 4-4-2, would be illogical. Displaying loyalty to players who, unlike certain predecessors, embraced the pressure of tournament football, rather than buckling under it, would be entirely fair.
Rewarding achievement
Those who have flourished in Russia should be rewarded. That would represent bad news for Hart and his ilk. The fact that England began the World Cup with the fewest caps and the third-youngest squad both shows there is scope for improvement within and indicates they need not revert back to older players. A discredited, discarded group can anticipate having more international breaks off. England's progressiveness could be disrupted by regressive choices.
Because potential picks can be divided into three categories: those with good experience, bad experience and no experience of senior international football. While the class of 2018 will fall into the first bracket, the way newcomers have risen to the challenge should position the unproven ahead of the tried and found wanting. Southgate's personal history, of flourishing in Euro 96 with a handful of caps to his name, feels increasingly relevant.
If Harry Maguire, Jordan Pickford, Jesse Lingard and Kieran Trippier have been his 21st-century counterparts, it bodes better for England's Under-20 and Under-17 World Cup winners than the first-team failures of 2014 and 2016.
In addition, the success of Southgate's shape has meant certain types of players have been made redundant. Those who are a stylistic mismatch can expect to remain in international exile.
A fondness for footballing centre-backs counted against Chris Smalling. A requirement for high-energy No.8s meant no Jack Wilshere. A system without wingers does not need Theo Walcott. The slow, as Wayne Rooney found out, need not apply: pace is essential in a side that, as Southgate honestly admitted, has fewer world-class footballers than the other semi-finalists.
Yet his willingness to promote youth and select players from unfashionable clubs suggests selection will not be a closed shop; not for those who fit the right profile. While it will be hard to displace his current 23, it is easy to envisage returns for two potential No.8s whose World Cup chances were scuppered by injury, in Alex Oxlade-Chamberlain and Adam Lallana.
It's a similar story for others Southgate identified and fast-tracked, such as Nathaniel Chalobah, Harry Winks and Lewis Cook; the latter duo have the potential to offer some of the playmaking skills this England side lacks.
Pathway forwards
James Tarkowski has something of a Lancastrian Maguire about him; Joe Gomez might be the Anfield Kyle Walker. There could be a pathway for age-group achievers, whether Tom Davies, Dominic Solanke, Ryan Sessegnon, Phil Foden or Jadon Sancho. The moral of Maguire, Trippier, Nick Pope and co is that those with lowly origins will not be omitted because of unglamorous backstories.
But they must all fit an ethos and a system. Collectivism has underpinned England's progress, offering an indictment of previous groups of individuals. In the bond-forging, nation-uniting nice-guy revolution, squad members have to be good tourists in the way that Phil Jones and Danny Welbeck clearly have been, given how often Southgate has praised them.
So this is that rarity, a tournament England ends with the feeling that they are set up for the future. In terms of tactics, personnel and philosophy, Southgate is a man with a plan. Surprise successes can think of evolution, not revolution. And if Hart is consigned to the past, perhaps he can take inspiration from history. Willie Watson, a member of England's 1950 World Cup squad, was chosen by his country the following year. To play cricket.
Thank you for reading 5 articles this month* Join now for unlimited access
Enjoy your first month for just £1 / $1 / €1
*Read 5 free articles per month without a subscription
Join now for unlimited access
Try first month for just £1 / $1 / €1
Get FourFourTwo Newsletter
The best features, fun and footballing quizzes, straight to your inbox every week.
Richard Jolly also writes for the National, the Guardian, the Observer, the Straits Times, the Independent, Sporting Life, Football 365 and the Blizzard. He has written for the FourFourTwo website since 2018 and for the magazine in the 1990s and the 2020s, but not in between. He has covered 1500+ games and remembers a disturbing number of the 0-0 draws.