Why everything you know about the Madrid derby might be wrong
Think Real Madrid vs Atletico Madrid is all about Franco's elite vs the honest poor? Not really, as Richard Ballout explains...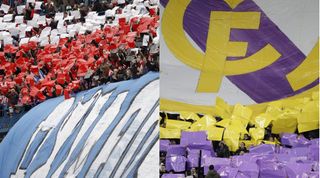 History was made in Lisbon in May 2014, when Real Madrid and Atletico Madrid contested the first-ever derby in a Champions League or European Cup final. Diego Simeone's Atleti, freshly crowned champions of la Liga for the first time since 1996, had never won Europe's top continental competition; Carlo Ancelotti's Real, having won the Copa del Rey, were chasing la Decima – an unprecedented 10th European Cup. They landed it.
History is written by the victors, so the saying goes, but not every widely-accepted story is seeded by the aristocracy. The thumbnail sketch for Atletico Madrid vs Real Madrid, perhaps exacerbated by Simeone's relatively underpaid but apparently indefatigable players finishing above Ancelotti's expensively-assembled new Galacticos last season, is that of the honest working-class outfit facing the club favoured by the elite, dating back to the distasteful backing of dictator Franco.
Trouble is, this widely-held belief is based upon a number of falsehoods and half-truths, enthusiastically repeated and disseminated, especially via citation-free social media keen to have an easy narrative. This is very far from being the story of the ruling class versus the fascist-fighting proletariat. In many ways, it's quite the opposite...
Formation and Francoism
The club now known as Atletico came into being in 1903 when three Madrid-residing Basque students formed a sister club of Athletic Bilbao – hence the sharing of the 'Athletic' prefix and red-and-white striped shirts. By the beginning of the 1920s, the club severed all ties with its Basque predecessors, becoming a successful independent entity: after three Campeonato del Centro titles in the 1920s they were invited into the inaugural la Liga in 1928.
The Spanish Civil War of 1936-39 brought about fundamental changes. Merging with a club founded by members of the Spanish Air Force, Athletic Aviacion de Madrid gained much approval from the new authoritarian government. A team staffed with many aerial war heroes won not only the league title in 1940 and 1941 but also the questionable allegiance of General Francisco Franco, for whom Athletic embodied his successful military might. Even so, like many establishments in Spain, from football clubs to cities, they were forced by decree to change their name – hence 'Atletico', a switch their parent club in Bilbao reversed soon after Franco's death.
Franco's name is usually muttered maliciously in relation to Real Madrid, but that club title reflects a royal patronage granted by King Alfonso XIII in 1920, 18 years after the club was founded as Madrid FC. Real Madrid are often considered to be Franco's pet, but the dictator had ulterior motives in associating with the club. When exactly the Generalisimo switched his allegiance to Real Madrid is difficult to ascertain, but he revelled in their success in the 1950s. As Alfredo Di Stefano led Real Madrid to domestic and European domination, including the first five European Cups, Franco – ever the populist opportunist eager to grab the limelight – saw the potential to further his agenda.
To Franco, Real Madrid symbolised of the virtues of centralism, the greatness of Spain, and the country's vital position in the world. How could anyone dispute or despise Franco's regime when los Blancos were delightfully conquering Europe with their sumptuous football? Real Madrid were just another tool for the self-aggrandisement of Franco, who was actually no more than a casual fan of football.
Ultra damaging: Far-right fan groups
The stain of Franco's fascism remains on the white shirts of Real Madrid, but Atletico are far from averse to far-right politics – as are fans at a distressing number of Spanish clubs. A significant number of Atleti supporters harbour strong nationalist sentiments, including prominent ultras Frente Atletico.
Inhabiting the bars around the Vicente Calderon, where the walls are daubed with right-wing graffiti, Frente ultras will react to opposition fans – particularly Basques or Catalans – with fascist salutes. Inside the stadium, it's far from uncommon to hear offensive chanting and banners, and not just from an exceptional, shunned few.
In February's Copa del Rey derbi madrileno, Real Madrid defender Marcelo was subjected to racist chanting. As the Brazilian was warming down, chants of "Marcelo is a monkey" came raining down; when the full-back's young son joined him on the pitch, the group of around 500 bellowed "May your father die".
This is not an isolated incident. Indeed, at times, the Vicente Calderon can seem like a throwback to an earlier Spanish age, a gathering of all that was, and in some cases still is, unpleasant about Spain - a congregation of fascists, Falangists and Francoists alike.
Real Madrid are not without their own distasteful followers: the Ultras Sur is another objectionable group with far-right leanings, and they too have displayed fascist symbols within the Santiago Bernabeu on occasion, including September's la Liga derbi madrileno. But the Ultras Sur do not have the same reputation as their city rivals: in Phil Ball's excellent club history White Storm, a Real Madrid fan claims Frente Atletico consider the members of Ultras Sur to be "maricas" (poofs).
The Ultras Sur have lost the traction they once had with Real Madrid. Rival factions have been involved in violent disputes, and the club hierarchy took action in January: the seats behind the south goal, which for years were occupied by Ultras Sur, have been reassigned to a new, younger, and better-behaved generation of Real Madrid fans. Some of the more violent members of the group have been banned indefinitely from the Santiago Bernabeu. One of the leaders of the warring Ultras Sur factions is said to actually be an Atletico Madrid fan, a member of Frente Atletico.
The real working-class club
Ask any Madrid inhabitant which team represents the working class and you will get the same answer: Rayo Vallecano. The club from the gritty, working-class barrio of Vallecas – where Atletico had their first home ground before relocating in 1919 – proudly wave the working-class flag. Indeed, for the locals of Vallecas, Rayo are a huge source of local pride, and exemplify all that is great about the neighbourhood.
Rayo are different. This is a club whose players take to the streets during general strikes, uniting with the proletariat. As a team, Rayo have flirted with obscurity on many occasions, only to always come back in a typically resolute fashion.
It is Rayo, not Atletico, who have a strong left-wing, liberal identity; Rayo fans who are proudly anti-racist, anti-fascist and anti-establishment. The terraces are adorned with the red, yellow and purple flags of Republican Spain along with symbols of Che Guevara and socialism. The stadium itself, holding just 14,708 seats, tells its own story, with one end simply a wall of advertisements, and the main stand roofless.
Rayo fans know that their team will probably never be able to compete with the other Madrid clubs – but this is exactly why Rayistas are so passionate about their club. Rayo are the club of the poor, the club of the underdogs, the club of the Madrid working class.
The establishment vs the working class?
There is an element of truth in Real Madrid being an aspirational middle-class club. The Santiago Bernabeu sits in the beautiful northern Madrid district of Chamartin. Many of their fans are of the stoic, conservative older generation of Spaniards. Also, undeniably, many of the Real Madrid socios, or members, are a little "pijo" (posh): social climbers tend to cling to the club.
Nevertheless, these are not the club's only supporters. Citing some recent polls as evidence, Real Madrid fans will tell you they have more followers from every stratum of society, because they simply have more supporters full stop. As with all big clubs, Real Madrid attract interest come from all social classes. The club appeals not because of affluence or influence, but because of its very success as a football club.
The accepted binary narrative of Real Madrid being the "rich fascist elite" while Atleti are the "good honest poor" is as outdated as it is simplistic. It's unarguable that los Blancos are bigger, more successful and richer than Atleti, but el derbi madrileno does not represent rich vs poor, the establishment vs the working class or royalty vs hoi polloi. It is a fixture between two local rivals whose history, politics and supporters tell an altogether more complicated and interesting tale.
Thank you for reading 5 articles this month* Join now for unlimited access
Enjoy your first month for just £1 / $1 / €1
*Read 5 free articles per month without a subscription
Join now for unlimited access
Try first month for just £1 / $1 / €1
Get FourFourTwo Newsletter
The best features, fun and footballing quizzes, straight to your inbox every week.