Why Gheorghe Hagi is a footballing icon
Jonathan Wilson profiles the last of Europe's great playmakers, a diminutive left-footed firebrand who lit up the World Cup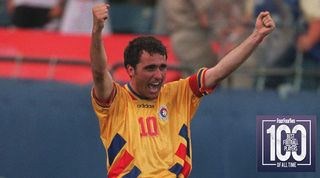 Lionel Messi, Neymar, Alexis Sanchez... once upon a time they would all have been playmakers, loping enigmatically behind the front two; as free of responsibility as an artist in his garret, asked only to create. Now they operate as second strikers or perform their magic from wide, chastened by the ideal of universality: all must press; all must perform their defensive duty.
The traditional playmaker is dead; the beginning of the end probably came sometime between a goal-starved Italia 90 and a joyless Euro 92. So concerned were FIFA by the increasing trend towards defensiveness that they outlawed the backpass and tried to eradicate the tackle from behind.
And yet, in the twilight of the playmaker, some stars still shimmered. Diego Maradona was still winning the battle with his demons, for Napoli at least, Denmark were illuminated by Michael Laudrup, Yugoslavia buzzed to Dragan Stojkovic's command and Belgium's golden era continued to be orchestrated by Enzo Scifo. Romania, meanwhile, were inspired by the man they would argue is the greatest European playmaker of the modern age: the incomparable Gheorghe Hagi.
Romanian idol
FACT FILE
Date of birth 05/02/1965
Place of birth Sacele, Romania
Height 5ft 9in
Position Attacker
In Bucharest it is impossible to speak of him with anything other than reverence. Indicative of the place he occupies in Romanian society, when Hustler launched a Romanian edition seven years ago their cover boasted not of the porn within but of an exclusive interview with Hagi. That he was mortified – speaking of the shame the incident would bring to his parents and insisting it wasn't made clear who the interview was for – doesn't detract from the reason he was chosen as the cover star: Gheorghe Hagi is the most famous Romanian who has ever lived.

What is most extraordinary is that, in a country in which the far right has a significant influence and in which questions of background are constantly raised, Hagi reached that level of acclaim despite not being an ethnic Romanian. He is Aromanian, part of a group of two million people scattered across south-east Europe, descendants of the indigenous Balkans Latinised following colonisation by Roman legions.
They were persecuted amid the border disputes that followed the end of the First World War and, in 1932, Hagi's grandfather was one of 40,000 ethnic Aromanians who fled Greece to Romania. He set up home in the village of Sacele, near Constanta on the Black Sea coast. Hagi has fond memories of his grandfather who, like many Aromanians, was a shepherd. "I was proud when he, who was called Gheorghe like me, asked me to go and spend the whole day with him minding the sheep," he says. "I loved to eat cheese and tomatoes with him, and that is still my favourite food today."
CLUBS
1982-83 Farul Constanta (18 games, 7 goals); 1983-86 Sportul Studentesc (92, 53); 1986-1990 Steaua Bucharest (97, 85); 1990-92 Real Madrid (64, 15); 1992-1994 Brescia (61, 14); 1994-1996 Barcelona (21, 9); 1996-2001 Galatasaray (132, 59)
International games: 125 games, 34 goals
'Maradona of the Carpathians'
It was his grandfather who introduced Hagi to sport, giving him a ball made of horse hair. "When my mother gave me my first proper ball it was like Christmas," Hagi says. He played for hours on end, often with older boys, which caused problems when it became apparent just how much better he was than everybody else, despite his lack of stature. "'Get away from here, you dirty child,' they used to shout at me," says Hagi. "'You are here just to make fools of us?' They didn't understand that was just my style of play; that I never wanted to humiliate my opponent." They were only the first to be mesmerised by the turn of pace and the wand of a left foot that would earn him the nickname 'The Maradona of the Carpathians'.
More serious opposition to his football career came from Hagi's father, Iancu. "He would tell me I had to go to school," Hagi says, "not stay all day with the ball and then ask people to give me something to eat out of pity." Hagi was taken on by Farul, Constanta's local side, then at the age of 15 he was invited to the Luceafarul in Bucharest, a school for exceptional talents intended to produce the strongest possible national team. Iancu was not convinced, and wouldn't have allowed his son to go to the capital had an official from the football federation not come to Constanta and given him specific orders.
Facilities at the Luceafarul were poor, though, with the boys staying in a rat-infested dormitory. "It was incredible to have to live in those conditions," he says, "but my dream to play one day for a big club and the national team was strong."
Early promise
At 15, Hagi made his debut for a Romania youth team in Montaigu in France, and made such an impression that a number of foreign clubs tried to sign him. But Romanian law prevented children from leaving the country, and Hagi insists he couldn't have gone anyway. "It was very tempting, but to stay away from my mother, father and sisters wasn't possible," he says. "We Aromanians have very strong family ties and our relations are the most important thing. So I said no to famous clubs like Barcelona, Juventus, Internazionale and Saint-Etienne."
Instead, he returned to Constanta aged 16, and after a spell in their youth academy made his debut for the senior side in the 1982/83 season. "I told people to look at this child," his first coach Iosif Bukossy remembers. "I knew he would soon be one of the best players in the world. He could do everything with the ball. To watch him was like watching a fairytale."
Farul, though, were a small club who had never finished higher than fourth in the table, and Hagi's departure was inevitable. A deal seemed to have been agreed to take him to Universitatea Craiova, then at the height of their brief period of supremacy, but perhaps because of the involvement of Nicu Ceausescu (son of dictator Nicolae) at Sportul Studentesc, he ended up being transferred there. His ability was not in question, but doubts persisted about Hagi's physique. He is only 5ft 9in, and tests at Sportul indicated his heart and lungs were less developed than was usual among sportsmen. For a time he had to sign a form before every game to relieve his club of responsibility should he suffer any ill-effects on the field.
Coming of age
Once he played, nobody would have dreamt of stopping him. In four seasons there he made 107 appearances and scored 98 goals. Aged 18, he was called up to the national team for a friendly against Norway. Two years later he was made captain for the first time, in a World Cup qualifier against Northern Ireland. But his fame was not all-reaching, and when he was 19 Hagi was almost arrested in the Transylvanian town of Sibiu by a policeman who thought he looked like a wanted thief.
Despite the patronage of Nicu Ceausescu, Sportul could never realistically hope to challenge for major honours. A move to Steaua, whose sporting director was Nicu's brother Valentin, seemed inevitable, and the only surprise was that it came after they had won the European Cup. Hagi moved there initially on a one-game loan to play against Dynamo Kyiv in the European Super Cup final, but after scoring the only goal of the game with a free-kick, he never returned.
He flourished in an already exceptional team, although the introduction did not go entirely smoothly. "He was too much of an individual," Valentin admitted, while there was frustration among certain members of the European Cup-winners that their side, which had been based on sharp passing and movement, should have become Hagi's side. Still, Steaua continued to dominate domestically, going 104 games unbeaten in the league and picking up a further three successive league titles to add to the two they had won before his arrival. A further European Cup semi-final and final proved that Steaua's 1986 triumph over Barcelona had been no fluke, and ensured Hagi's profile was high enough to secure a move abroad after the collapse of communism opened Romania's borders.
Move abroad
Just as significant to Hagi was an incident that occurred on an icy road near Constanta in the winter of 1989. He was travelling in a Mitsubishi driven by his close friend Darius Handrea when they skidded and crashed, leaving the car upturned and mangled. The two of them escaped "with nothing but fear" as Hagi puts it. "That afternoon I was born for the second time."
Hagi had been close to joining Juventus in 1988 in a deal that would have led to a Fiat car plant being opened near Bucharest, only for the scheme to be abandoned for being "too capitalistic". In 1990 he joined Real Madrid – but clouds gathered even before he arrived. Hagi had not had a good World Cup, and as he floundered against the massed defence of the Republic of Ireland it was suggested he may not look quite so good outside the context of the Romanian league. "It wasn't fair," he says of the second-round penalty shootout defeat to the Irish. "We had all the chances and even the Irish players said we deserved to win. I had a very bitter taste in my mouth about that game for a long time afterwards."
It didn't go away in Madrid, as Hagi scored just three times in the 1990/91 season and apparently struggled to adjust to life outside the protective cocoon of Steaua. He did better the next season, accumulating 12 goals. On the final day of the season, he scored one and laid on the other to give Madrid a 2-0 lead over Tenerife, only for his team to collapse, lose 3-2 and cede the title to Barcelona. 
"I understood then my destiny was not with Real," Hagi says, despite scoring a goal against Osasuna that lingers long in memories at the Bernabeu.
The world stage
He moved on, taking what seemed a huge step down to join Mircea Lucescu's Romanian revolution alongside Ioan Sabau and Florin Raducioiu at Brescia in Serie B. "I don't think Real was a good move for him," says Lucescu. "It should have been the peak of his career, but he was left alone and he is a player who needs affection. Players like him are artists. They can do whatever they want. They can score from any position; can put down a whole team. They are the passion of football." But Hagi wasn't at his best for Brescia either, and promotion in 1993 was followed by relegation in 1994. "Like all great talents," says Lucescu, "he has trouble being consistent."
Typically, then, the misery of relegation was immediately followed by Hagi's finest hour. In the USA World Cup, he was magnificent. His goal against Colombia in the group stage was stunning, looping a shot into the far corner from wide on the left as the goalkeeper, Oscar Cordoba, edged out in anticipation of a cross. He reached his zenith in the last 16 at the Rose Bowl in Pasadena, probing and scoring to inspire Romania to an epic 3-2 victory over Argentina. Sweden put Romania out on penalties in the quarter-finals, leading to an angry response from Hagi. "We are 
a Latin people," he raged. "We like to play with the ball – to put on a show. We are not concrete like the Germans."
His performances in the World Cup persuaded Barcelona to give him another chance in Spain, but again he struggled for form. "I was his team-mate for only a short time," said the midfielder Pep Guardiola. "He was fantastic, but unfortunately our coach Johan Cruyff wanted more effort from him. That was a serious problem because he wasn't able to both attack and defend, so Cruyff couldn't find room for him."
Lasting legacy
And with that, Hagi's career in the major western European leagues was over. He enjoyed an Indian summer at Galatasaray, winning four league titles, two cups and, most improbably, the UEFA Cup in 2000, when Hagi was sent off in the final against Arsenal. Feistiness was always part of his make-up – "because he wanted to win, not because he is aggressive," Lucescu insists. "He brought to our team the spirit of success," says the forward Hakan Sukur. "Never before had a Turkish team believed in their powers. But he taught us to fight. And I have never in my life seen anybody like him with the ball."
Honours
Romanian League: 1987, '88, '89, '90; Romanian Cup: 1987,1988, 1989, '90; Turkish League: 1997, 1998, 1999, 2000; Turkish Cup: 1997; UEFA Cup: 2000; European Super Cup: 1986, 2000; Romanian League Top Scorer: 1985, 1986; Romanian Footballer of the Century
By the end, his pace gone but the fire burning just as bright, he was spiky and tetchy, angry at the turn the game had taken, but angry too that it was his type of player as much as he himself that was going out of fashion. "Today you can be considered good only if you are physically strong or run fast," he said. "But what about individual skills?" Trudging towards retirement, he did at least show in Euro 2000 that he could still inspire his team-mates – and torment England – albeit as a tetchy general, cajoling and marshalling as much as playing.
Asked in 2003 why he was never named European Footballer of the Year, Hagi was typically pointed: "Because I was born in Romania." Perhaps his comparative lack of success in Spain counted against him too. But in an environment in which he felt comfortable, he was majestic: a brilliant, flawed ball of fury; one of the last and greatest of Europe's playmakers. "Sometimes I get out the tapes and watch the goals we scored," says Hakan Sukur. "I cry now as I cried then on the pitch. He was a genius."
This feature originally appeared in the December 2009 issue of FourFourTwo magazine. Subscribe! (opens in new tab)
Thank you for reading 5 articles this month* Join now for unlimited access
Enjoy your first month for just £1 / $1 / €1
*Read 5 free articles per month without a subscription
Join now for unlimited access
Try first month for just £1 / $1 / €1
Quizzes, features and footballing fun
Get daily World Cup 2022 news, updates and other football frolics to your inbox
Quizzes, features and footballing fun
Get daily World Cup 2022 news, updates and other football frolics to your inbox
Thank you for signing up to Four Four Two. You will receive a verification email shortly.
There was a problem. Please refresh the page and try again.