Why Manchester United are hot for Aymeric Laporte
The young Frenchman is the subject of serious Old Trafford interest according to reports – and with good reason, writes David Cartlidge...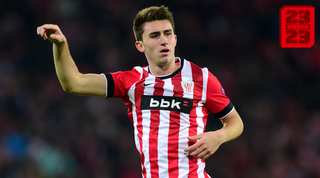 The 60-second story
Aymeric Laporte player might just be the most sought-after young defender in football right now, after a rapid rise to prominence in the Basque Country.
It was through Athletic's heavy network of scouts on French soil that Laporte was discovered. At the time he had offers on the table from leading clubs in France, including Marseille, but some heavy persuasion on Athletic's part meant Los Leones got their man. In fact, Athletic's second in charge at their famous Lezama youth academy stepped in with a personal call to Laporte, telling him Bilbao was the place he'd develop best.
He agreed, and so did his parents. Bureaucratic issues within France prevented Laporte from joining initially, so Athletic worked it that during the week he would train with the Cadetes at Lezama, then head back to Bayonne on the weekend to play for his club Aviron Bayonnais. Almost on a daily basis Laporte would contact his parents, telling them how much he missed home comforts.
A cruciate ligament injury welcomed Laporte upon his eventual arrival at Athletic, but through a combination of self-belief and hard work he was fully rehabilitated. Although it was Bielsa who gave Laporte his full debut, Joaquín Caparrós first cast his eye on the youngster, handing him regular training sessions with the first team and minutes in a pre-season friendly aged 16.
It was the iconic Marcelo Bielsa who first gave Laporte a shot, bringing him into the Athletic first team after being impressed by the mental and physical attributes of the cool Frenchman. Since his senior debut against Maccabi Haifa in November 2012 he hasn't looked back, and over the last two seasons has been ever present in Athletic's backline.
Throw in too that he's captained France at under-19 level, and took them to a UEFA European U19 Championship final in 2013. Now it's the under-21s – but don't expect him to be there much longer as his stock continues to rise.
NEW ISSUE Laporte included in our '23 under 23' for 2015
Why you need to know him
Laporte's rise is notable by its speed; in the early stages he passed through Juvenil B, Juvenil A, Baskonia and Bilbao Athletic subsidiary teams in just three years. He's still only 20, yet will likely hit a century of games with Athletic before the season is out.
The most impressive thing about Laporte is how the weaknesses in his game have been worked on and gradually eradicated. The Frenchman's ambition and desire to improve have come to the fore, and it's resulted in him becoming not only a force for the future, but the present too.
If he isn't snapped up by one of Europe's elite clubs soon, it won't be for lack of trying.
Strengths
The modern traits in Laporte's game clearly stand out, and it's ability on the ball that takes prominence. How he moves out of defence is fascinating to watch, with its purpose and precision.
Laporte's vision of the game is exquisite, and how he links up with the midfield has been key to Athletic's own rise up the La Liga table this term. His passing range is similar to a deep-lying midfielder, offering the ability to keep it neat and tidy over short distances but also spreading play with long-range rockets.
He also boasts decent speed across the ground and is strong in the tackle. Aerially he's quite the competitor and with every game his positional play is improving. He's proven himself versatile in different systems, cropping up in a back three as well as a four, and has also featured at left-back.
Laporte himself said one of the primary reasons for leaving France was the lack of focus on ability with the ball, instead giving precedence to physical work. Naturally he's a strong customer, though, both in height and his ability to outmuscle opponents. Already he's come out on top in battles with prolific hitmen such as Diego Costa, Carlos Bacca and even Lionel Messi.
Weaknesses
Despite the strides Laporte has made in terms of cutting out rash errors of judgement, there's still a lack of concentration at times from the player. Laporte has been sent off three times in his relatively short Athletic career thus far, and despite improvements, caution must be issued.
The Frenchman can sometimes misread the game, be it the flight of a high ball or a mistimed challenge, showing that a touch of naivety remains. At just 20, however, the positive outweighs the negative quite considerably.
They said...
"Aymeric's ability is very natural, and he defends with great balance. He assimilates the challenges quickly and assertively," said Marcelo Bielsa of his former pupil.
Did you know?
Laporte became only the second player from France to play for Athletic – the first was marauding left-back Bixente Lizarazu.
What happens next?
Laporte's emergence hasn't passed by Europe's biggest clubs - Arsenal and Chelsea have previously been credited with an interest - and many of the elite apparently positioning themselves for a summer move. Those suffering criticism for their lack of stability at centre-back this season are clearly eyeing up someone of Laporte's quality.
Manchester United are the latest to have their interest noted, but be it Louis van Gaal's men or anyone else willing to take things a step further, the €42 million release clause will need to be activated. Athletic are notoriously tough negotiators, and given their difficulty replacing players with their Basque-only policy, they demand the stipulation be met in the contract.
Laporte has insisted that, despite his high ambitions, beautiful Bilbao is the best place for his development right now. However, a season out of the Champions League and possibly Europe altogether, could mean the Frenchman will look elsewhere to continue what has been an astonishing progression since Bielsa first gave him his big break.
Thank you for reading 5 articles this month* Join now for unlimited access
Enjoy your first month for just £1 / $1 / €1
*Read 5 free articles per month without a subscription
Join now for unlimited access
Try first month for just £1 / $1 / €1
Get FourFourTwo Newsletter
The best features, fun and footballing quizzes, straight to your inbox every week.