World Cup 2022: Why does Gavi wear No.9 for Spain?
Spain youngster Gavi takes to World cup 2022 with the No.9 shirt – an odd choice for a cultured midfielder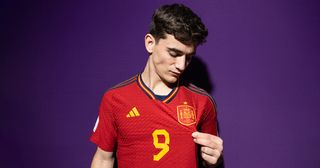 (Image credit: Oliver Hardt - FIFA/FIFA via Getty Images)
World Cup 2022 is one of surprises: Gavi wearing the No.9 shirt for Spain is perhaps not one that many of thought of, however.
When you think of iconic No.9s, you tend to think of Ronaldo, one-time all-time World Cup scorer for Brazil and perhaps the most legendary No.9 of all time. There's Harry Kane, too, of course. Robert Lewandowski wears the shirt for Poland and Erling Haaland would be donning it for Norway, were they at this tournament.
So to see a midfielder like Gavi wearing it is an odd one. It's not as if he' even being used as a false nine up front by the Spanish, who deployed Cesc Fabregas in that position 10 years ago when they won Euro 2012. Cesc, incidentally, was given the No.10 top for that tournament.
Why is Gavi wearing the No.9 for Spain at World Cup 2022?
Gavi doesn't wear the No.9 for his club, by the way.
The La Masia graduate has had the No.30 shirt for Barcelona ever since his debut for the Blaugrana – and according to reports (opens in new tab), he's set to inherit his manager's iconic No.6 shirt next season. Gavi signed a contract extension at Camp Nou in September but the shirt number has been vacant since Riqui Puig defected to MLS and left it free.
The tradition of Gavi taking the No.9 has come ever since his debut – and that featured another intriguing number choice as Gavi's club-mate Sergi Roberto opted for No.10. That felt a little out-of-place, given that Roberto isn't exactly an attack-minded midfielder and has spent much of his Barça career at right-back.
🔢👕 OFICIAL | ¡¡Estos son nuestros dorsales para la #NationsLeague!!😜 Aquí tenéis el listado completo con los números que lucirán los futbolistas de la @SeFutbol durante la Fase Final del torneo.#VamosEspaña pic.twitter.com/ZzY4ZB9IiTOctober 4, 2021
Perhaps it's because No.9 looks like No.6 upside down? Gavi is yet to explain, nor is his coach Luis Enrique.
Thank you for reading 5 articles this month* Join now for unlimited access
Enjoy your first month for just £1 / $1 / €1
*Read 5 free articles per month without a subscription
Join now for unlimited access
Try first month for just £1 / $1 / €1