Ranked! Every England player based on their displays at the 2018 World Cup
Who's impressed for England's quarter-finalists?
It's been an excellent World Cup so far for England, with the side getting beyond a very tricky opponent in Colombia in the round of 16 to set up a quarter-final match against Sweden at the weekend in Samara, and the prospect of a first World Cup semi-final in 28 years. Every single player with the exception of back-up goalkeepers Jack Butland and Nick Pope has seen some action in Russia as part of Gareth Southgate's side, and we rank them all in order of importance for the Three Lions.
21. Fabian Delph
Former Aston Villa man Delph brings a versatility to the squad with his ability to cover multiple positions. Pep Guardiola has turned him into an excellent full back at Manchester City but he still sits more comfortably in the centre of midfield – which is why he hasn't seen as much playing time as he would have liked.
He has seen minutes, playing the whole of the game against Belgium and appearing as a second-half substitute against Panama, but he's nowhere close to dislodging Jordan Henderson and having returned home to England to be with his wife for the birth of their third child before flying back for the quarter-final, it's unlikely that he will get the nod for the Sweden match either.
20. Trent Alexander-Arnold
Surprise call-up TAA only made his England debut after being named in the World Cup squad: his Three Lions bow came in the pre-tournament friendly friendly against Costa Rica. He played in the much-changed side sent out to take on Belgium with qualification for the knockout stages already secured.
Trent's trouble is that Kieran Trippier, his direct rival for the right wing-back slot, has shown outstanding form in Russia. That being said, the young Scouser didn't make the most of his selection against Belgium, looking out of his depth in a way that he rarely does for his club. To have posed a threat to Trippier, his delivery needed to be better and his attacking thrust more forceful than it ultimately was. Alexander-Arnold's time will come, but not this year.
19. Phil Jones
Manchester United defender Jones was taken to Russia as a back-up, and with England's three central defenders playing so well that is exactly how it has stayed. As with the goalkeeper situation, centre-backs benefit from continuity and Gareth Southgate has a clear first-choice three.
Jones featured in the much-changed side sent out to take on the Belgians but, barring injury to John Stones, Harry Maguire or Kyle Walker, he won't be seen again. The Manchester United man hasn't been bad, but he hasn't been relevant either – and may not be called upon even if there is an injury, with Gary Cahill also ready to step in should Southgate need him.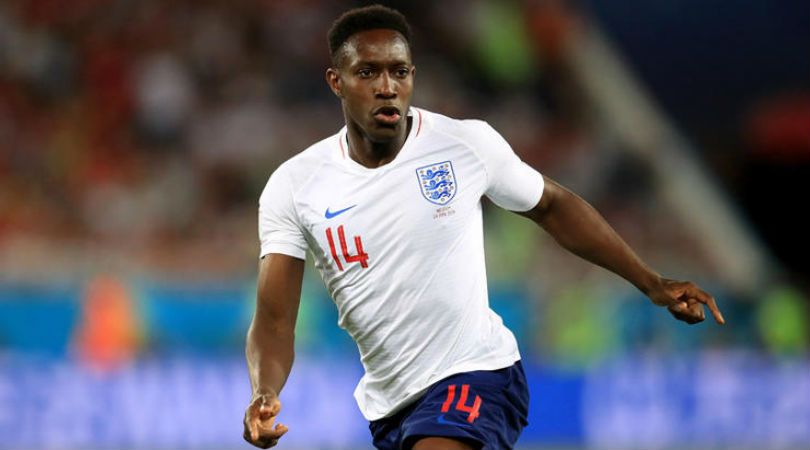 18. Danny Welbeck
Better players than Welbeck have played second fiddle to Harry Kane, but the Arsenal man was somewhat fortunate to have made the squad in the first place, with injuries taking their toll on him in recent seasons.
At his best he's a fascinatingly diverse forward, but he hasn't been at his best for a long while and serious questions remain as to his ongoing future in Gareth Southgate's dynamic forward line. He was the final outfield player to get minutes in Russia, getting the last 11 minutes as the virtual reserves played out the defeat to Belgium – and the chances of him seeing the pitch again seem very remote.
17. Gary Cahill
Chelsea centre back Cahill is the most experienced player in the England squad by some distance and is the only player of the 23 taken to Russia to have won over 50 caps for his country. That said, he is in a very similar position to Phil Jones – we will only really see him on the pitch again in Russia if there is an injury to one of the first choice three of Harry Maguire, John Stones or Kyle Walker. As such Cahill has been an incidental figure so far at this World Cup and will continue to be so. Yet on the basis of a fine goalline clearance against Belgium, which spared Jordan Pickford's blushes, we'll put him above Jones as the man more likely to come into the side.
16. Eric Dier
Spurs utility man Dier stole the headlines with the hoodoo-ending winning penalty against Colombia, but during the match itself he had looked shaky after replacing club team-mate Dele Alli. It was the first time England had significantly changed shape, and it didn't really work.
Should he play no further part in this tournament, that converted penalty against Colombia will be enough to sustain him. Still, it's hard to resist the conclusion that he's been the odd man out in Russia. Southgate's decision to play just one holding midfielder has left him a peripheral figure and he has hardly caught the eye when given an opportunity. Still, ending 20 years of penalty hurt was nice.
15. Danny Rose
Rose can consider himself to be unfortunate: had he been fully fit there's little doubt he would be the first-choice left wing-back. He's a genuine defender for a start and, while Ashley Young has performed well on the left hand side of the defence for both England and Manchester United this season, Rose is much more assured, naturally left-footed, more dynamic and offers better balance to the team.
He's also unlucky that Young brings important qualities otherwise lacking in the squad, namely experience and set-piece delivery. But Rose's tournament may not be over yet, as he offers arguably the best way to stretch the opposition down England's left.
14. Jamie Vardy
Harry Kane casts a long shadow, and Jamie Vardy is in it. The Leicester speedster is Southgate's go-to attacking substitute but Kane has been so successful that England have rarely needed to change their shape and chase the game.
Trouble is, Vardy thrives upon finding space behind a defence, but every side faced to this point has employed a low-ish block. He could still be useful and remains a valuable counter-attacking asset, but he's in no danger of starting.
13. Marcus Rashford
Outside Southgate's first XI Rashford is the most likely to make a significant contribution – and has already done so, coming off the bench to hammer home a nerveless penalty in the shootout against Colombia. He has a genuine chance of forcing his way into the team for the match against Sweden and beyond should England progress, with Dele Alli seemingly unable to shake off a niggling injury and Raheem Sterling not quite up to the sky-high standards he set for himself at Manchester City this season.
Southgate's safer option to replace Alli would be Ruben Loftus-Cheek but Rashford represents a more aggressive option should England need one. He took a very fine penalty against Colombia, but his overall contribution has to been too sporadic to properly assess.
12. Ruben Loftus-Cheek
Loftus-Cheek made his England debut in the autumn friendly against Germany and picked up the Man of the Match award. He continued his excellent form into the friendly against Brazil and, but for a foot injury that saw him miss three months of the season, he may well have been a starter for Gareth Southgate's side. Nevertheless, Loftus-Cheek has still managed to really enhance his reputation.
There are still obvious flaws in his game and he still (understandably) lacks a little composure at this level, but he made a telling contribution in the final minutes against Tunisia and plays with the kind of force which has made him a useful alternative in attacking midfield. The Chelsea midfielder may not be first choice for club or country, but he can still make a telling contribution in the remainder of the competition.
11. Dele Alli
We haven't seen the best of the Tottenham midfielder in Russia, principally because he's clearly not 100% fit. Alli finished the domestic season in good form, but the thigh injury he sustained against Tunisia has evidently disrupted his rhythm and left England without a properly functioning link between the midfield and Harry Kane.
That hasn't necessarily been a huge issue so far and Alli's talent is such that he is worth persevering with, particularly considering Sweden are likely to play with a deep defence. His club combination with Kane and neat footwork in tight areas could yet prove priceless.
10. Ashley Young
There can be very few complaints about Ashley Young's contribution for England so far. A long shot for the squad at the turn of the year, Young has justified his selection with a series of solid, dependable and consistent performances and his experience has been invaluable to Gareth Southgate.
The habit he has of cutting infield and back on to his right foot is an inconvenient restriction, but having a full-back conditioned by Jose Mourinho has proven no bad thing. He may not have offered the theoretical penetration that Rose could have provided, but the sense of responsibility and positional play he offers have been valuable.
9. Jordan Henderson
Henderson has done well for England in the middle of the midfield but there is still plenty more to come from the Liverpool man, with a sense that his desire to remain disciplined had taken a very slight edge off his game. Some of that comes with a change in role for the national team from his club side, but the feeling remains that Henderson can do much more than he's showing.
That said, with the exception of the extra time period against Colombia, England haven't really needed a deeper midfielder and so all the emphasis has been placed on those ahead of Henderson. His passing range has been functional without ever being truly decisive – that's been a hindrance – but his job is really to anchor rather than to create. A solid, if unspectacular grade.
8. Kyle Walker
Manchester City defender Walker has done particularly well when you consider the position he is being asked to play is far from his natural one. With that in mind, he's done well and his switch to the right hand side of a back three has allowed one Kieran Trippier to become one of England's most important players. Walker's speed is incredibly useful as both a safety net and as a catalyst at the beginning of moves from deep.
Nevertheless, security remains a little bit of an issue and, as has been the case throughout his career, he has shown himself prone to the occasional lapse. He was very fortunate that Juan Cuadrado lashed so wildly at the chance he presented to him in the last-16 game against Colombia.
7. Raheem Sterling
Sterling's detractors – of which, for some baffling reason, there seem to be many – would have you believe that the Manchester City forward is having a poor tournament. They will highlight a lack of goals relative to the numbers he has registered this season at club level. While that is a concern and the discrepancy is huge, it doesn't mean that he has performed badly for England – in fact, it's quite the opposite.
Sterling's more fundamental work has been typically good. His movement has made him a nuisance – it certainly did in the first half against Colombia – and while Southgate will be keen to see more end product, his wriggling style of play will certainly trouble Sweden at the weekend. He could be performing better, that's valid, but the suggestion that he's redundant without goals is really a nonsense.
6. Harry Maguire
Leicester City centre back Maguire is a force to be reckoned with. He isn't the most technically sound defender in the squad but he is hugely important to this England side – as much from attacking set pieces as defensively, as his contribution for Harry Kane's second goal against Tunisia demonstrated. He can look slightly awkward on the left side of the back three, as a right-footed player often does, but that hasn't really harmed him yet. While he's often portrayed as a simple stopper, he's actually shown himself to be a fine ball-carrier - a couple of his surges into midfield have been really eye-catching.He has certainly justified his selection and, given the fractious tone of that Colombia game, was a valuable physical asset to have on the field and someone never likely to be intimidated.
5. Jordan Pickford
Everton No.1 Pickford wasn't really called upon during the first three England matches but ranks right near the top anyway – and for obvious reasons. His performance against Colombia was nearly perfect, with the last-minute save from Mateus Uribe a sensational example of goalkeeping. It's not hyperbole to suggest that it is one of the greatest saves an English goalkeeper has ever made at an international tournament. The more mundane aspects of Pickford's game have also been sound. His handling has been secure, his positioning good, and his kicking – as you'd expect – highly reliable. It's not a debate anymore: he is clearly his country's first choice.
4. John Stones
John Stones is absolutely intrinsic to the way Gareth Southgate's England play football. Stones is unflappable, positionally excellent and incredibly comfortable with the ball at his feet. He has shown his value against sides that try to press high, with his passing ability and cool head giving him the ability to pass beyond the press into the midfield. He's shown some fire too. He may look like a mild-mannered sort of footballer, but he was at the head of the queue to meet the Colombian intimidation on Tuesday and the first to wave them farewell once the penalty competition was won. That may not be a particularly admirable trait, but it's been a necessary one. He's tougher than he looks.
3. Jesse Lingard
Lingard's rise has been phenomenal. He has gone from the periphery of Manchester United's first team to key player for club and country in a short space of time, and has taken it all in his stride. He's not the most talented player, neither is he the most obvious for his position, but his role has been designed around what he can do and that's proved a triumph.
Two years ago, England were eliminated from a European Championship on account of their reticence; Roy Hodgson blocked up his midfield and the side was horribly static as a result. Lingard has been an answer to that. His movement, particularly in conjunction with Raheem Sterling, opens things up for both the midfield behind him and for Harry Kane ahead. England may have struggled to create real chances from open play but his presence has definitely helped. And what a goal, too – that curling effort against Panama was flawless.
2. Kieran Trippier
What an absolute revelation Kieran Trippier has been for England. He has provided great balance to the England right hand side, getting forward to support the attack frequently but without ever being exposed. He isn't the quickest nor does he represent the modern archetype of the wing-back, but Trippier has established himself as a key player for England – and embarrassed a few people who wondered what Gareth Southgate was doing when he moved Kyle Walker inside to accommodate Trippier.
And the delivery, of course. His set-pieces have been of the highest standard and, given the side's dependency on dead-ball situations, critical to progress. As was his penalty against Colombia, which was nerveless, utterly convincing and complicit in cranking the pressure up on the next taker, Carlos Bacca.
1. Harry Kane
English fans are maybe guilty of not knowing quite what they have in Harry Kane. He is a captain and leader but also a footballer of the very highest calibre, as shown by his remarkable goal return at the World Cup. His naysayers will tell you that he's scored three penalties and another goal that he had no clue about – but what they won't say is that the threat he carries won those penalties in the first place.
When England have needed Kane in this tournament, he has answered their call without fail - in stoppage time on the opening night, from the penalty spot twice against Panama, and twice more against the Colombians. He's effective at leading the line, but his willingness to drop into deeper positions and spread play has helped to foster some much-needed attacking continuity. England's best player.
Quizzes, features and footballing fun
Get the best features, fun and footballing frolics straight to your inbox every week.
Thank you for signing up to Four Four Two. You will receive a verification email shortly.
There was a problem. Please refresh the page and try again.