Chelsea manager Frank Lampard told he has a 'big decision to make' on Timo Werner
The former RB Leipzig striker has struggled to adjust to life at Stamford Bridge so far this season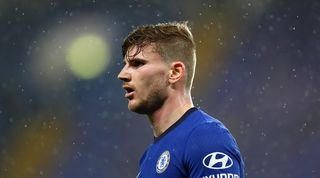 (Image credit: PA)
Scott Minto believes Frank Lampard has a decision to make over his use of Timo Werner.
The Chelsea (opens in new tab) forward has endured an underwhelming start to his Premier League career, having scored only four goals in 16 appearances to date.
Werner has primarily been used as a left-sided forward in recent weeks, having begun the season as a central striker.
And Minto believes his former club must nail down a position for Werner in order to get the best out of him.
"He's a player. He's a defender's nightmare," the ex-left-back told Stadium Astro (opens in new tab).
"If he's going to play on that left-hand side, Frank Lampard has a decision to make. If they are going to play him on the left and have a big man up front, then you have to accept that he is going to come inside and try to link up with [Olivier] Giroud or [Tammy] Abraham and defensively that is going to leave you open – as we saw against Arsenal (opens in new tab).
"Or, you stick him up front - you play him on the last defender, try and bring everybody a little bit short, make the opposition defence compact for a ball over the top or slide passes for his pace.
"In terms of his finishing, he is another one that should have, and this is his fault, another seven or eight goals to his name this season.
"He has got himself, either by good movement or by doing it himself, into some fantastic positions, one-on-one with keepers, and just not been that ice-cold striker you need to be in front of goal. But I have no doubts whatsoever that he will come good.
"I do have a problem with him tactically, in terms of playing left and defending as a team, so is Frank willing to sacrifice having that protection having him on the left-hand side and coming in or are you going to stick him up front?
"I have no doubts he will be a big player for Chelsea over the coming years."
Lampard's side return to Premier League action against Manchester City (opens in new tab) on Sunday.
NOW READ
GIVEAWAY Win prizes every day during FourFourTwo's 12 Days of Christmas (opens in new tab)
FAREWELL Maradona, Charlton, Rossi and more: the footballing icons who left us in 2020 (opens in new tab)
FEATURE Fans 1 Chewbacca 0: What it was like to go to a Boxing Day match... with an actual crowd (opens in new tab)
Thank you for reading 5 articles this month* Join now for unlimited access
Enjoy your first month for just £1 / $1 / €1
*Read 5 free articles per month without a subscription
Join now for unlimited access
Try first month for just £1 / $1 / €1