Dutch coaches making mark around the world
By app published
AMSTERDAM - Blunt manners, a willingness to adapt to local surroundings and the love of adventurous, attacking football make Dutch coaches favourites around the world.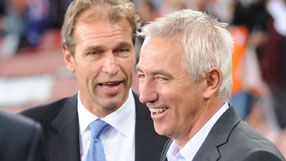 The qualifying tournament for next year's World Cup has seen five Dutch coaches in action. Two - Australia's Pim Verbeek and Bert van Marwijk back home in the Netherlands (pictured) - have already helped their teams to secure places in the finals.
Guus Hiddink has taken Russia to the European play-offs for a place in South Africa while Erwin Koeman's Hungary and Mart Nooij's Mozambique are coming to accept that they will not make it to the 32-team finals.
At least five more Dutch coaches are training clubs abroad, including Louis van Gaal at Germany's Bayern Munich, Frank Rijkaard at Turkey's Galatasaray and Arie Haan at China's Chongqing as the country of 16.5 million makes its presence felt on football pitches around the world.
A Dutch tendency to be outspoken and direct was one of the traits valued by clubs and national teams, said Alfons van Marrewijk, professor in business anthropology at VU University Amsterdam.
"This bluntness is normally almost seen as offensive but in this context it is perceived as honesty which is appreciated. It allows a coach to tell a player he is not performing well.
"There is a sensibility to learn the language and adapt quickly to the morals of a country. Then they will introduce a different way of playing," Van Marrewijk told Reuters.
LOCAL CULTURE
Hiddink, who led South Korea to the 2002 World Cup semi-finals, changed the way he selected players for the team, choosing quality instead of group or school background.
He has been Russia's coach since 2006 and is known as 'Tsar Hiddink' in the country, which reached the European Championship semi-finals last year.
"We started training hard with some different methods than they were used to. At the start, all the guys were sweating heavily all over but the beginning and end test showed everyone made tremendous progress in three weeks," Hiddink told Dutch TV last year when Russia were preparing for Euro 2008.
Adapting to local culture was equally important.
Verbeek sang Australia's national anthem live on television after they qualified for the 2010 World Cup, while Van Gaal dressed up in lederhosen to join in Munich's annual Oktoberfest this month.
The Netherlands, where football is the number one team sport, rose to prominence as a footballing nation in the 1970s, when the team reached the World Cup final against West Germany under the leadership of coach Rinus Michels and captain Johan Cruyff in 1974. They won the European Championship in 1988, again led by Michels.
Currently, the Netherlands are third in the FIFA world rankings, behind Brazil and Spain.
The style created by Michels, dubbed "total football," focused on quick moves and the versatility of players' positions on the field and was epitomised by Cruyff's ability to lead a match.
"Our teams have played in a different way since then - looking for attacks, being creative, trying to dominate the game," said Remy Reynierse, who teaches coaches at the Dutch national football association (KNVB).
Thank you for reading 5 articles this month* Join now for unlimited access
Enjoy your first month for just £1 / $1 / €1
*Read 5 free articles per month without a subscription
Join now for unlimited access
Try first month for just £1 / $1 / €1
Quizzes, features and footballing fun
Get the best features, fun and footballing frolics straight to your inbox every week.
Thank you for signing up to Four Four Two. You will receive a verification email shortly.
There was a problem. Please refresh the page and try again.