Fabregas: Wenger is God
Arsenal captain Cesc Fabregas has described Arsenal boss Arsene Wenger as a 'god' after the Frenchman became the Gunners' longest serving manager.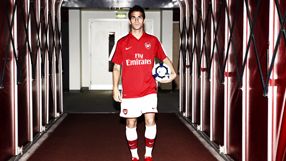 Wenger took charge in 1996 and has gone on to become the club's most successful manager of all time, with his 13 year reign surpassing the stewardship of the man who succeeded the legendary Herbert Chapman - George Allison.
The former Monaco coach has led Arsenal to three league titles and four FA Cups, including league and cup doubles in 1998 and 2002.
And he was also the first manager in English league history to complete an entire 38-game season unbeaten in 2003/04.
It's for these reasons Fabregas believes Wenger has reached a state of Nirvana.
"He has been amazing for Arsenal," said the Gunners' skipper.
"He is the best manager who has ever coached Arsenal. We are all very, very happy that he is our manager still today.
"For the fans the longer he is at Arsenal the better. The memories he has had at Highbury and the Emirates are amazing. To the fans he is a god."
The midfield maestro also revealed Wenger's thirst for perfection is what drives him and the team to success.
"He always tells me I need to be better defensively. I know I have a lot to learn and a lot to give to the team," said the Spain international.
"I want to be strong and the complete midfielder. I have to keep working on my final pass and supporting the attack.
"He is never 100 percent happy with what you do and the moment you think you have reached the top level he will always come to you and show you a video tape and say 'Look you should have done that'.
"He loves football. He watches it all the time so he will always see things you don't see about yourself and the team."

NEWS: Fabregas - Arsenal must find ruthless streak
NEWS: Cesc hails Arshavin and Vermaelen
NEWS: Fabregas - Rosicky my best bud
NEWS: Cesc 'more dangerous' in new role
NEWS: Fabregas - Winning league would top the lot
INTERVIEW: Exclusive Cesc Q&A

THE CTR360 Maestri is the newest member of Nike's football boot family, built for control and engineered for giving and receiving passes and distribution. Visitwww.nikefootball.com (opens in new tab)
Thank you for reading 5 articles this month* Join now for unlimited access
Enjoy your first month for just £1 / $1 / €1
*Read 5 free articles per month without a subscription
Join now for unlimited access
Try first month for just £1 / $1 / €1