'I don't see benefit' – Schmeichel questions Arteta's Raya-Ramsdale rotation at Arsenal
The Manchester United legend has given his opinion on the much-discussed goalkeeping situation at the north London club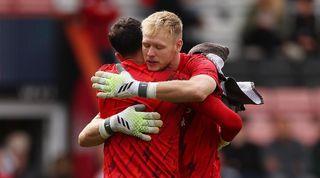 (Image credit: Getty Images)
Manchester United legend Peter Schmeichel says he cannot understand Mikel Arteta's decision to rotate goalkeepers David Raya and Aaron Ramsdale at Arsenal, insisting he cannot see a benefit.
Ramsdale started the season in goal for the Gunners, but summer signing Raya was brought in for the trip to Everton earlier this month and stayed in the side for three games in a row.
The Englishman then returned to the line-up for the Carabao Cup clash against Brentford in midweek, but the Spaniard was back in the team away to Bournemouth in the Premier League on Saturday.
That means he has started four of the last five games in all competitions for Arsenal, but manager Mikel Arteta has continued to claim that he is not the first choice and that his decision will be made on a match-by-match basis.
"It really is up in the air at the moment but I only get that situation if Arteta thinks Raya is a better goalkeeper," Schmeichel said on the official Premier League show on Saturday.
"That's the only way I can find any kind of sense in this. I think having the competition between two goalkeepers will just create situations in the games where they will have to go and prove themselves and that's the one thing you don't want from your goalkeeper."
And he added: "I don't see the benefit from a managers point of view. I don't see that it will make any of them better. It is a reactive position, all you can do is wait for something to happen and then you react, you can't go and chase anything.
"You need someone who has the full confidence of whatever I do in the game, I will be there next time."
More Arsenal stories
In an exclusive interview with FourFourTwo, Declan Rice has spoken about Arsenal's aspirations for this season and beyond, claiming the Gunners can compete with the very best at home and in Europe.
Meanwhile, Sky Sports' pundits have discussed the situation involving Arsenal's two goalkeepers, with Jamie Carragher believing that one of them will have to leave the club sooner rather than later.
And Ramsdale has already been linked with a move away from north London, with Chelsea and Bayern Munich reportedly keen on the England international.
Thank you for reading 5 articles this month* Join now for unlimited access
Enjoy your first month for just £1 / $1 / €1
*Read 5 free articles per month without a subscription
Join now for unlimited access
Try first month for just £1 / $1 / €1