'Those things plague me' – Emma Hayes reveals motivation for leaving Chelsea
The Blues' manager has been strongly linked with the USWNT job, but has given a different reason for leaving the West London club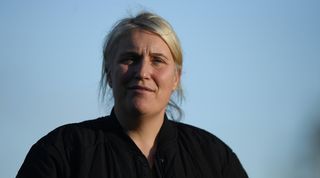 (Image credit: Getty Images)
Emma Hayes has shed further light into her decision to leave Chelsea Women after almost 12 years in charge, saying she is making room for more time with her son.
In a surprise statement, Chelsea confirmed last week that Hayes would depart the club at the end of the season for "a new opportunity", with rumours linking her to the US national team position.
The manager refused to comment on speculation but cited leaving Chelsea "at the top" and prioritising family life as her motivations. Some pundits have suggested that international management would allow a greater work-life balance.
"I've taken this team to the top and I always said I wanted to leave at the top. I maintain that," Hayes said in her first press conference since news of her departure broke.
"You dedicate so many hours to this job and I've given it everything I can. I've had to evaluate that and factor it in. Anything I'm going to do, I want to do it well, but maybe it's about just having something different more than anything else.
"I would struggle going backwards at any point or outstaying my welcome. Those things plague me.
"It's not actually an easy thing to do to leave at the top with a world-class team, but I always made the promise to myself that I would do that."
Discussing the importance of making more time for her son, Harry, Hayes said: "I've been in the post for 12 years and I've dedicated my life to this place. I drive four hours to and from this place six days a week for 12 years. I have a five-year-old that needs more of his mummy.
"I'm a mum and not many football managers sit up here and talk about that in the same way.
"There's still a lot of work that needs to be done in the women's game for people with children. I shouldn't just limit that – it's people with children. We have lives and I have to think about others.
"This is not a selfish decision, it's a selfless decision. It's about putting first other things in my life and I'm ready for that."
One of the first female managers in the Women's Super League, Hayes has led Chelsea to six league titles and five Women's FA Cups. Her time in west London has also coincided with the rapid rise of women's football – a growth she hugely contributed to.
She confirmed that she would help establish a succession plan over the coming months, but made clear her disappointment that private negotiations about her contract were published in the media.
"I believe in private conversations," she said. "Of course I'm disappointed to hear things are being said in the press.
"I want to make sure I maintain my own professionalism in everything I do. As far as I'm concerned, the people I have worked with in that period have made me feel the best coach I can feel. That's not always easy when you're dropping players and they are not playing week-in, week-out.
"I leave at the end of the season knowing I have given everything and have done everything.
"Things and conversations that are private between myself and the club will remain private at my end. I will maintain that."
More women's football stories
Spain beat England 1-0 in Sydney to win the Women's World Cup for the first time in their history.
FIFA suspended Luis Rubiales over his unsolicited kiss on Jennifer Hermoso, with Spain threatening to pull out of UEFA. After mounting pressure, Rubiales later resigned in an interview with Piers Morgan.
Alex Greenwood tells FourFourTwo that England have changed more mentality-wise than ability-wise, with manager Sarina Wiegman imperative to that – and Wiegman's success with the Lionesses has seen her linked with the England men's team as a possible successor to Gareth Southgate, with the FA saying she would be under consideration for the role.
Thank you for reading 5 articles this month* Join now for unlimited access
Enjoy your first month for just £1 / $1 / €1
*Read 5 free articles per month without a subscription
Join now for unlimited access
Try first month for just £1 / $1 / €1