Arda Turan: How to dictate the midfield
We asked the Barcelona midfielder how to navigate through a crowded engine room and run the midfield from start to finish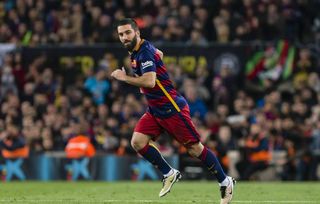 We've all suffered the frustration of watching the game pass us by when the opposition packs out the midfield and parks the bus in front of goal.
It's a situation Barcelona face almost every week against opposition who are happy to surrender possession and play on the counter-attack.
With that in mind we asked Barca midfielder Arda Turan how to find space between the tighest of lines and dictate the midfield from start to finish...
Related story: Cesc Fabregas: How to find space for a playmaker
"Start by dividing the field into three areas. Keep it simple in the first two by controlling the ball and making quick passes – then play with freedom in the final third. This is where you create chances and score goals.
If you think you're going to lose possession, try and put yourself between the defender and the ball. You might force them into making a foul, buying your team some time.
If you're struggling to get into the game, drop deeper to receive the ball off full-backs and centre-backs. There will be more room and less chance of you giving the ball away.
Most importantly, look for space between midfield and attack. You won't be a top player if you can't do this. At Barcelona, Lionel Messi and Neymar mostly use this space, but Andres Iniesta, Ivan Rakitic and myself always look for openings.
When the opposition man-mark you it can be more difficult to do this. In this situation I roam around the pitch to lose my marker. If he follows me, then the opposition's defensive structure will be broken."
Recommended stories:
Koke: How to be a midfield maestro
Yaya Toure: Dominate the middle of the park
Cesc Fabregas: How to find space as a playmaker
Andres Iniesta: How to boss the midfield
Quizzes, features and footballing fun
Get the best features, fun and footballing frolics straight to your inbox every week.
Thank you for signing up to Four Four Two. You will receive a verification email shortly.
There was a problem. Please refresh the page and try again.