10 reasons why the Europa League is actually brilliant
Europe's second-favourite competition returns for the last 32 on Thursday, but you should be swapping those sighs for excitement says David Morris...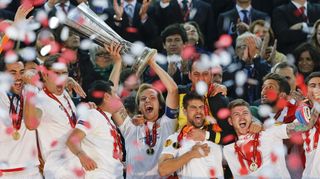 LAST 10 WINNERS
2014 Sevilla
2013 Chelsea
2012 Atletico Madrid
2011 Porto
2010 Atletico Madrid
2009 Shakhtar Donetsk
2008 Zenit St Petersburg
2007 Sevilla
2006 Sevilla
2005 CSKA Moscow
"Thursday nights, Channel 5," so the famous ditty goes, as fans aim to embarrass supporters of another team who face the dreaded fate of participating in the Europa League.
But the chant shouldn't really be sung anymore, for two very good reasons. The first is a matter of fact – Channel 5 no longer hold the rights to Europa League action. The second is that, gradually and deservedly, the Europa League is beginning to gain more prestige as a tournament. Yes, it's not as grand as its older UEFA sibling, the Champions League, but there are plenty of reasons why football fans should be excited...
1) A competitive competition
While the Champions League may boast being the more prestigious European tournament laid on by UEFA, its understudy can arguably claim to be a lot more competitive.
In Europe's elite tournament, we find ourselves in the usual position of having three or four sides capable of securing the title; it will be surprising if none of Bayern Munich, Real Madrid, Barcelona or Chelsea win this year's Champions League. The same can't be said of the Europa League, a competition which on a yearly basis could be won by any number of teams.
With the knockout rounds beginning this week, bookmakers are unable to make their minds up, with 10 of the 32 teams considered as having a good chance of success. Much will depend on how the draws work out in each round, but for the time being, with the likes of Roma, Liverpool, Napoli, Wolfsburg and Inter Milan (to name but a few sides) contesting the trophy, it really is up for grabs in 2014/15.
2) High-quality fixtures
Admittedly there is little that inspires the neutral in the early, deadwood-chopping rounds of either competition. But as we reach the knockouts, there are plenty of matches to get tongues wagging.
In Europe's second competition, the one-sided affairs of its big brother (see Schalke-Real Madrid and Monaco-Arsenal) are few and far between, with the draw throwing up a number of intriguing match-ups.
Wolfsburg's battle with Sporting, and Borussia Monchengladbach's clash against champions Sevilla, are exciting prospects. Romantics will have been enamoured by Celtic vs Inter Milan in a throwback to 1967.
Chuck in ties between historical giants like Roma and Feyenoord, and those involving both Liverpool (vs Besiktas) and Tottenham (vs Fiorentina), and you've got yourself some entertainment. 
3) All roads lead to Europe's elite
These games are even more important when considering that, for the first time since the tournament's inception, the winner qualifies for next year's Champions League.
This is a huge incentive for most of the sides in the competition who may struggle to make the tournament through their own domestic competition.
For example, it's inconceivable that Everton will finish in the top four, while if Spurs or Liverpool do so, it will likely be at the expense of the other. The reward of Champions League football is huge.
4) An English side might win it
We're often told that we should be offering our support to fellow English sides in European competitions. Generally, fans are reluctant to give any sort of backing to teams they would normally detest, but with a couple of exceptions (Arsenal and Manchester United fans, we're looking at you), there's something for every English 'neutral' to cheer in this year's Europa League.
Tottenham and Everton's success in the group stages, combined with Liverpool joining them from the Champions League, means there is a genuine chance that at least one Premier League outfit could go deep into the competition. Liverpool and Everton should expect to progress with minimal fuss against Besiktas and Young Boys, while Spurs have enough about them to see off a more challenging tie against Fiorentina. If they still aren't floating your boat, try Celtic. Merseyside derby in the next round, anyone? 
5) It's a hipster's paradise
At a time when following other European leagues is a cool thing to do, the Europa League, and the remaining 32 sides on offer, really is a paradise for hipsters. Top of the bill are representatives from Germany in the form of Borussia Monchengladbach, and resident Bayern Munich hunters Wolfsburg.
For those looking to lend their support to a fallen giant, Inter Milan are currently undergoing something of a regeneration project, while Dutch sides Ajax, PSV and Feyenoord are also attractive targets for neutral support. Athletic Bilbao, despite this season's troubles, reached the final of the competition as recently as 2012 with a squad of young Basque talent. Simply, the Europa League truly has something for everyone.
6) Other countries love it
Chelsea's 2013 triumph in the competition was barely celebrated. And while that may have been partly down to the fact that it was achieved under an unpopular Rafael Benitez, the Europa League's low estimations contributed to most of the ignorance – not least when you're a side that's been eliminated from the Champions League. In England, the Europa League is a tournament for the kids... a tournament you desperately try to avoid qualifying for.
But elsewhere on the continent, it's seen as a prestigious competition in its own right. Try telling the players and fans of Sevilla that the trophy isn't one worthy of celebrating.
Thousands of supporters turned out to congratulate last year's winners, who partied in style with an open-top bus and parade through the city – some fiesta for an irrelevant and unimportant competition. Perhaps it's time for English outfits and supporters to take it a little more seriously.
7) It's home to an array of talent
The Europa League offers players the perfect platform to impress. While they may be struggling domestically at the moment, there is no doubting that Inter Milan currently boast a squad of developing young individuals, most notably Mateo Kovacic and Mauro Icardi, both of whom have been linked with a host of big clubs. Bayern's Xherdan Shaqiri was snapped up in the transfer window. Then there's Wolfsburg's Kevin De Bruyne, currently dominating the Bundesliga alongside Andre Schurrle.
TALENTSPOTTER The Croatian schemer set to emulate Silva • All about Chelsea and Liverpool target Icardi
Then there's those who aren't quite household names yet. The competition's leading goalscorer, the excellently-named Alan, scored eight goals in five appearances for Red Bull Salzburg in the group stage. Unfortunately for the Austrians, he joined China's Guangzhou Evergrande for €11.1 million last month.
Lest we forget, it is also the tournament which brought us Harry Kane, whose performances in the Europa League forced him into the reckoning at Tottenham. Having previously helped elevate the likes of Radamel Falcao, Edinson Cavani and Luis Suarez, it is evident that this is a competition packed with exciting talent.
8) ...and those players you'd forgotten
Hands up who's been wondering what Colin Kazim Richards is doing these days. You have? Well, wonder no more. Those of you who want to reacquaint yourself with the former Bury and Brighton star can do so when Feyenoord take on Roma in the last 32. The forward has been in good form on the continent and currently leads the assist charts, laying on five goals for his team-mates.
And he's not the only familiar face, with strawberry-syrup loving Demba Ba hoping to benefit from another Steven Gerrard slip when his Besiktas side meet Liverpool in the knockout stages.
The list of players well-known to English viewers is relatively lengthy, and also includes former Chelsea player Yuri Zhirkov and Arsenal legend Nicklas Bendtner (in his mind at least), both of whom will be hoping to help their sides through to the latter stages of the tournament.
9) The shock factor
As has been previously touched upon, the Europa League has a tendency to surprise much more frequently than its older brother. The Champions League is usually predictable until the quarter-finals, but the success stories of Fulham and Middlesbrough, who both reached finals against the odds in 2006 and 2010 respectively, demonstrate the Europa's wild history. Rangers and Celtic have both also made it all the way to the final in the last 12 years (although some of these were during the UEFA Cup era).
In the Champions League knockout rounds, teams are often set on not losing, which can sometimes result in relatively dull and underwhelming affairs. The Europa League's attacking nature generally leads to goals and more shocks, which should make the knockout stages exciting this time around.
10) Unbelievable goals
Yes! Like...
...Taison van Basten (that's not his real name) for Metalist Kharkiv against Rosenborg…
...and more recently, this extraordinary effort from Spurs' Erik Lamela. 
Quizzes, features and footballing fun
Get the best features, fun and footballing frolics straight to your inbox every week.
Thank you for signing up to Four Four Two. You will receive a verification email shortly.
There was a problem. Please refresh the page and try again.