5 big questions that will decide Manchester City vs Liverpool
It's the big 'un: a potential title decider at the Etihad as the finest pair get it on. Daniel Storey on where it will likely be won and lost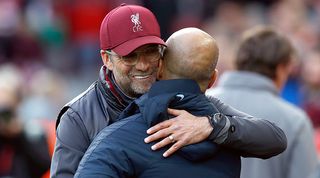 Can Guardiola find a solution at full-back?
One of the knock-on effects of Pep Guardiola's managerial philosophy – in which every player has specific roles in multiple areas of the field and the aim is possessional perfection – is that if one area of the team is weakened, the team as a collective can suffer badly.
Take the full-back situation. Kyle Walker is out of form and has been left on the bench for Manchester City's last two league games. Fabian Delph has filled in to cover for Benjamin Mendy's absence, but is still a central midfielder playing out of position and will be suspended for the visit of Liverpool after his red card against Leicester.
Against Southampton, Guardiola gave Oleksandr Zinchenko the nod, but he is unlikely to do the same against Liverpool. Zinchenko is more comfortable going forward than back – not ideal when facing Mohamed Salah – and was at fault for Southampton's goal.
Guardiola has two options, unless he gets highly creative. The first is to bring Walker back into the team and play Danilo at left-back. The second is to play John Stones alongside Nicolas Otamendi or Vincent Kompany and move Aymeric Laporte to left-back. That second option seems sensible given Laporte's potential to cope with Salah, but Guardiola must be loathed to move him from central defence.
Do Liverpool's full-backs just bomb on?
Pragmatism is not a term we necessarily associate with Jurgen Klopp. Liverpool's success is founded upon a belief that they can beat whichever opponent is placed in their path. There is a proaction to Liverpool's football that says "this is what we're going to do – can you stop us?".
Yet there is a case for being slightly cautious. Andrew Robertson and Trent Alexander-Arnold have had joy by bombing down their respective flanks and creating overlaps, but there is no better counter-attacking team in the league than City when on song. Commit too many bodies forward, and Liverpool will leave themselves exposed to that counter.
They could still be successful with their attacking intent, of course, and Klopp may well prefer an early onslaught to try to establish a lead that may unnerve City. But he must also remember that a draw is an excellent result, both in isolation and in the context of the title race.
SEE ALSO 18 Premier League players who should leave their current clubs in January
… or does Klopp go for the nuclear option?
We will probably be able to predict the course of the match, at least from a Liverpool perspective, when the starting XIs are announced at 7pm. It all revolves around Liverpool's central midfield.
In October, Klopp picked a midfield three of James Milner, Jordan Henderson and Georginio Wijnaldum to face Manchester City. The aim – with no disrespect intended – was to be workmanlike and disrupt City's rhythm in attacking midfield, hoping for a moment or two of magic from his front three. There were only 13 shots in the entire match, which was unthinkable given the fevered build-up to the game. No Premier League fixture this season has had fewer shots.
Liverpool and Manchester City are in very different moods three months on, but it will be interesting if Klopp sticks with this plan and again hopes to neutralise City's threats. Do we again have a workmanlike midfield – perhaps Fabinho, Wijnaldum and Henderson – with low shot numbers, or does Liverpool's manager go (figuratively) balls out and pick Xherdan Shaqiri to overwhelm City in the same way that they trod all over Arsenal? If it's the latter, we're in for a bloody treat.
Can City find some attacking efficiency?
It sounds a little churlish to criticise Manchester City for their attacking inefficiencies when it's their defensive problems that earned them unfavourable headlines, but all is not well in the final third either. After the 3-1 win at Southampton, Guardiola bemoaned the fact that his team should have scored six or seven, and he was absolutely right.
City's problems have been exposed by defensive lapses, but just as frustrating is their tendency to waste chances to establish or extend a lead. They play as if four goals up, more goals a nice bonus but never a necessity. Leicester, Everton, Southampton and Crystal Palace have all been afforded a way back into matches because City didn't kill them off. Sergio Aguero is snatching at chances, but he is hardly the only guilty party.
Against Southampton it didn't matter – City created a ream of chances and at least took three of them. But Liverpool won't be as generous. Only Manchester City have conceded fewer shots in the Premier League, and Guardiola will know that his team have to take opportunities that come their way. They have already thrown away two points against Liverpool at Anfield with a late penalty miss. That could have changed the title race irrevocably.
QUIZ! Can you name the players with 5+ Premier League assists in 2018?
What central defensive plan does Guardiola have?
We've already examined Manchester City's troubles at full-back, and mused whether Laporte might move over to cover on the left. But Guardiola also has a decision to make in central defence. The natural assumption is to play Stones next to Laporte, two ball-playing defenders with the movement necessary to cope with Liverpool's ultra-fluid front three.
But Liverpool also pose another problem: no team in the Premier League has scored more goals from set-pieces than their 13. If Laporte does indeed move over to the left and Guardiola brings Otamendi into the side, he could be told to pick up Virgil van Dijk at set-pieces and allay some of City's fears in that area.
PSEUDONEWS Liverpool fans should not be approached, public warned
Quizzes, features and footballing fun
Get the best features, fun and footballing frolics straight to your inbox every week.
Thank you for signing up to Four Four Two. You will receive a verification email shortly.
There was a problem. Please refresh the page and try again.