A brief history of cheating: football's dirtiest tricks EVER
Some would simply call it gaining an advantage, but Marcelo Bielsa's Spy-gate antics didn't go down well in Derby last week. FourFourTwo recalls the beautiful game's dastardly deeds...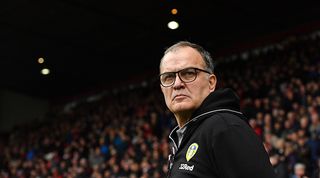 1. Manager-to-man marking
Leganes manager Enrique Martin lived La Vida Loca one legendary evening in 1999. His side led Segunda Division rivals Badajoz 1-0, but their advantage looked in peril when their opponents broke forward late in the game. The quick-thinking gaffer just couldn't help himself. As Badajoz forward Sabino Santos hurtled down the touchline, Martin nicked the ball nonchalantly off his toe. Badajoz went bananas; Martin got a 10-game ban.    
2. The original cheaters
This early case of foul play in football occurred more than 20 years before the Laws of the Game were properly drawn up, and is arguably the first ever instance of cheating in the game. It was Christmas Day 1841, and brilliantly named Lancashire pub teams The Body Guards and The Fearnoughts were playing a 12-a-side match by their own rules for a cash prize and barrel of gin. During a goalless struggle, a tired Body Guards player ushered a spectator onto the field to take a kick for him. The umpire decided this was "foul play according to the rules agreed by each party" and awarded the match – and the gin – to the Fearnoughts.
3. Die Roten turn rotten
Bayern Munich haven't always been a European superpower, and in 1964 were battling merely to enter the pan-regional play-offs for promotion to the Bundesliga. Finishing top of the southern regional league would see Bayern face a highly regarded Aachen side from the west, a fate they were keen to avoid.
Coach Zlatko Cajkovski therefore told his players to throw their penultimate game, against Ulm. To be on the safe side he also fielded five reserves, although they weren't in on his scheme – which is why, after 70 minutes, Bayern were leading 4-3, the reserves having scored all four. Cajkovski promptly yelled some unmistakable instructions from the sidelines, and although Bayern subsequently lost 6-4 and finished second, they still failed to win promotion.
4. Champions of violence
With six red cards, 51 fouls and two interventions by Montevideo's riot police, Racing Club's 1-0 victory over Celtic in the 1967 Intercontinental Cup play-off remains the mother of all pitch battles. In chronological order, these players were dismissed: Argentine defender Alfio Basile (after fighting with John Clark and spitting at Bobby Lennox), Lennox himself (a case of mistaken identity), Jimmy Johnstone (for finally retaliating after many brutal challenges and one rugby tackle), John Hughes (for kicking Racing keeper Agustín Cejas, who had earlier kicked the writhing Johnstone "as hard as I could" for getting Basile sent off), Juan Carlos Rulli (for punching Clark) and Bertie Auld (for brawling).
The latter refused to leave the pitch, insisting: "I know nothing about it", so the Paraguayan referee let him play on. It wasn't just the violence: at half-time Johnstone's hair was so wet with spit, he had to wash it. French paper Miroir du Football headlined its report: 'Racing: Champions of violence, treachery and theatrics' – but the scandal prompted the British government to remove Jock Stein, the first British coach to win the European Cup, from the 1968 New Year's Honours list, depriving him of a knighthood.
5. Meier, Meier, pants on fire
Alan Pardew and Nigel Pearson probably have a picture of Norbert Meier on their bedroom walls: he really raised the bar for touchline spats, then dived under it, backwards. In December 2005 the Duisburg manager took umbrage with Cologne midfielder Albert Streit, gently nutted him, then collapsed as if shot. Streit looked understandably bewildered but regained his composure in time to deliberately go down as well – and received a red card for his troubles. The ludicrous Meier was sacked three days later (presumably throwing himself to the ground in response), but you can't keep a bouncy man down: in 2014/15 he took Arminia Bielefeld to the third division title and a German Cup semi-final against Wolfsburg.
6. Barbados vs Grenada vs Rules
With three minutes left of his team's 1994 Caribbean Cup qualifier against Grenada, Barbados defender 'Sealy' hatched a scheme. Barbados led 2-1, but needed a two-goal win to progress at Grenada's expense. With time running out, Sealy recalled a strange rule was in effect: goals netted in extra-time counted double. He booted in an intentional own goal to level the tie, giving them more time to score at the right end.
Grenada quickly twigged that a goal at either end would take them through, so Barbados spent the remaining moments of the match defending both goals in order to take the game to extra-time. They held on, and in the additional period found the third goal which confusingly gave them a 4-2 win. Job done. "I feel cheated," grumbled Grenada coach James Clarkson, not unreasonably.
RECOMMENDED 12 footballers who scored (or threatened) deliberate own goals – and why
7. The masseur's magic touch
Cue the Benny Hill music. It's two apiece near the end of a Brazilian Serie D play-off in 2013 when Tupi's forward Ademilson rounds the keeper and looks to have scored the decisive goal – only for Aparecidense's suspiciously placed masseur, Romildo da Silva, to run on and clear it. Twice. He then sets off down the tunnel pursued by most of the Tupi team and umpteen riot police. The result actually stood, but Aparecidense were then expelled from the league altogether. Romildo was later to be found running around a park pursued by players, police, six scantily-clad nurses and a tiny bald man.
8. Attack of the drones
This may be hard to believe, but a military-style drone once targeted professional footballers without a banner attached debating the merits of Brendan Rodgers. France's preparations for their opening World Cup 2014 match were disrupted when an unmanned aircraft buzzed around their training pitch, said to be on a spying mission for their opponents, Honduras. Olivier Giroud & Co. failed to bring down the airborne interloper with volleys (quiet at the back), and FIFA half-heartedly investigated. At the previous tournament, les Bleus were so offensive that Honduras could have launched a full-scale ground assault and nobody would have objected.
9. Burnley's crooked keeper
'Happy' Jack Hillman was the most crooked keeper to represent England. In April 1898, Stoke and Burnley played out a 0-0 draw in a play-off group to secure their top-flight status. The fix was hardly subtle: strikers shot at corner flags and passes were aimed at opponents as both teams ignored enraged cries of "Goal nets were invented for a reason" from the crowd. Suspicion fell on Burnley keeper Hillman. Early in his career, Dundee had fined him for "not trying", and two years after the travesty at Stoke, with Burnley facing another relegation six-pointer (or four-pointer as it then was), he offered Nottingham Forest players £2 each – around £150 in today's money – to "take it easy", allegedly upping the offer to £5 at half-time.
Forest refused, won 4-0 and grassed him up to the FA. Hillman's "I was only joking" defence didn't convince and he was banned for a season. He was suspended again in 1907, one of 17 Manchester City players punished by the FA for receiving payments in excess of the footballers' £4 a week minimum wage. After an elbow injury forced him to hang up his gloves, Hillman ran a sweet shop in Burnley.
ACTION REPLAY How Man United and Liverpool fixed a match, helping Arsenal and Chelsea – but not Spurs
10. Big Phil's little helpers
Luiz Felipe Scolari, future World Cup-winning manager and England nemesis, made his name at Gremio with some impressively underhand tactics. Underarm tactics, in fact: his ball-boys were instructed to lob extra matchballs onto the pitch to disrupt opposition attacks, and his players were even accused of tapping up the local police to give visiting players a sly wallop in the event of a melée. By 2007 he was Portugal manager, and took matters into his own hands by marching on to punch Serbian defender Ivica Dragutinovic. If you can't cheat them, chin 'em.
11. An old head on old shoulders
When your national sporting hero is Roger Milla, a man whose age is as misty and vague as that of a grand old Hollywood actress, you can't really blame fellow Cameroonians for following suit. Defender Tobie Mimboe worked his way through numerous world leagues and, you'd imagine, numerous new passports. He was officially 31 at the 1996 Africa Cup of Nations, but then pressed the Benjamin Button and shed almost a decade when he turned up in Turkey, before shooting back up to 28 at the '98 AFCON. Little-known fact: Stephen Hawking's A Brief History of Time is dedicated to him.
12. Who watches the watchmen?
The arrangement was simple. For cash money, Brazilian referees Edilson Pereira da Carvalho and Paulo Jose Danelon agreed to influence the outcomes of a series of matches in the Brazilian top flight, second division and Paulista state championship. The filthy lucre was handed to the offending officials by outside investors, who placed suspiciously huge wagers on the games through online betting companies Aebet and Futbet, confident that the guilty parties could steer the ties in the right direction. When the story broke, in 2005, it became known as the 'Whistle Mafia' scandal. Although both men insisted that not all the matches were rigged, the dodgy duo were subsequently banned from officiating.
13. Hertha's casket case owner
In the mid-'60s, Hertha Berlin turned rule-bending into an art form. Back then, German football had a wage-capping system, and there were also strict limits on transfer fees and player bonuses. Hertha, based in a city surrounded by a wall, were forced to make under-the-table payments to convince new players to sign on the dotted line. But where did all that money come from, and why didn't it show up on the balance sheets? Treasurer Gunter Herzog, a funeral director by trade, printed 55,000 of their match tickets off the books and hid them from the tax authorities in the last place they would look – his coffins.
14. Souey's narrow victory
September 1987, Graeme Souness used a ploy out of mentor Jack Charlton's playbook to help Rangers defeat Dynamo Kiev in the European Cup first round. As he told FourFourTwo: "We lost 1-0 away to a talented side. At Ibrox, I thought we might beat them if we could be physical. At that time, the pitch didn't have to be a fixed width as long as it was above a certain minimum. So I made it the absolute minimum." To maximise the surprise, he only narrowed the pitch on the day of the match: "On Tuesday, Kiev's players trained on a normal-sized pitch; on Wednesday night they must have been shocked to discover that, after 15 paces, there was the touchline."
Rangers won 2-0. The rules were subsequently tightened: clubs had to declare their pitch size before a season. Souness concluded: "It wasn't purist stuff but it was within the rules. Jack Charlton taught me that sometimes the most important thing is to win."
15. Peruvians sleeping on the job
In 2010, Peruvian Second Division outfit Hijos de Acosvinchos were stuffed 3-0 by promotion rivals Sport Ancash after four of their players passed out during the second half. Tests at a local hospital showed that the blood of all four players had traces of benzodiazepine, a drug used to treat insomnia. Ancash officials were accused of spiking their opponents' water during a break in play.
"It's a scandal, an outrage," barked a Hijor official. Ancash chairman Pele Mallqui blamed the opposition players' lethargy on a spicy chicken dish they'd eaten before the match. "My club is above suspicion," he claimed. Hmm.
16. Condor Cons 'em
Chile keeper Roberto Rojas was nicknamed The Condor, with the emphasis on 'con'. In 1989, egged on by his national team manager and doctor, Rojas tried to get a vital World Cup qualifier in Brazil abandoned by hurling himself to the ground near a handy firework while slicing himself with a hidden razorblade for added authenticity. His team-mates stormed off – with striker Patricio Yanez provocatively thrusting his privates at the home fans – but video evidence scuppered the plan. Rojas received a life ban, which was eventually lifted in 2001. When he was 44. Charitable.
17. Tapiegate
Bernard Tapie, Marseille's notorious owner, had many flaws but he was no cheapskate. Police investigating l'OM's attempts to bribe Valenciennes to throw the last Ligue 1 match of the 1992/93 season dug up an envelope containing £30,000 in the garden of one recipient's relatives. Tapie helped his club win five successive league titles by spending millions of francs buying the best players, and hundreds of thousands buying off opponents.
Ironically, the scandal erupted as the club won its greatest prize, the first Champions League – a title they were not allowed to defend. Marseille were relegated to Ligue 2 and Tapie spent six months in jail. 'Tapiegate' rewrote the history of French and English football: Arsene Wenger's Monaco had been runners-up to Marseille in 1991 and '92 and, disgusted by the corruption, he left France to rebuild his career – and his faith in football – in Japan. If he hadn't done so, he might never have gone on to become Arsenal boss.
18. The Butcher of Bilbao
While most on-field rotters keep it surreptitious, some revel in the infamy. Andoni Goikoetxea was a Basque separatist, in that he kept trying to separate people's feet from their legs. He preyed on Barcelona in particular, crocking Bernd Schuster so comprehensively in 1981 that the German was never quite the same again. His most renowned reducer came two years later, however – a spectacular flying assault that cracked Diego Maradona's ankle, earning The Butcher a 16-game ban. The offending boot was put on permanent display in his lounge.
19. Managing to make a racket
When Salvadoran outfit Dragon travelled to face rivals Aguila in a crucial 1970 league clash, opposition coach Juan Barraza did his level best to ensure that his side's upcoming opponents had a restless night before the game. Outside their team hotel, Aguila fans blared their car horns through the night, and several Dragon players' windows were smashed as local scoundrels hurled rocks. "It got a bit out of hand, but I still think we're a club with morals," insisted Barraza after his team's victory. He did at least compensate the hotel manager for all the broken glass.
20. Something fishy Goan on
With the 1994 Goan Second Division title race nearing its climax, local village rivals Curtorim Gym and Wilfred Leisure were level on points at the top of the league on the final day. Curtorim Gym needed to score more goals than their rivals to secure the title. They did, winning their game 61-1.
Good job, as their rivals ran out 55-1 winners. The Goan FA suspended both sides for a year, as well as their obliging opponents, who had both courteously crumbled in the respective second halves. "This is cheating at a monstrous level," claimed one Goan FA official. The four teams were fined the equivalent of £60 each. Ouch.
21. Moller's winning swan dive
Andreas Moller's dive on April 13, 1995 wasn't subtle. In fact, the word 'blatant' doesn't even begin to cover his turfwards tumble late in the game between Borussia Dortmund and Karlsruher. When the latter's defender Dirk Schuster said "a small car would have fitted between me and him," he was barely exaggerating. The only person in the stadium who didn't break into laughter was – unfortunately for Karlsruher – the referee. He pointed to the spot. Moller's simulation was so outrageous that he became the first (and so far only) German player to be fined and suspended for a dive. He probably thought it was a price worth paying – the resultant goal effectively won Dortmund the league.
22. The rubber todger of God
Napoli chiefs turned a blind eye to Diego Maradona's white powder habit in the mid-'80s, but they knew that in order for their prize asset to con the random drug testers, they needed something truly devious. So they gave him a rubber, penis-shaped pump containing someone else's (clean) urine, which he would use to fill the specimen jar, having first slipped it inside his tracksuit. Diego's lucky rubber willy saved his bacon on several occasions before he finally tested positive for cocaine in 1991, and was banned for 15 months. "I thought I'd fooled everyone," he shrugged. Not least the wife.
23. Forest cut down by dodgy ref
Despite lingering controversy surrounding his handling of an infamous 1970 El Clasico clash, Emilio Guruceta was selected to officiate Anderlecht's UEFA Cup semi-final clash with Brian Clough's Nottingham Forest in 1984. Leading 2-0 after the first leg, Forest were beaten 3-0 in Belgium after having a perfectly good goal ruled out and two clear penalty claims rejected. Ten years later, a retired Anderlecht official admitted to giving Guruceta an "interest-free £15,000 loan" in return for him smoothing Anderlecht's route to the final. Guruceta wasn't around to face justice; he was killed in a car crash in 1987 on his way to officiating another Clasico.
24. "Some idiots are on the pitch..."
And so to the most pointless pitch invasion of all time. With 88 minutes on the clock, and their team trailing Tottenham 4-2 in a 1993 FA Cup Quarter-Final at Maine Road, around 400 Manchester City fans stormed the field of play (Terry Phelan had just pulled a goal back) and – bizarrely – goaded the Spurs fans who were singing merrily about going to Wembley. The silly Sky Blues fans reckoned that, by doing this, they could get the match abandoned and thus earn their team another crack at Tottenham. Despite the referee suspending play for 12 minutes, the result stood and City chairman Peter Swales described the invading City fans as "total idiots". Quite right.
25. Pitch battle gets nasty
As Excursionistas closed in on the Buenos Aires Primera B Metropolitana in 1924, club president Julio Ferraris boasted that his team would crush their local rivals Chacarita "like flies". Incensed, Chacaritan officials took matters into their own hands; grabbing their shovels and proceeding to dig holes in their rivals' pitch in the dead of night, later admitting they did it in the hope their enemies "would break their legs". They didn't: they won the crunch match against Chacarita (avoiding the holes, presumably), securing the league in the process. It's good to know that cheats don't always prosper.
26. Estudiantes' little prick
Former Argentina boss (and, briefly, practising gynaecologist) Carlos Bilardo couldn't be a more dastardly practitioner of football's dark arts if he started every press conference by spinning slowly around in his chair, cackling and stroking a white cat. A midfield enforcer for Estudiantes' cynical '60s side, Bilardo hid needles in his socks for subtle foe-pricking. As a manager, he encouraged players to rub Deep Heat in opponents' eyes, and offered Brazil doped water during a 1990 World Cup clash. The obvious next step? Politics. Mysterious 'Carlos Bilardo – Presidente' posters appeared in Buenos Aires in 2015. Pity his rivals.
RECOMMENDED The 1966 World Cup was fixed… and 27 other crazy football conspiracy theories
27. "Not the face!"
And the Academy Award for Best Unsporting Actor goes to… although, to be fair, Rivaldo might just have really sensitive knees. The otherwise-brilliant Brazilian was ready to take a corner at World Cup 2002 when Turkey's Hakan Unsal booted the ball back slightly stroppily, hitting Rivaldo's knee and setting off such a sensory headrush that he plummeted while executing a double facepalm. Unsal saw red, and Rivaldo was fined £4,500. He set up both goals in the final, but no one ever talks about that or the rest of his career – just the slapstick fall.
28. The king of gamesmanship
Admittedly, growing the grass in the corners by a few inches to hold up a recently hoofed ball isn't technically cheating, but former Cambridge United manager John Beck's insistence that he never "came close to breaking any rules" during his tenure in the late '80s and early '90s is pushing it. Whether it was giving the opponents heavily soaked balls for warm-ups, tampering with the heating in rivals' dressing rooms or swapping the sugar meant for the oppo's half-time cuppa with salt, it wasn't just the Abbey Stadium side's route one tactics which made them as popular as scotch bonnets in the jock strap. These days, the FA pay Beck to train the next aspiring generation of coaches. Reassuring, eh?
MORE FROM MAG
Wiki Geeks: Meet the men keeping football's Wikipedia pages up to date
29. Down to the bare bones
At the 2002 Africa Cup of Nations, Cameroon trainer Winnie Schafer had to do without assistant Thomas N'Kono because, 90 minutes before the semi-final against hosts Mali, the legendary goalkeeper was spotted burying bones under the turf and spraying a strange potion in order to cast a spell on the playing field.
This, quite evidently, was something taken pretty seriously in that neck of the woods. Being placed in handcuffs and spending the night in police custody was no bad thing for N'Kono – a clutch of Mali fans had declared their intention to kill him. N'Kono (banned from football for a year – although this was later lifted) denied any hocus–pocus, but Cameroon won the game 3-0. Magic!
This feature originally appeared in the September 2015 issue of FourFourTwo. Subscribe!
Quizzes, features and footballing fun
Get the best features, fun and footballing frolics straight to your inbox every week.
Thank you for signing up to Four Four Two. You will receive a verification email shortly.
There was a problem. Please refresh the page and try again.