Cazorla vs Ozil: Which playmaker will seal a spot in Wenger's best XI?
Thore Haugstad analyses the potential battle between the German genius and the Spanish schemer for a first-team berth...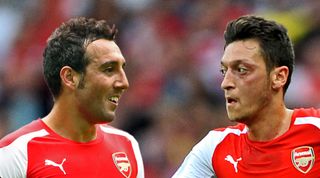 Arsene Wenger may be a poor man as far as defensive options are concerned, but the Frenchman's fondness of attacking midfielders may soon present him a problem of the luxurious kind. For Arsenal's trip to Manchester City on Sunday, Theo Walcott and Mesut Ozil are again in contention after making cameos last weekend following spells in the treatment room. They are likely to compete with Alexis Sanchez and Santi Cazorla for the three advanced midfield roles in Wenger's 4-2-3-1.
Whether all four will be fully fit is uncertain but, whether this weekend or the next, Wenger will want to identify his strongest line-up. Two players seem certain to feature. Sanchez has carried the team this season, while Walcott is the only winger who can stretch play laterally, a valued trait in a squad flooded with playmakers. It therefore may come down to a straight shootout: Cazorla versus Ozil.
Had the duel taken place in early December, all bets would be off. In the absence of Ozil, injured since early October, Cazorla had produced two assists and zero goals in 12 league matches. A hint of promise had come in late November at West Bromwich Albion, where his dribble and cross set up Danny Welbeck's winner. Then came the turnaround. The Spaniard proceeded to provide four goals and one assist before the New Year, earning the club's player of the month award.
The revival has made Cazorla a hard man to drop. And just in case Wenger should be tempted to play him wide, like he has done so criminally with Ozil in the past, the 30-year-old released a timely message on Tuesday. "I have more space [in the middle], more possibilities to score and assist, and I like this position very much," Cazorla told Arsenal's official website. "I always can help the team and I love when I play in the middle." Wenger has a decision to make. Should he really sacrifice Cazorla?
Here, there and everywhere
The real question seems to centre on what Arsenal would miss if that happened. The services of Ozil hold few secrets – everybody knows his function, even if, judging by the criticism periodically directed his way, some appear unable to understand it.
The German drifts from his central position to overload the flanks and link up with full-backs and wingers; he specialises in overlaps and passes weighted and timed to perfection. This is why he rarely shines as a winger: his natural game is to start from a central position and move wide, not the other way around.
Cazorla's situation is slightly different, because his revitalisation has been so recent. His style also stands in contrast to that of his positional rival: Cazorla's small legs move like drumsticks, and his nimble nature manifests a sense of urgency. Ozil's languid vibe can give the impression of someone who has reluctantly agreed to take part in a charity game.
Tactically, Cazorla's movement is more diverse. Particularly in matches Arsenal dominate, he pops up everywhere and varies well between wandering left, right and staying put. Two recent exceptions have been the encounters away to Stoke and at home to Queens Park Rangers, where he stuck to a more central position, but, as evident in his last two performances, his normal role is largely unrestricted.
The centre stage
This mobility increases his involvement in Arsenal's build-up phase. In two of the last three matches, against West Ham and Stoke, Cazorla made more passes than any of his team-mates, as well as the most passes in the final third. His link-up play tends to be intricate. Rather than releasing long diagonals or lifting balls over the back line, Cazorla zips into small spaces between the lines to make quick combinations with fellow attackers.
True to his word, the centre is where Cazorla thrives. While his speed over long stretches is modest, his small, rapid physique makes him hard to catch in congested zones.
He is a good sprinter, dangerous over short distances. This means, unlike Ozil, Cazorla is predisposed to both create and find opportunities down the middle.
Hard graft
These patterns depict a player of a different nature to Ozil. The Gelsenkirchen sorcerer tends to display his magic near the touchline; Cazorla can do that too, though his game is more suited to the central area.
There is, however, another issue. If Wenger's priority is to placate fans irritated over Ozil's sporadic defensive contribution, the choice should be straightforward.
Cazorla has showcased an efficiency for winning back possession. It was particularly evident at West Ham and at home to Stoke: in both matches, he made more ball recoveries than anyone on the pitch.
Cazorla is also willing to get stuck in. Whether this should be a prerequisite for a playmaker predominantly tasked with dictating play is another question, but in England such efforts seldom go without appreciation.
The pros and cons are there for Wenger to weigh up. Ozil has his flaws and, if 'Le Professeur' can stomach the feeling of benching a £42.5 million signing, the choice of Cazorla would add more briskness to the side.
The selection might also hinge on whether Wenger wants to direct focus towards overloading the flanks, or the spaces between the lines. Ozil may still be the favourite, but Cazorla has made his case. It looks like a close call.
Quizzes, features and footballing fun
Get the best features, fun and footballing frolics straight to your inbox every week.
Thank you for signing up to Four Four Two. You will receive a verification email shortly.
There was a problem. Please refresh the page and try again.